Hey everyone, Katie here showing you how to make heat embossed bookmarks inspired by The Hunger Games book series! We'll be using the Tombow MONO Multi Liquid Glue to heat emboss with, rather than embossing ink!
How to make Heat Embossed Bookmarks: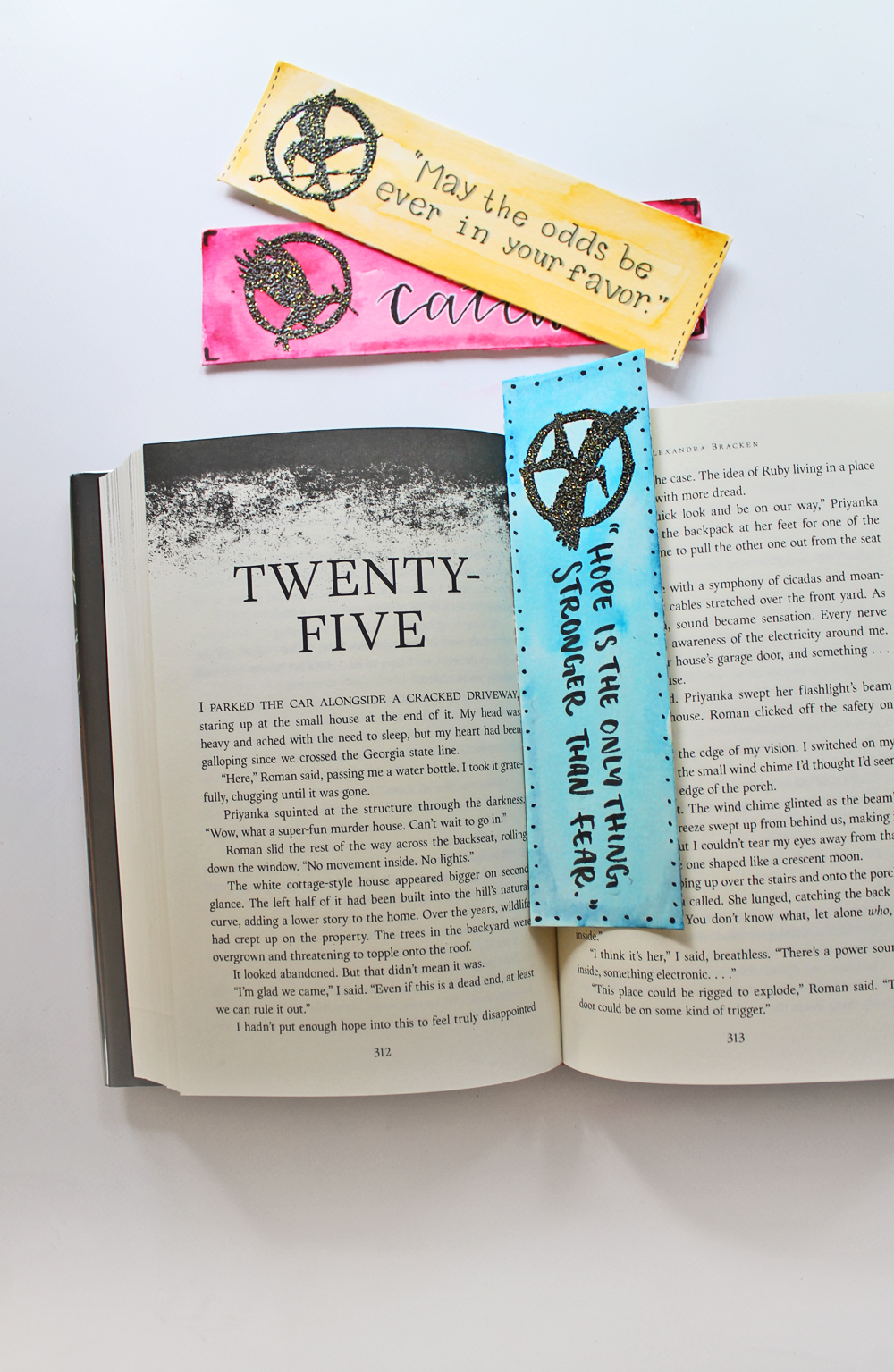 Supplies:
Light pad (My favorite is a Cricut BrightPad)

Watercolor Paper

Heat tool

Embossing Powder

Small Paint brush (I used a 10/0 paint brush!)
Step one:
Print out templates of the Mockingjay symbol. Or if you have another favorite book you'd like to make bookmarks of, find a symbol or something that represents the books to emboss.
Cut Watercolor Paper into 2×7" strips.
Place one of your watercolor paper bookmarks over your print-out and use the light pad to trace it onto the bookmark using a MONO Drawing Pencil.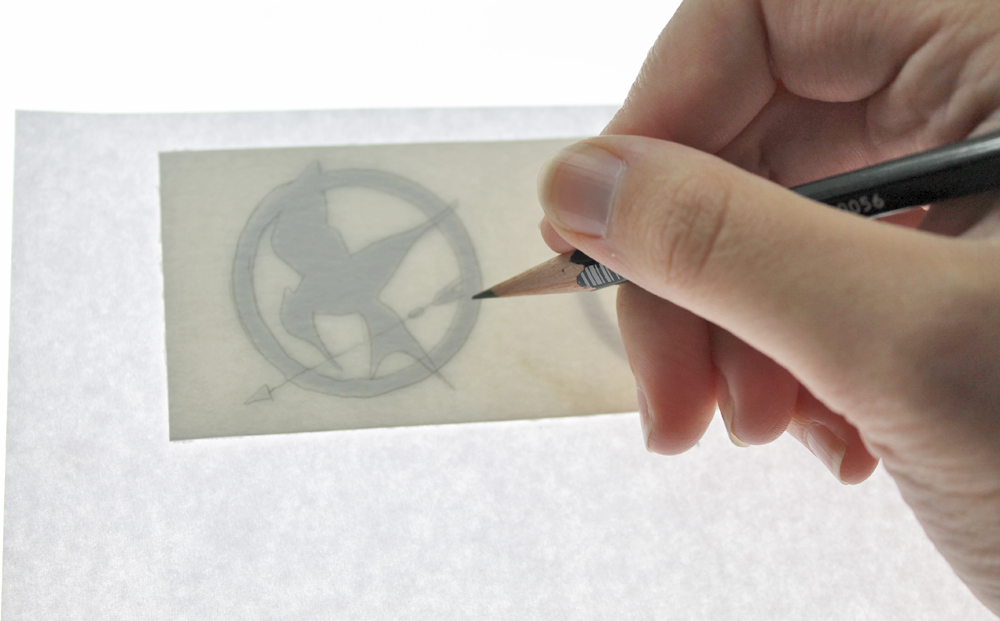 Step two:
Next, squirt a small amount of MONO Multi XL Liquid Glue onto a separate palette, and use a small paint brush to brush it over your design.
The MONO Multi XL Liquid Glue remains tacky even after it's dry, which is how it works for heat embossing! You'll want to wait for the glue to dry before continuing onto the next step. You'll know it's dry when the glue turns clear, and it will be tacky but not wet.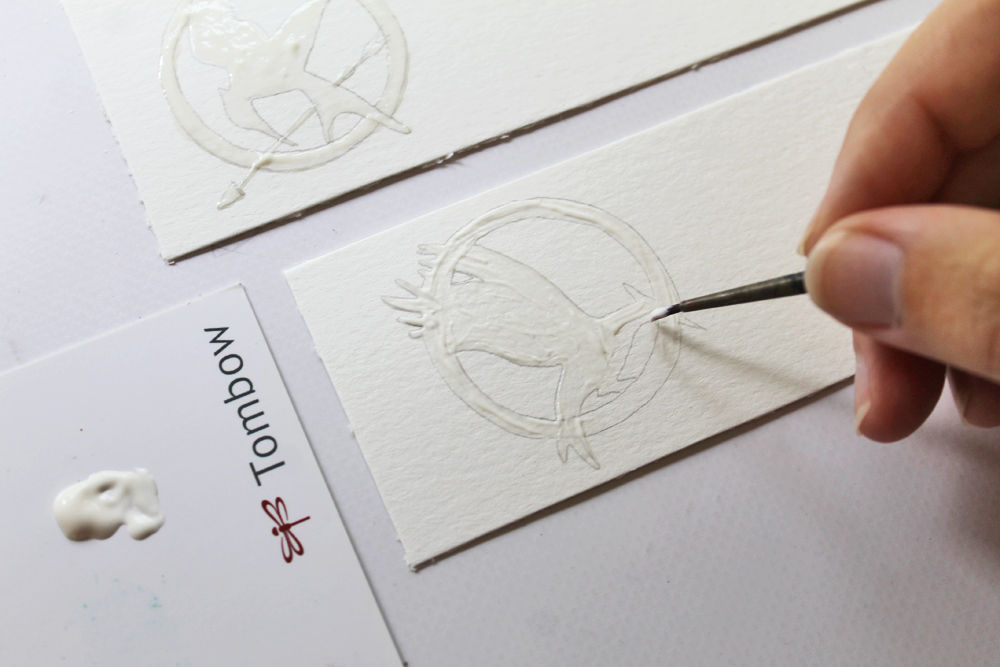 Step three:
Time to heat emboss! Pour a small amount of embossing powder over your design. Knock off the extra powder onto a scrap piece of paper (so that you can pour it back into the bottle, no need to waste it!), you can also use a clean paintbrush to brush off any powder still sticking to the bookmark in any places that you don't want it. Just be careful not to brush off your design.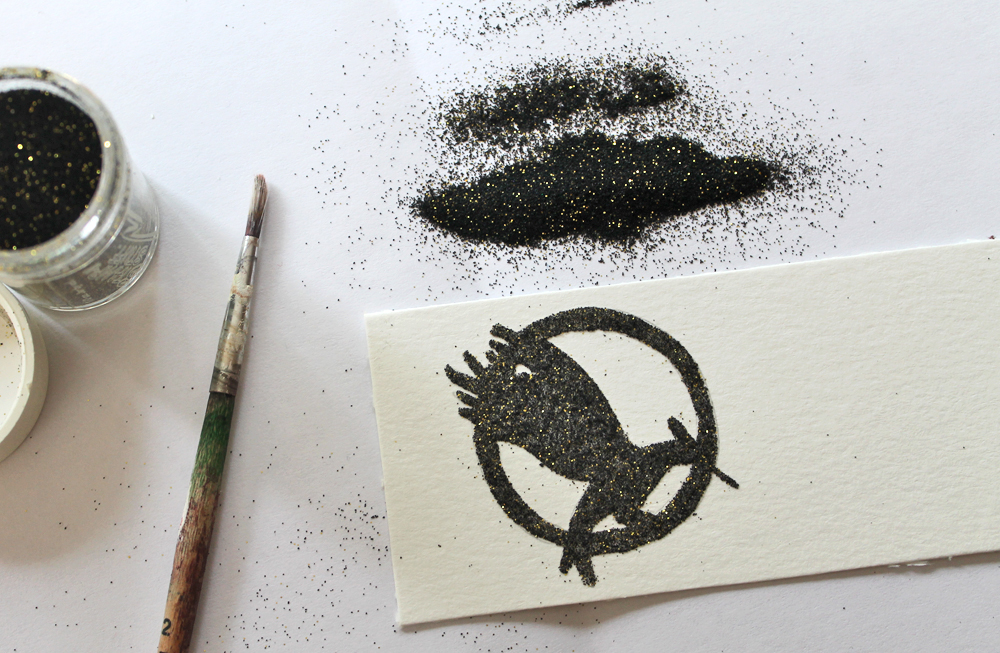 Step four:
Use your heat tool to emboss the powder. All heat tools vary a bit, so you'll have to know how long yours takes, but make sure you don't hold it too close or in one spot for too long. Wave it back and forth over the design to distribute the heat until the powder melts.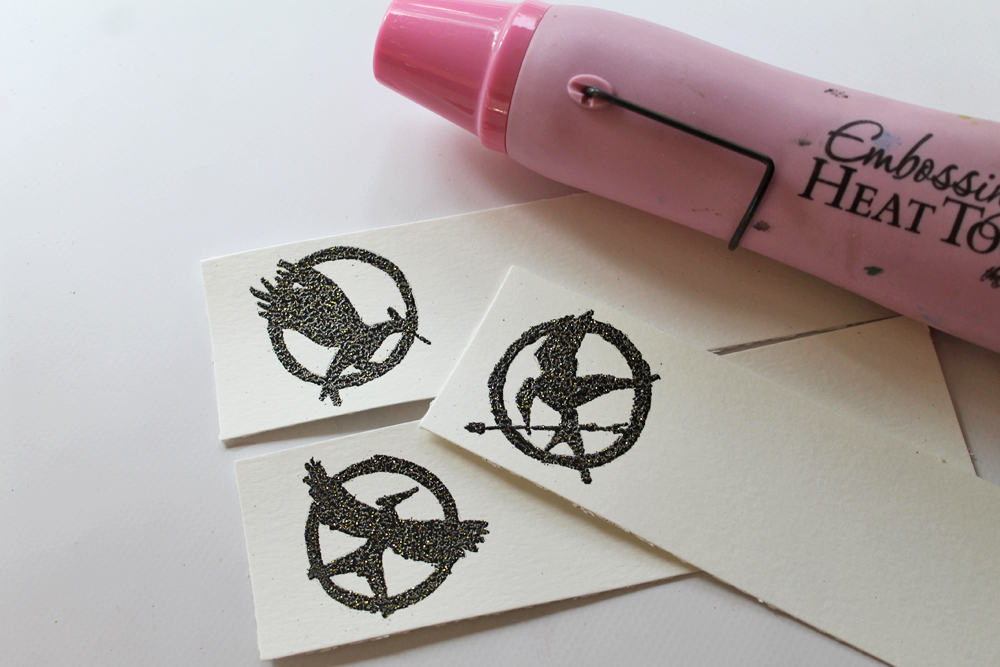 Step five:
Apply your Dual Brush Pen ink colors onto the Blending Palette, picking up the ink with a wet paintbrush and painting a wash of each color onto the bookmarks.
For my Hunger Games bookmarks I used Dual Brush Pens 837, 026, & 526 to match the covers of the book series.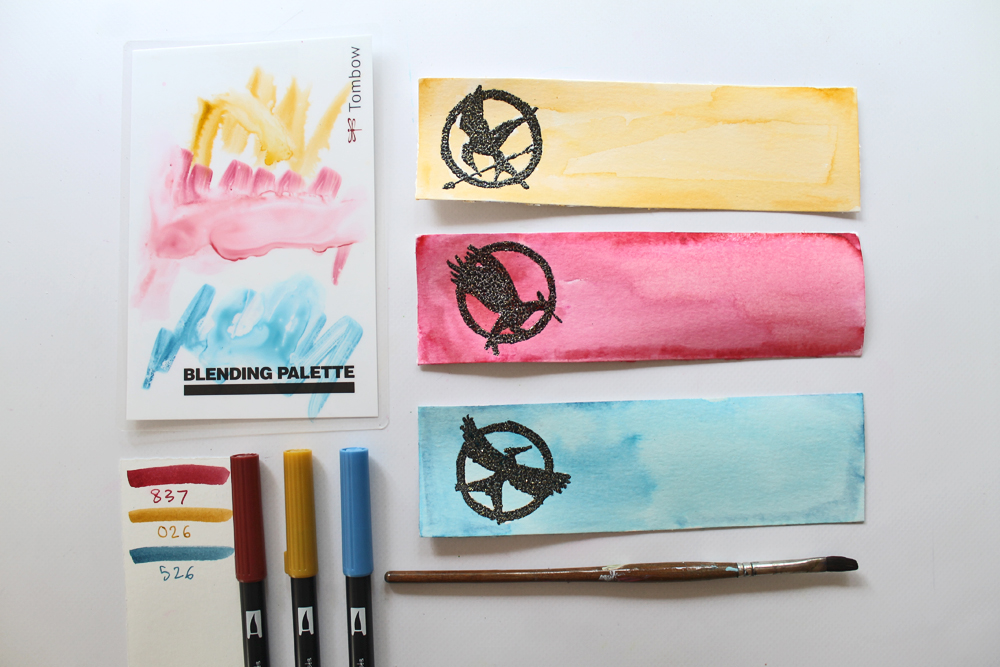 Step six:
Now add your favorite quotes and you're done! Try experimenting with different lettering styles using the MONO Drawing pen and Fudenosuke Brush Pen.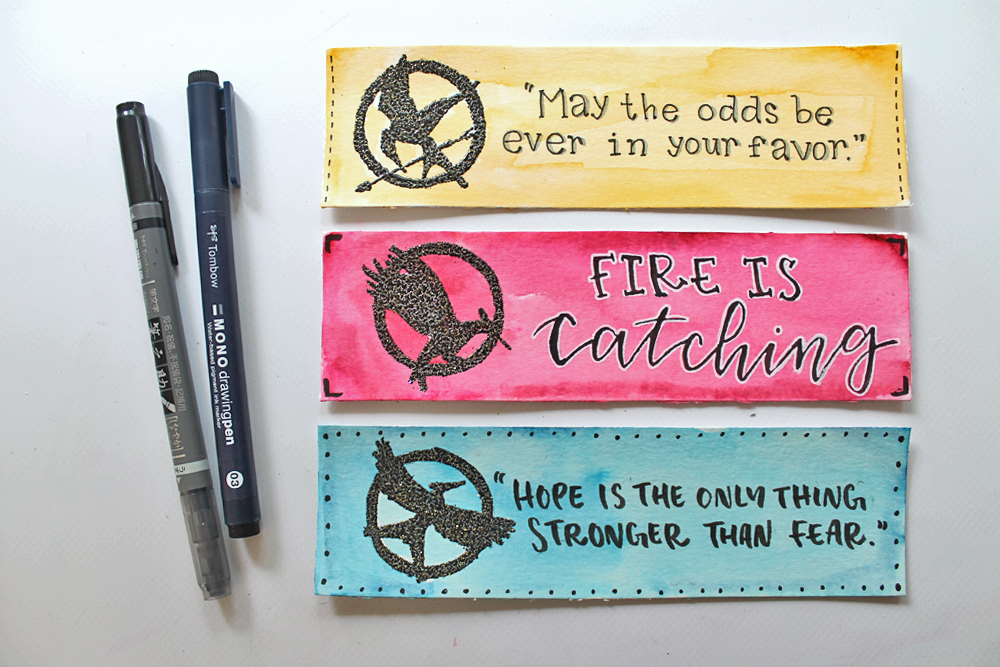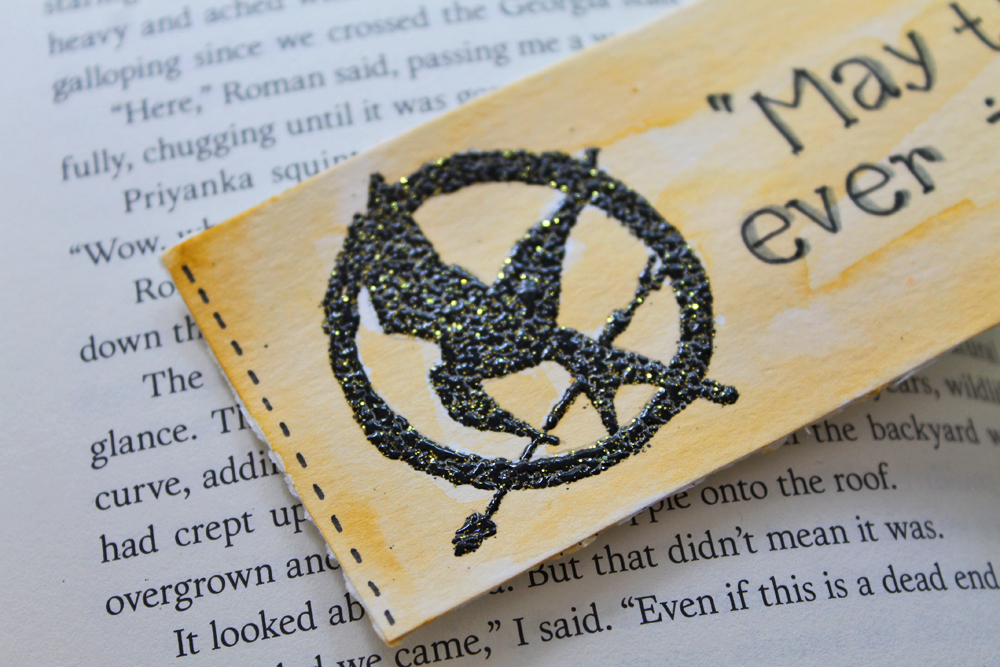 September 6th is Read a Book day, so it's a perfect time to make these and then read a book. What's your favorite book? I'm going to sound like a huge nerd here and say that The Hunger Games books were my favorite series before the movies even came out. 😉
Want more bookmark tutorials? Check out these Dr. Seuss Inspired Colorable Bookmarks by Marie, and get the DIY for these Emoji Bookmarks from Bonnie here.