Hi everyone, it's Katie from Studio Katie here! Have you used the Dual Brush Pens as watercolors yet? Today, I am going to show you how to paint a watercolor dolphin scene using Dual Brush Pens!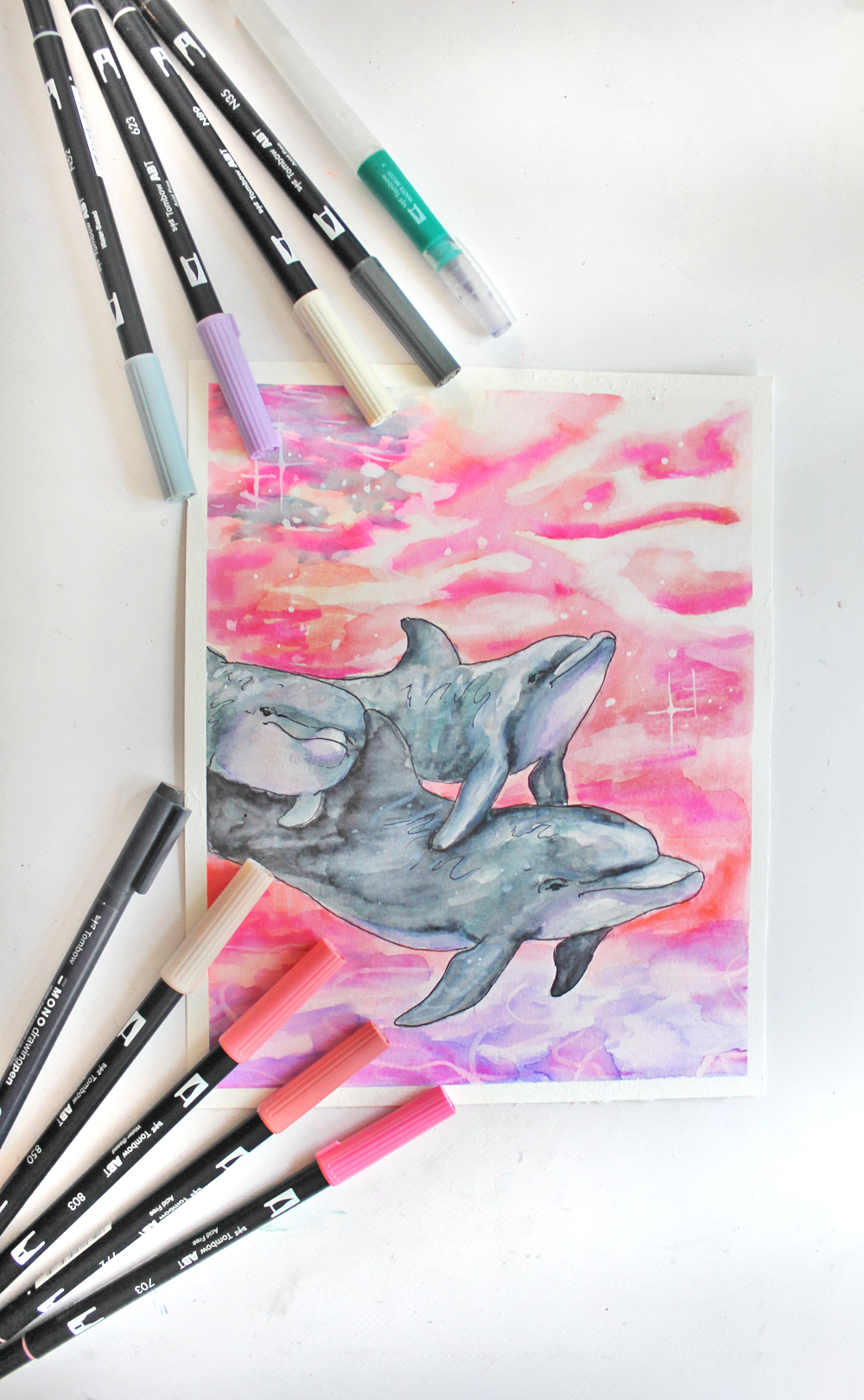 Watercolor Dolphins Supplies:
Tombow Dual Brush Pens (I'm using colors N89, N52, N35, 850, 803, 772, 703, & 623. )
Watercolor Paper
Washi Tape
White Acrylic Paint & Small Paint Brush
Step one:
Begin by sketching out your dolphins! The MONO Graph Mechanical Pencil & MONO Zero Eraser are a winning combination. The eraser is my favorite for cleaning up sketches with its small tip. I am using a dolphin photo I found on Pinterest as a reference.
I would also recommend you tape down your watercolor paper. This is called "stretching the paper" and it will help keep the paper flat as you add water later.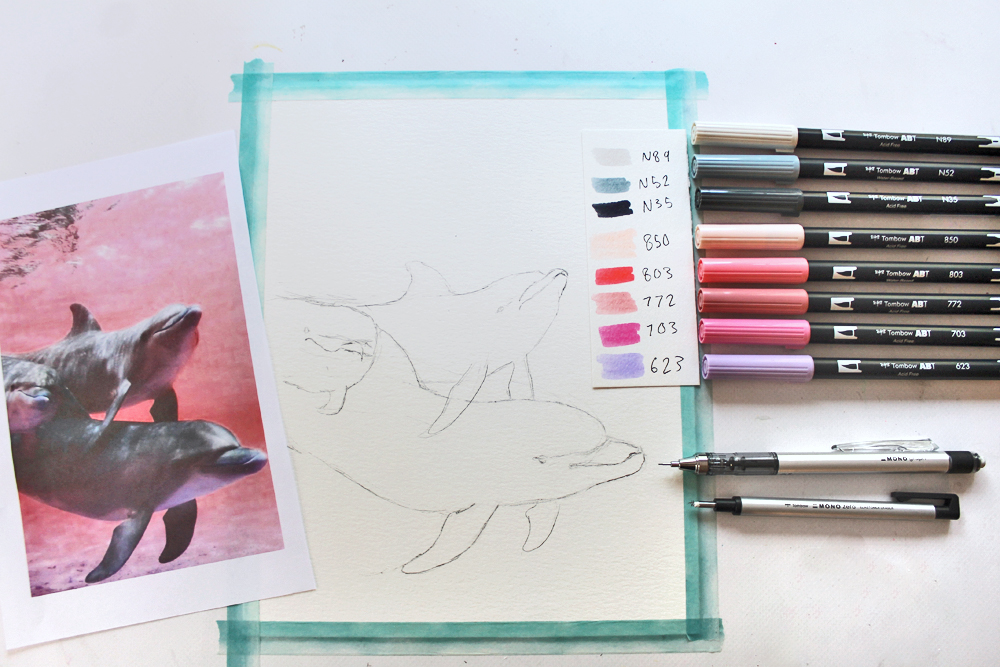 Step two:
Once you have your sketch, let's start by adding color base layers. To create the ombre look, add your lighter colors to the top of the page and add in the darker colors as you work your way down.
After you've applied the ink, brush over it with the Tombow Water Brush. I think the medium size is very versatile. The tip is large enough to cover big areas but it also has a nice point to get into smaller areas too.
Learn 4 Tips for working with Water Brushes here.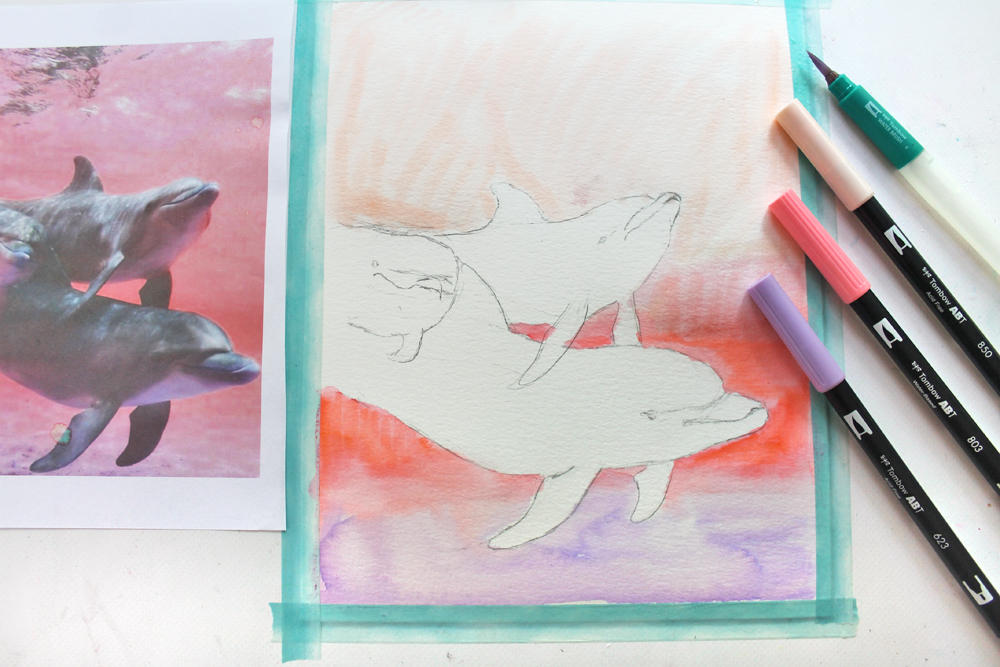 Step three:
Once the colored background is dry, add the base layers to your dolphins using the neutral toned Dual Brush Pens. You want to make sure to let the base layers dry to prevent them from bleeding together.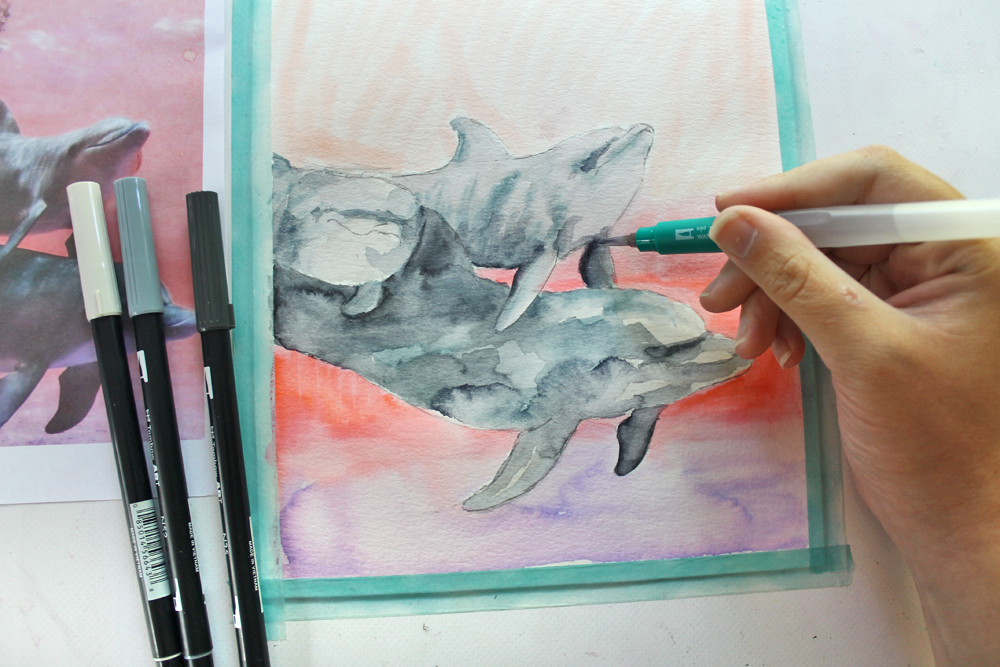 Step four:
Time to add the next layer to the backdrop! Dual Brush Pens are actually fantastic for underwater scenes. They are water-based, so you can easily get a watercolor look.
To recreate the underwater refractions that look like the ocean in my reference photo, I just scribbled on 2 of my darker pink Dual Brush Pens and then brushed over them with the Water Brush again.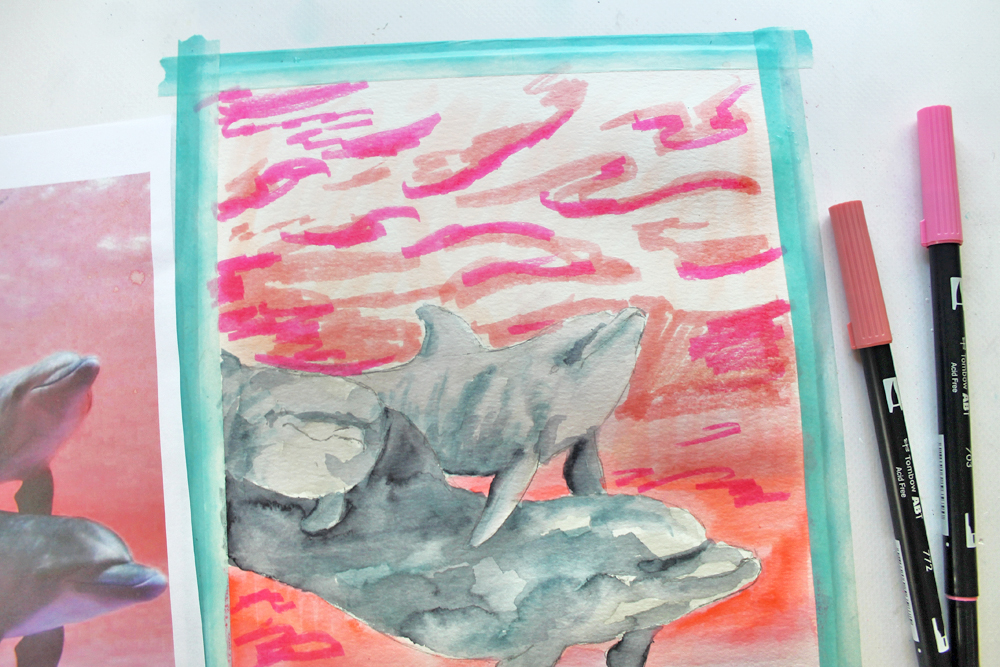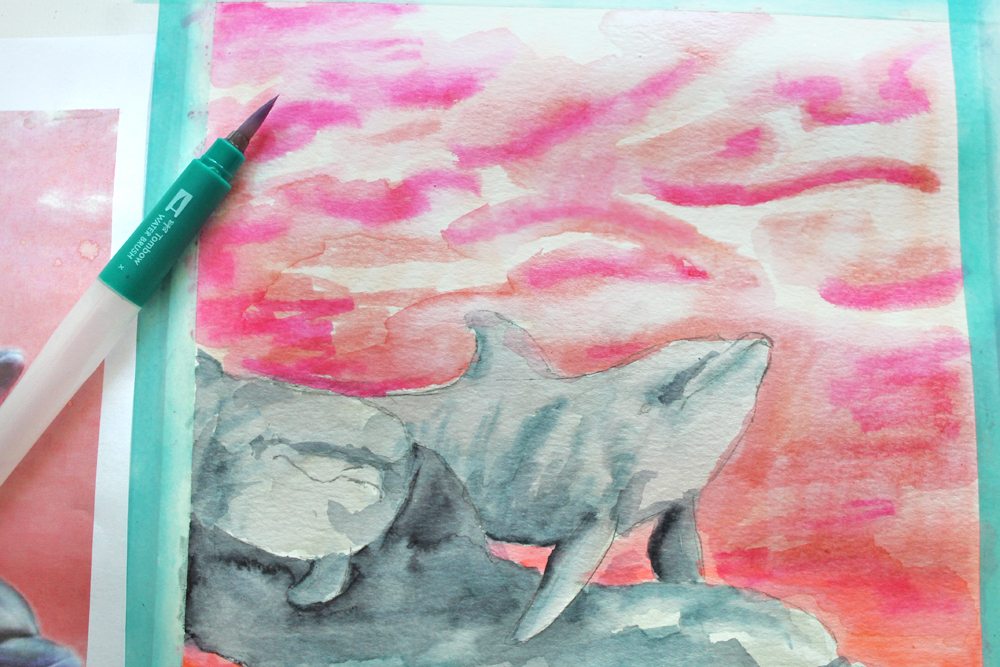 Step five:
Add the 2nd layer to your dolphins using the same technique! When painting underwater scenes, you can keep it a little messy to get the look of light rippling through the water.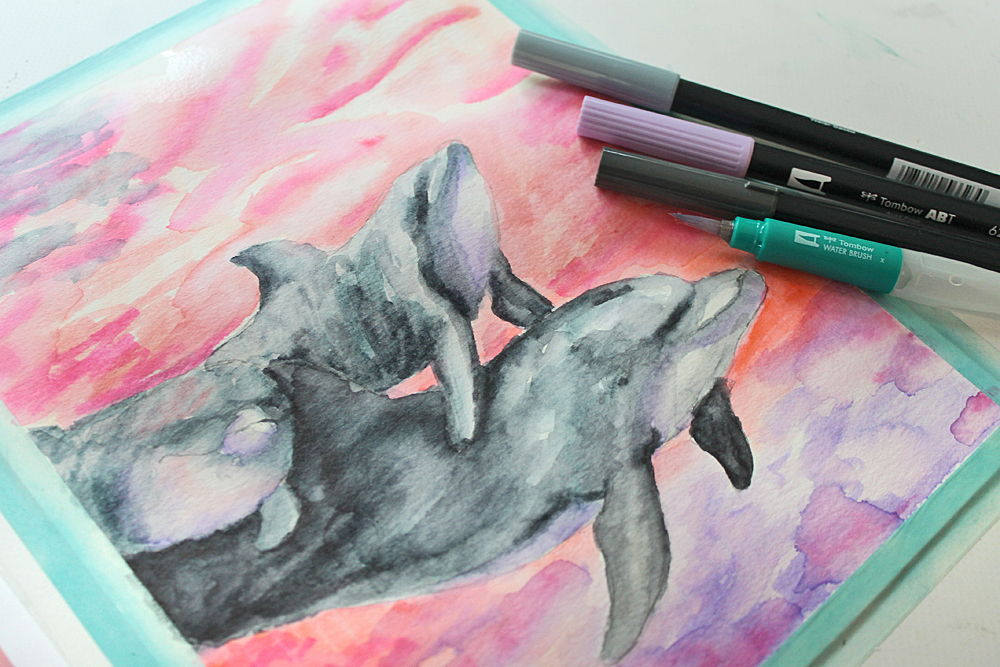 Step six:
Lastly, outline your watercolor dolphins using a MONO Drawing Pen. You can also use a fine tip paintbrush and white acrylic paint to add sparkles to your underwater scene.
Once everything is dry, remove the washi tape!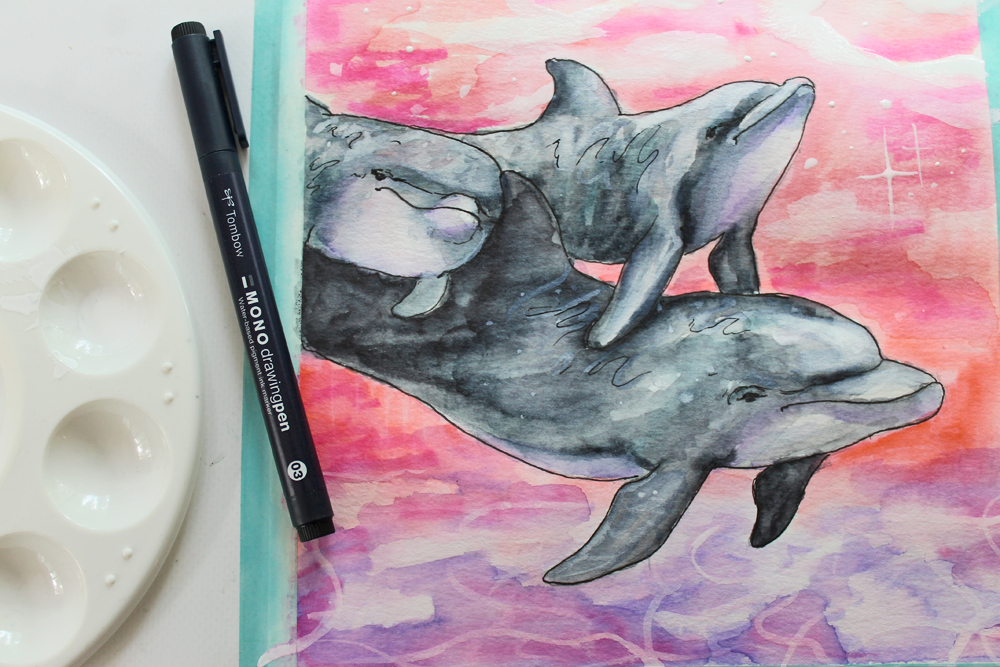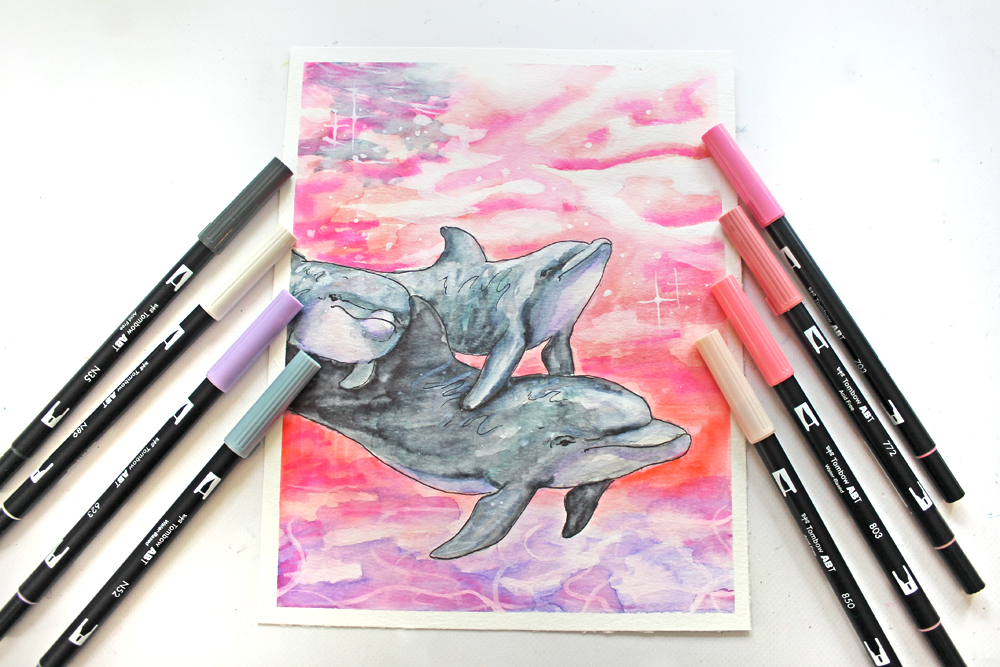 I hope you loved learning how to paint these watercolor dolphins! If you are inspired by this tutorial to create your own, tag @TombowUSA and @Studio.Katie on social media so we can see.
Want another fun underwater project? Create these Nautical Whales in this post!