Hello and welcome to a FUN week with

Walnut Hollow

! I love their products and Tombow's adhesive's + Walnut Hollow =♥.
I created this project for Tombow's booth at CHA and I am needing to get more of the same products so that I can make them for gifts! I think they would be so cute on a dresser holding jewelry, a sewing room holding little supplies or a craft room holding embellishment…the list goes on.

My favorite "go to" adhesive for wood is the

Mono Aqua Liquid Glue

. This adhesive is perfect for wood!
Using Walnut Hollow's

28403, BOX with DRAWERS, VERTICAL

 I painted the edges all white that I knew would show. Then I lightly sanded it and "stained" it with brushing and ink pad on the edges.
 
I very carefully "sawed" off the front knobs with a knife. I painted the feet knobs (
18010-00F, 1-1/2″ BALL KNOB

) and then larger door knobs (Hobby Lobby) green to match the designer paper (Fancy Pants).
I measured the drawer fronts, sides, back, inside bottom drawers, and top and cut papers a scant smaller and distressed edges with ink. I appied

Mono Aqua Liquid Glue

to the wood and then adhered the paper to it, smoothing out all the air bubbles.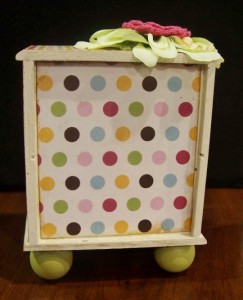 After all the paper was dried, I added the new drawer knobs and the "feet" knobs with

Power Tabs

. Then I painted over all of it with the

Aqua Glue

using a foam brush. This helps seal it.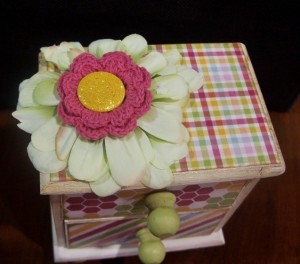 For the top, I added a silk flower with

Mono Multi

, then a crocheted flower with a

Power Tab

and last a glittered flat button with a

Power Tab

.
I am REALLY wanting to make one of these for myself now! Ü Have you used designer paper with wood before? What is your favorite Tombow adhesive to use?
Thank you for stopping by, I hope you enjoyed today's project. Be sure to stop back each day this week as the other Design Team members WOW you with their projects.
If you enjoyed this post please follow us on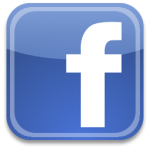 http://www.facebook.com/tombowusa
and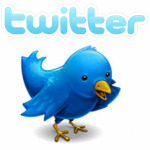 http://twitter.com/#tombowusa