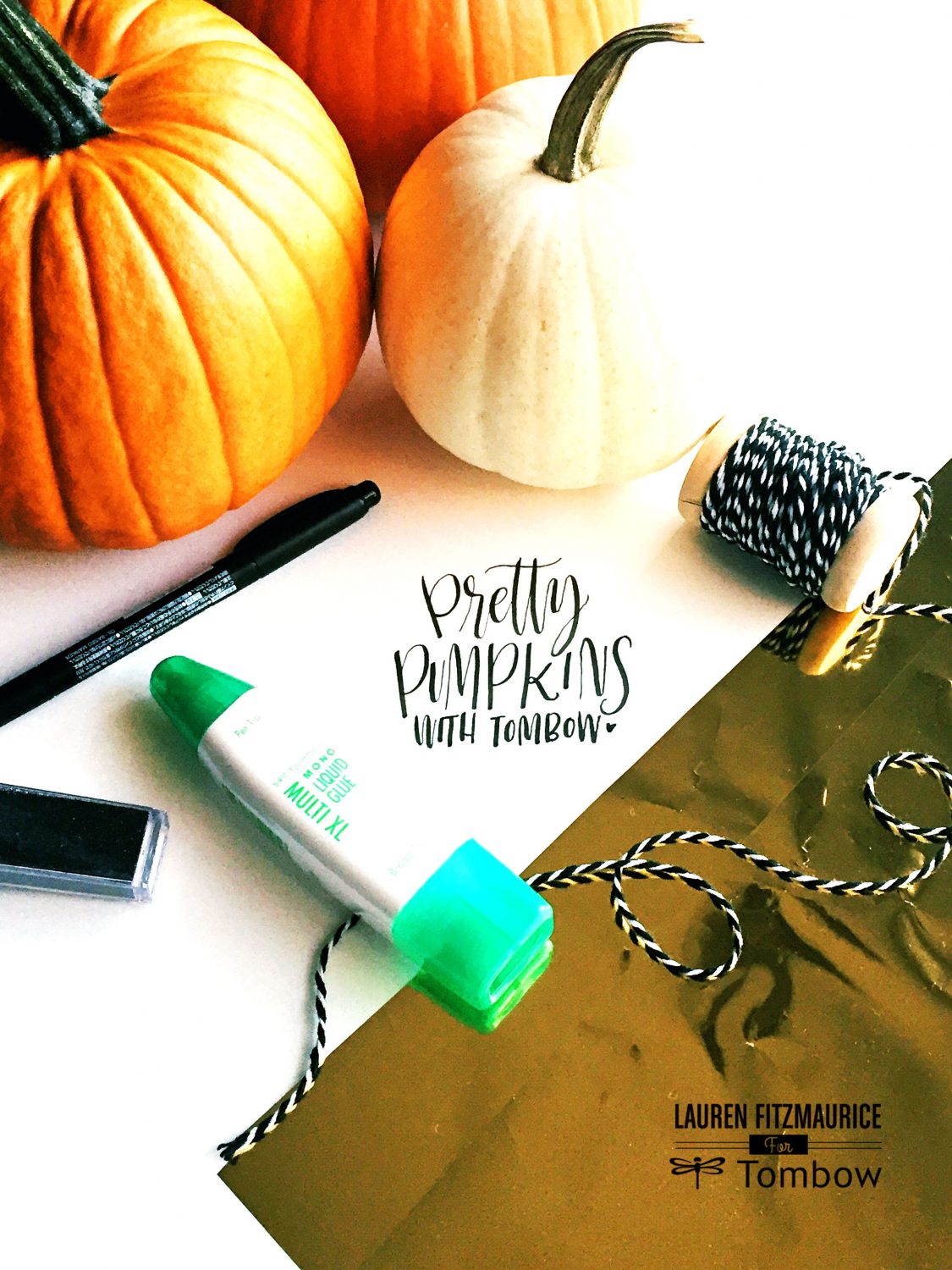 One of my favorite parts of the fall season is making pretty pumpkins. Hey there, lovelies! Lauren, here, and I'm going to show you three different ways to create some adorable decorative pumpkins using some of my favorite craft supplies and the Tombow Mono Multi XL Liquid Glue.
TOMBOW MONO MULTI XL LIQUID GLUE
Not every pumpkin is perfect for carving. There are so many different ways that you can decorate a pumpkin. One amazing product that is the perfect way to attach decorations to a pumpkin is the Tombow Mono Multi XL Liquid Glue.  This glue is so versatile and can be used in so many fun ways.  The glue is very thick and holds extremely well.  Spill a little excess glue? No problem! The Tombow Mono Multi XL Liquid Glue cleans up nicely with a damp cloth. The glue is also really easy to apply because of the two different size tips: broad and pen. The XL size is also a nice upgrade from the original glue, which is smaller in bottle size.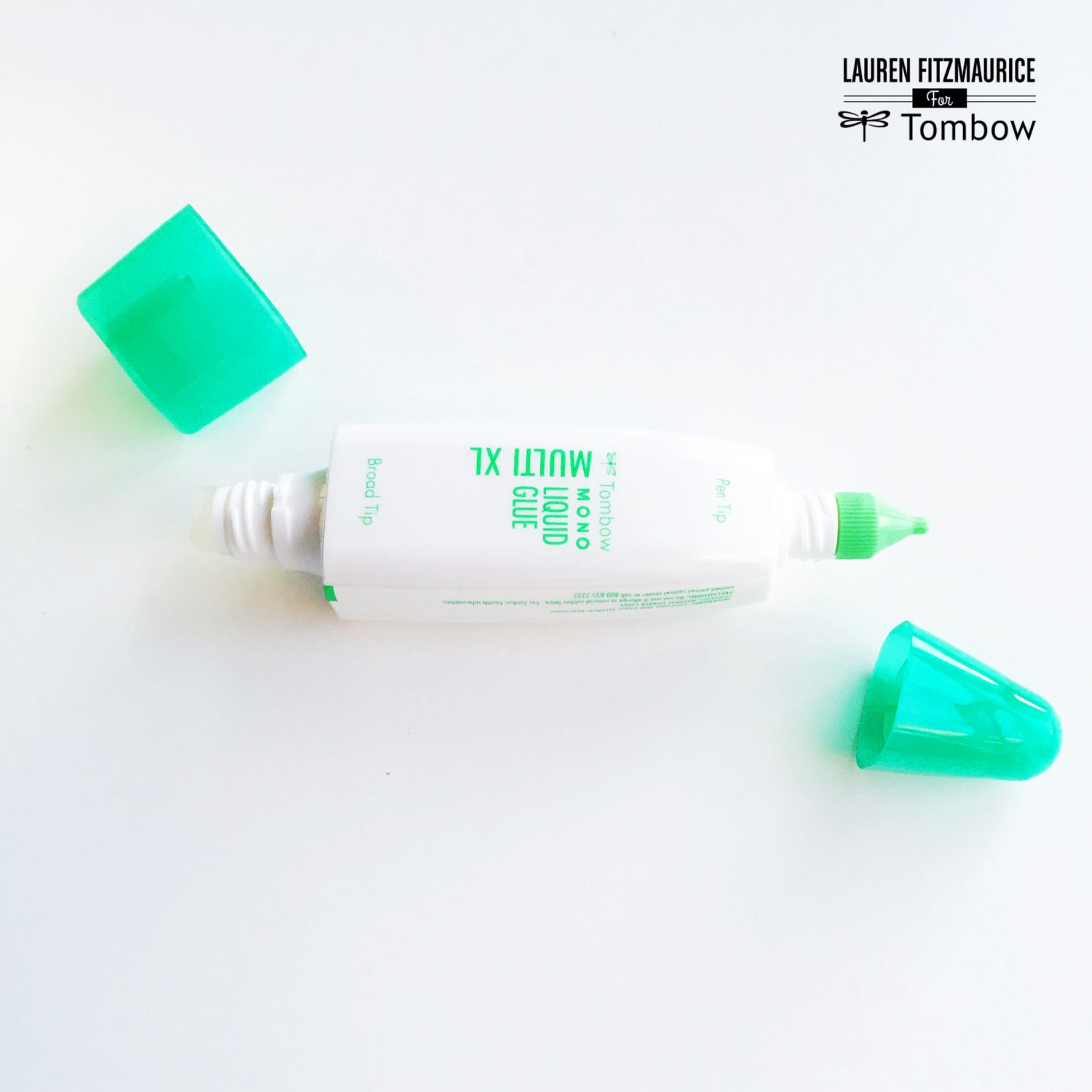 TWINE
Any one who knows me also knows my love of baker's twine.  At the beginning of my lettering journey I started loving the simplicity of black and white baker's twine and loaded up on some fun wooden spools of it from the Target dollar spot. So, naturally, I wanted to add the texture of twine to a pumpkin. To create a fun twine pumpkin, I gathered a spool of twine, Tombow Mono Multi XL Liquid Glue, and a small, orange pumpkin.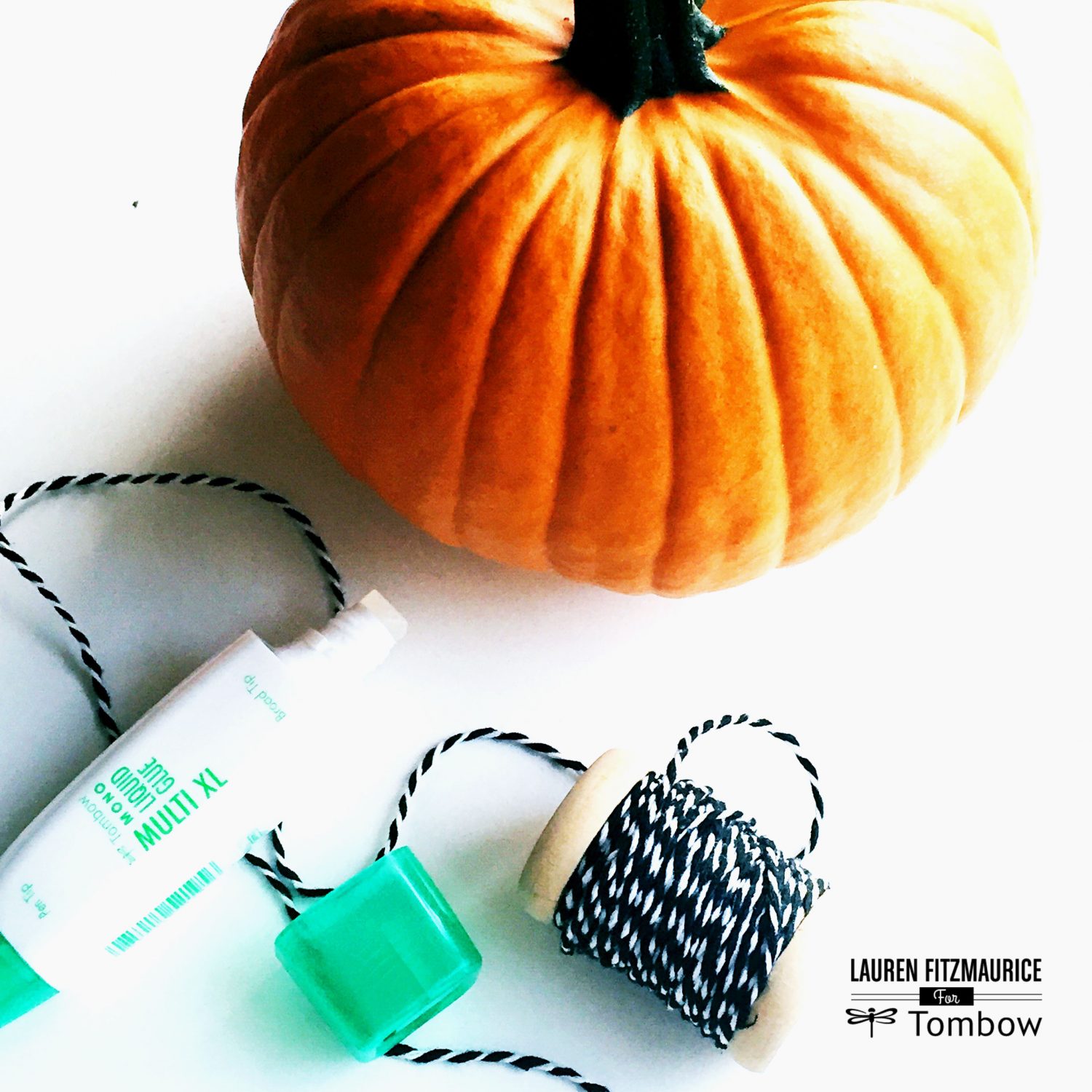 First, apply Tombow Mono Multi XL Liquid Glue to the stem with the broad tip.  The broad tip should glide easily on the stem.  Make sure to coat the full stem smoothly with the glue.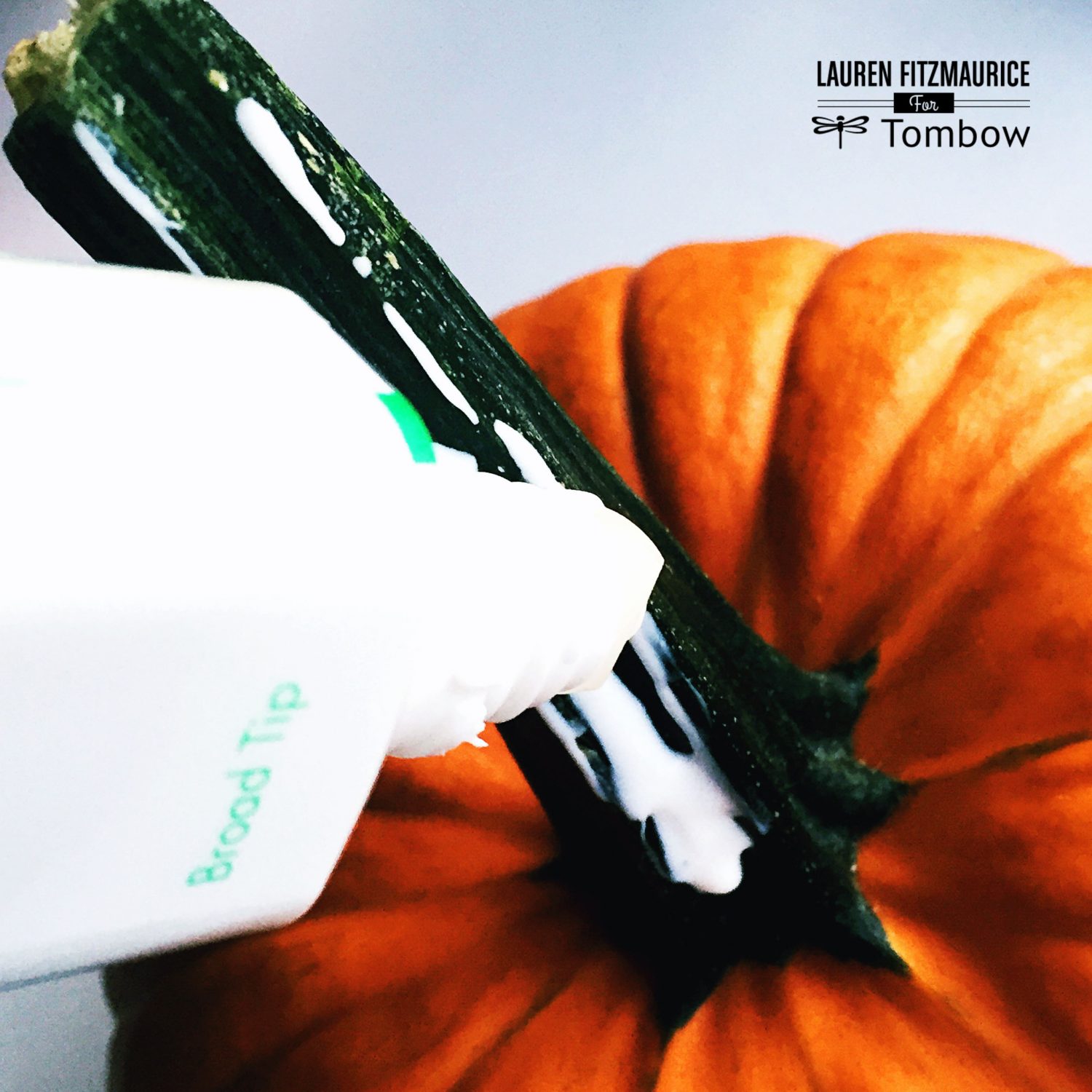 Then, wrap the twine around the glue-covered stem. Press firmly and press the twine into the stem, making sure that no stem shows through the background.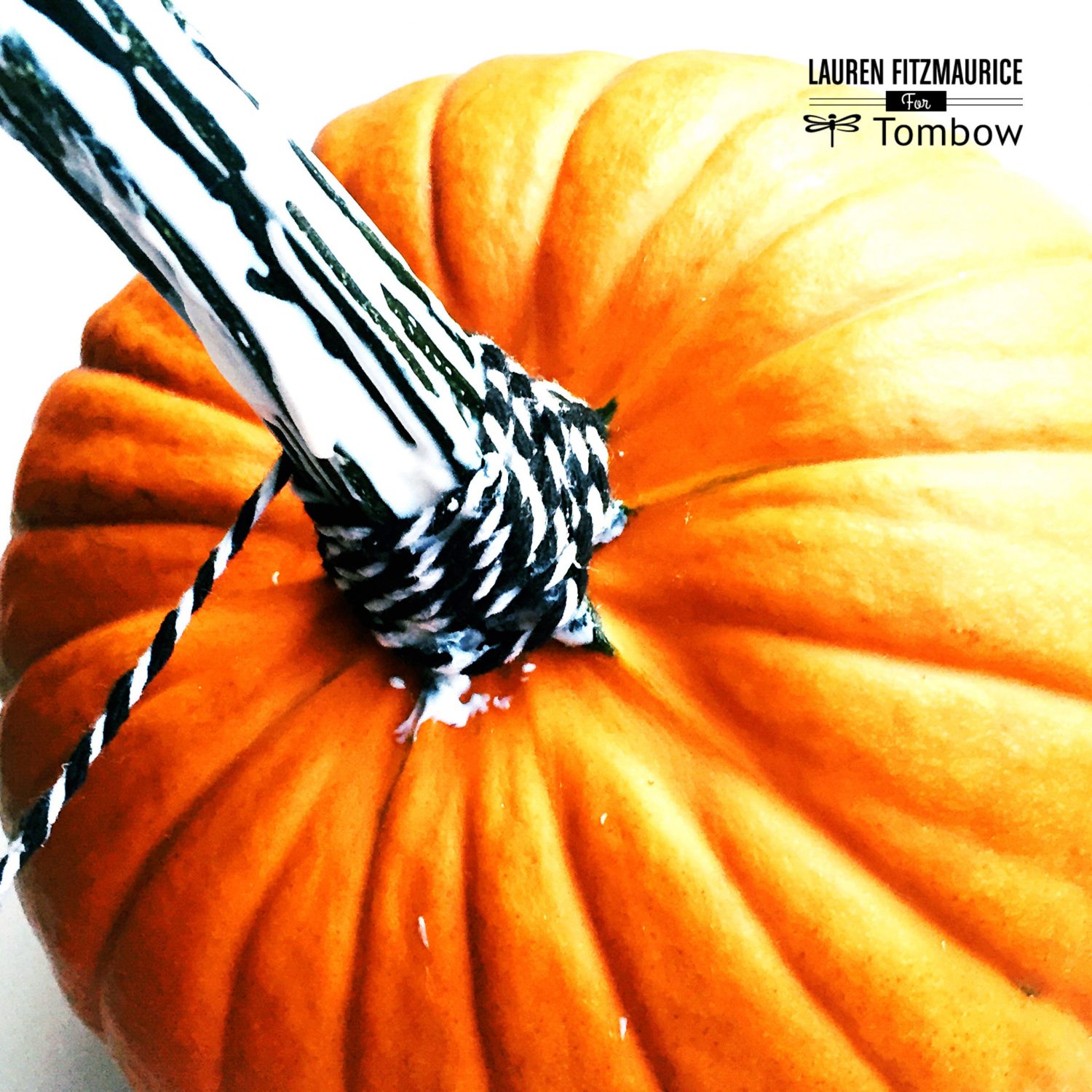 Finally, wrap the entire stem and add a bow to the base.  This adds a pop of bold black and white, which creates a fun and bold halloween color palette while also staying simple and unique.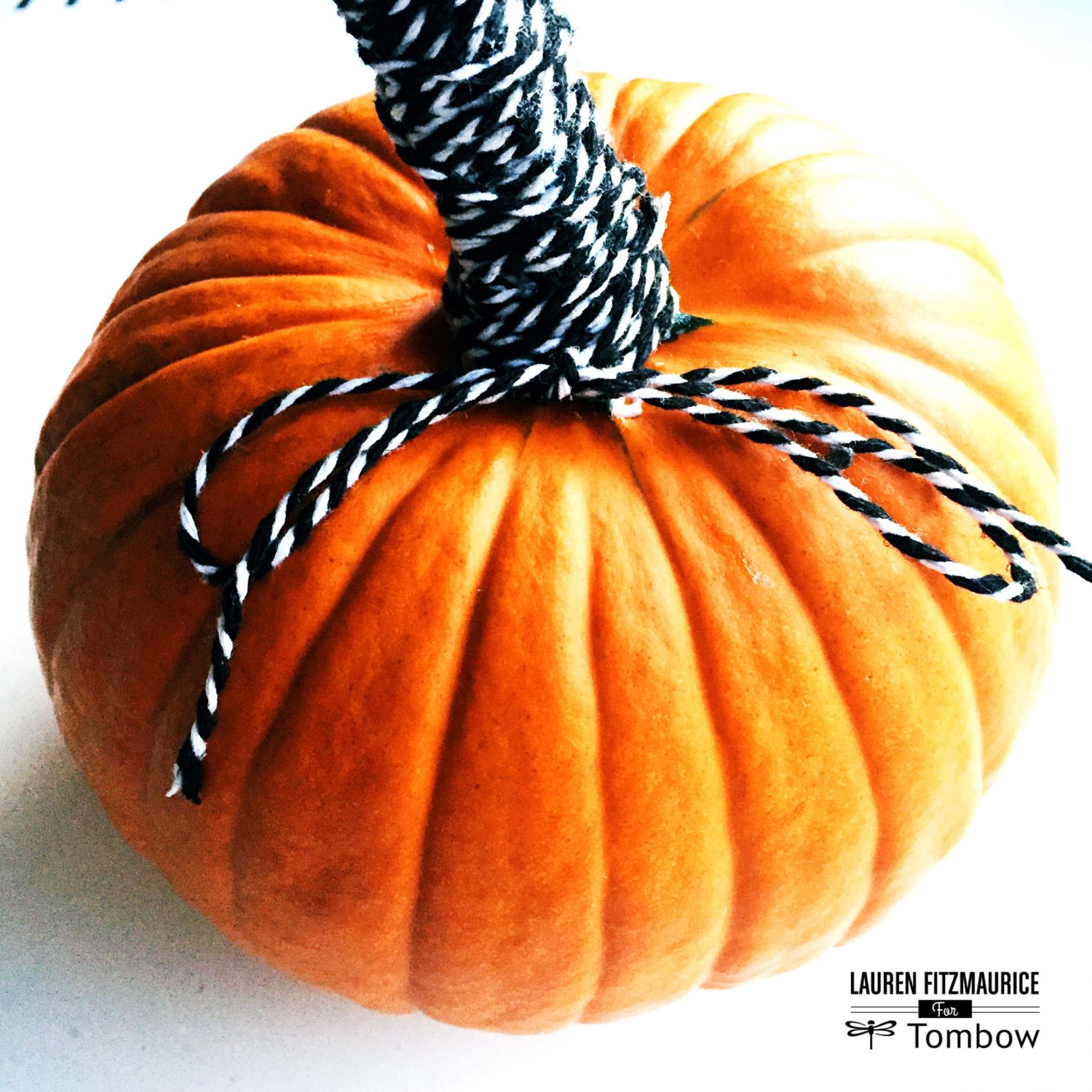 GLITTER
I am a firm believer in all things glitter. A simple design with a little added glitter is the perfect touch to a fun and creative pumpkin. All you need is a Tombow Mono Twin Permanent Marker, Tombow Mono Multi XL Liquid Glue, and fine glitter… I chose black to help my design stand out.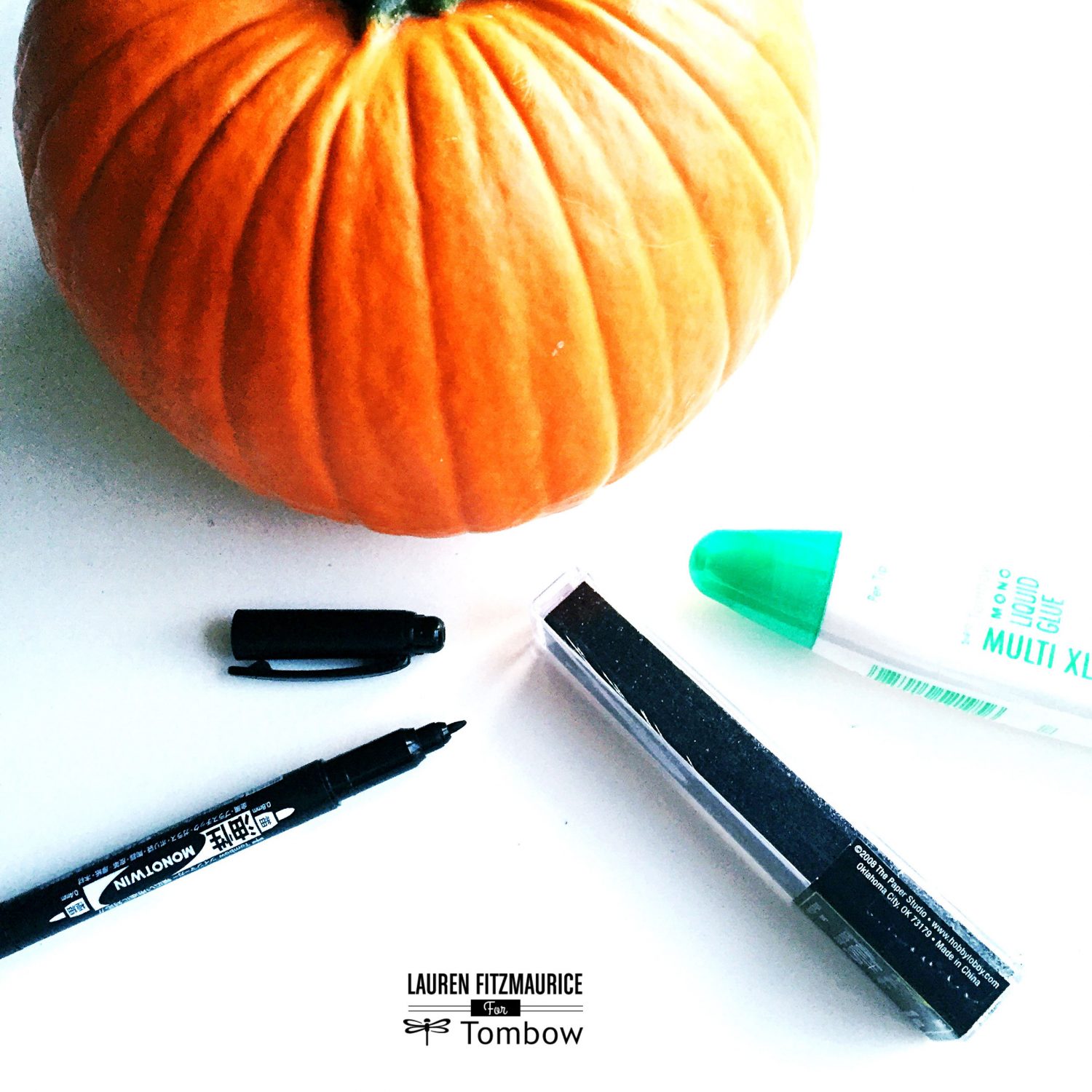 First, sketch out a fun and simple shape or word with the Tombow Mono Twin Permanent Marker.  This marker is perfect for the job because it is waterproof and will not run or bleed if it gets wet or touches glue.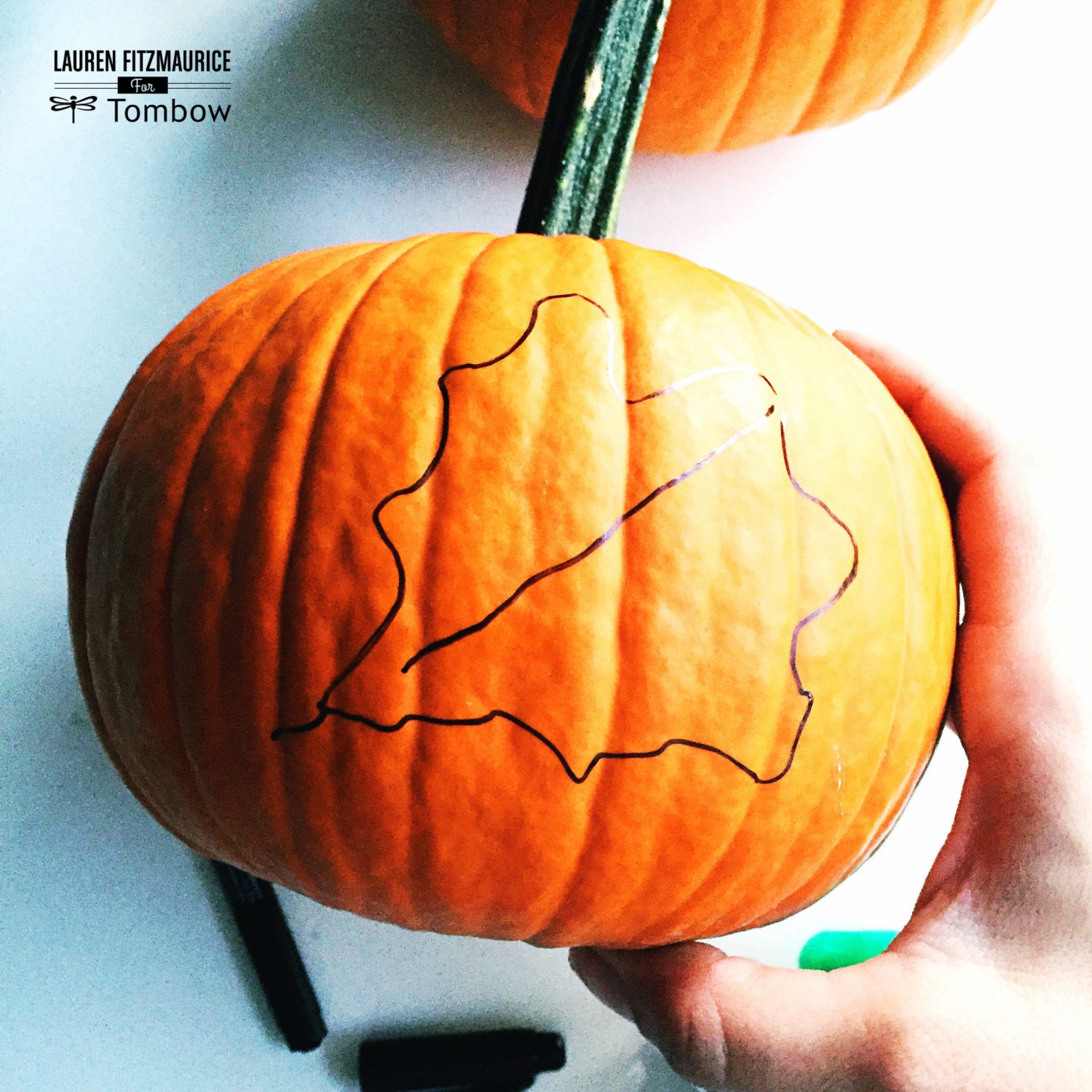 I drew a simple leaf shape.  Then, apply Tombow Mono Multi XL Liquid Glue to the shape by tracing over the marker.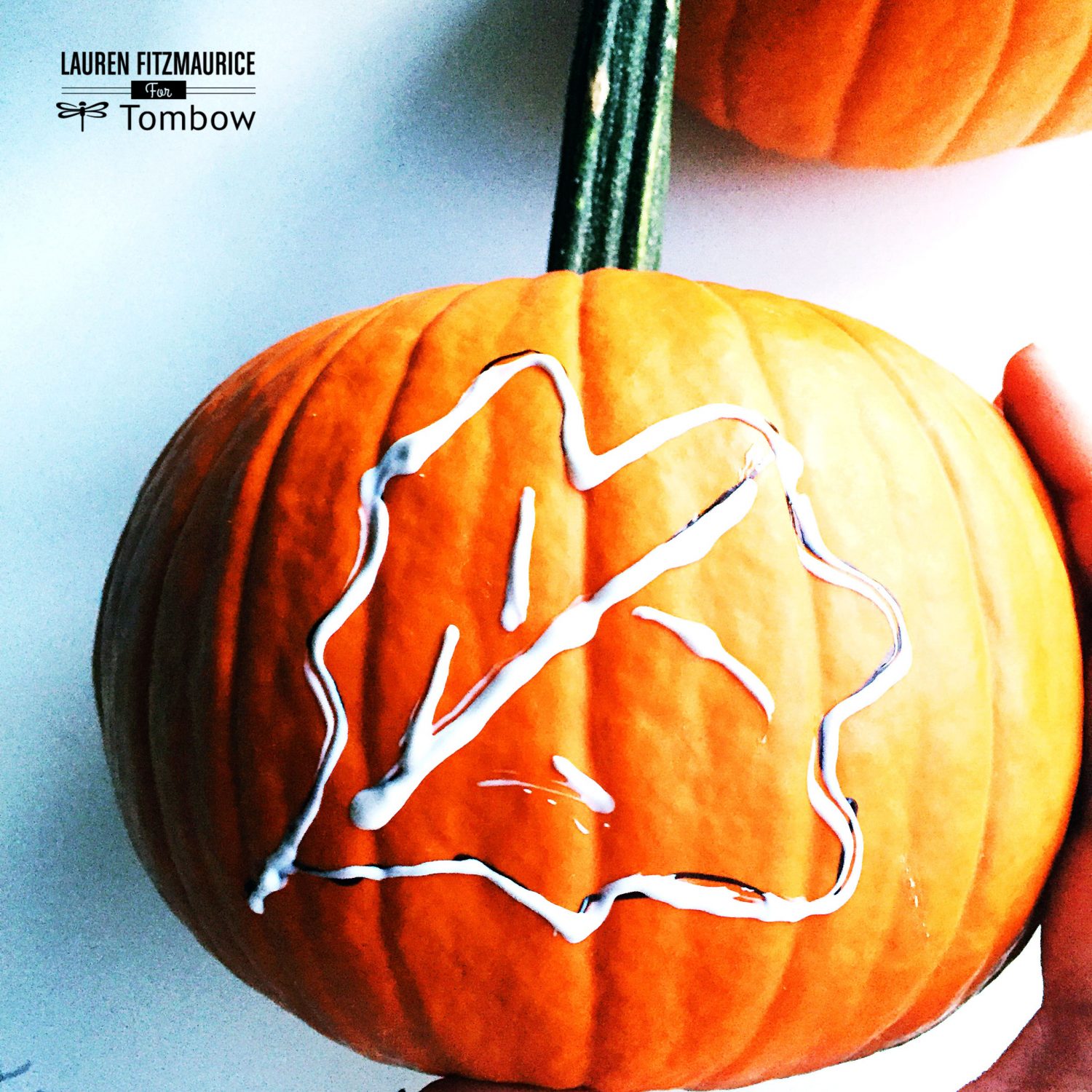 Lastly, add on the fine glitter and reveal the sparkle.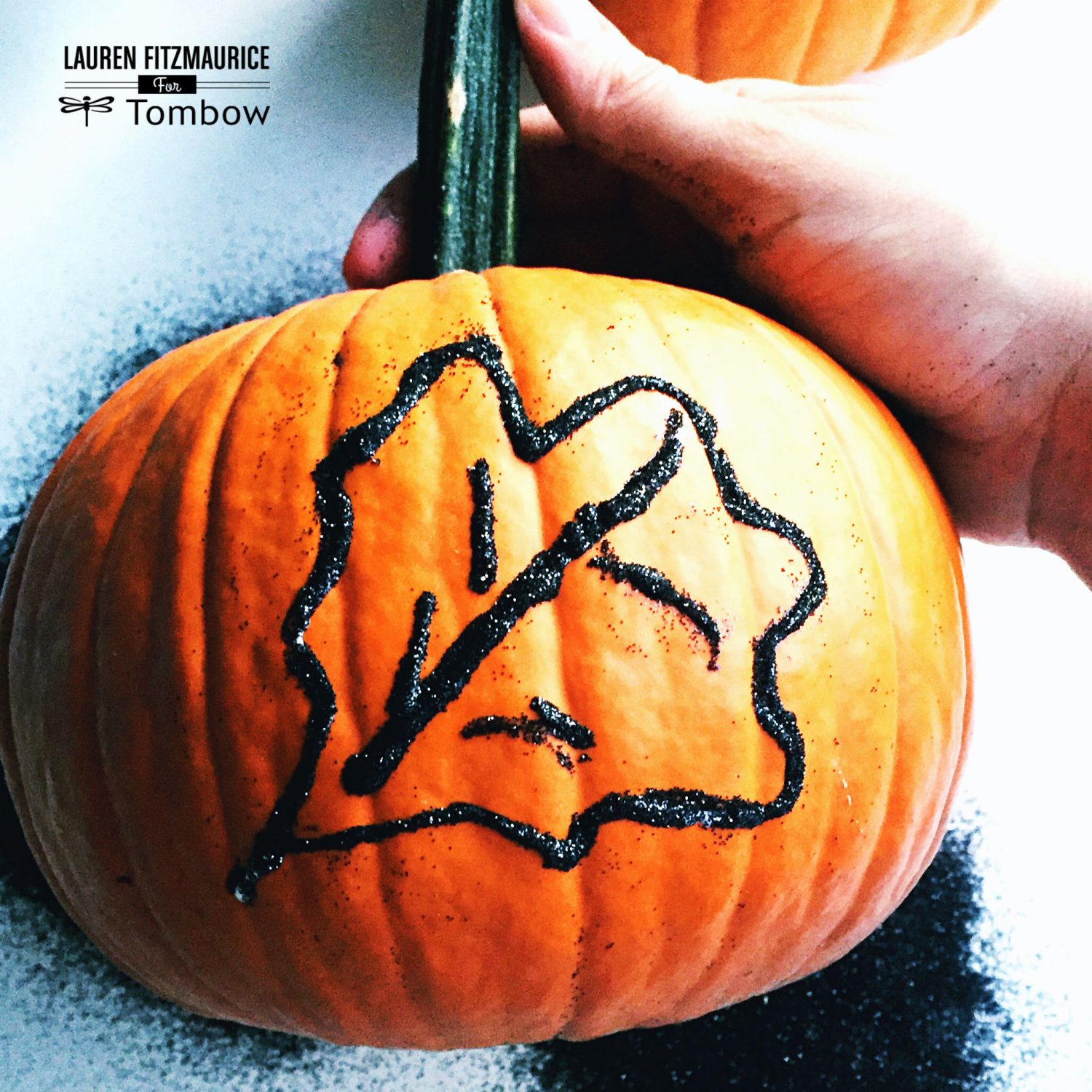 FOIL
Finally, foil is an excellent way to add embellishment to a simple pumpkin. All you need is a pumpkin (i chose a white one), a bottle of Tombow Mono Multi XL Liquid Glue and gold craft foil.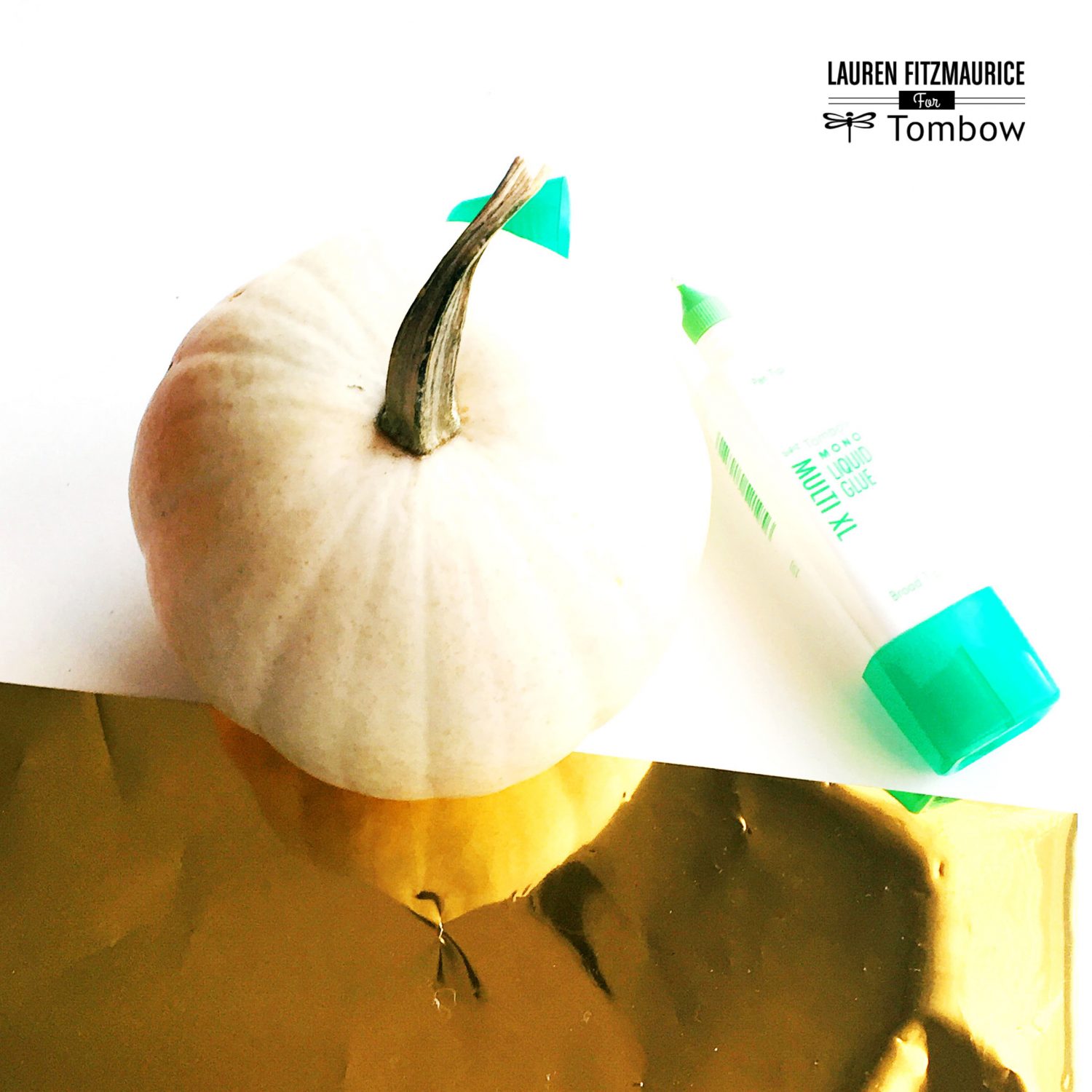 With the pen tip of the Tombow Mono Multi XL Liquid Glue, letter a fun word or phrase. I chose to do the word "boo" with some random polka dots scattered around.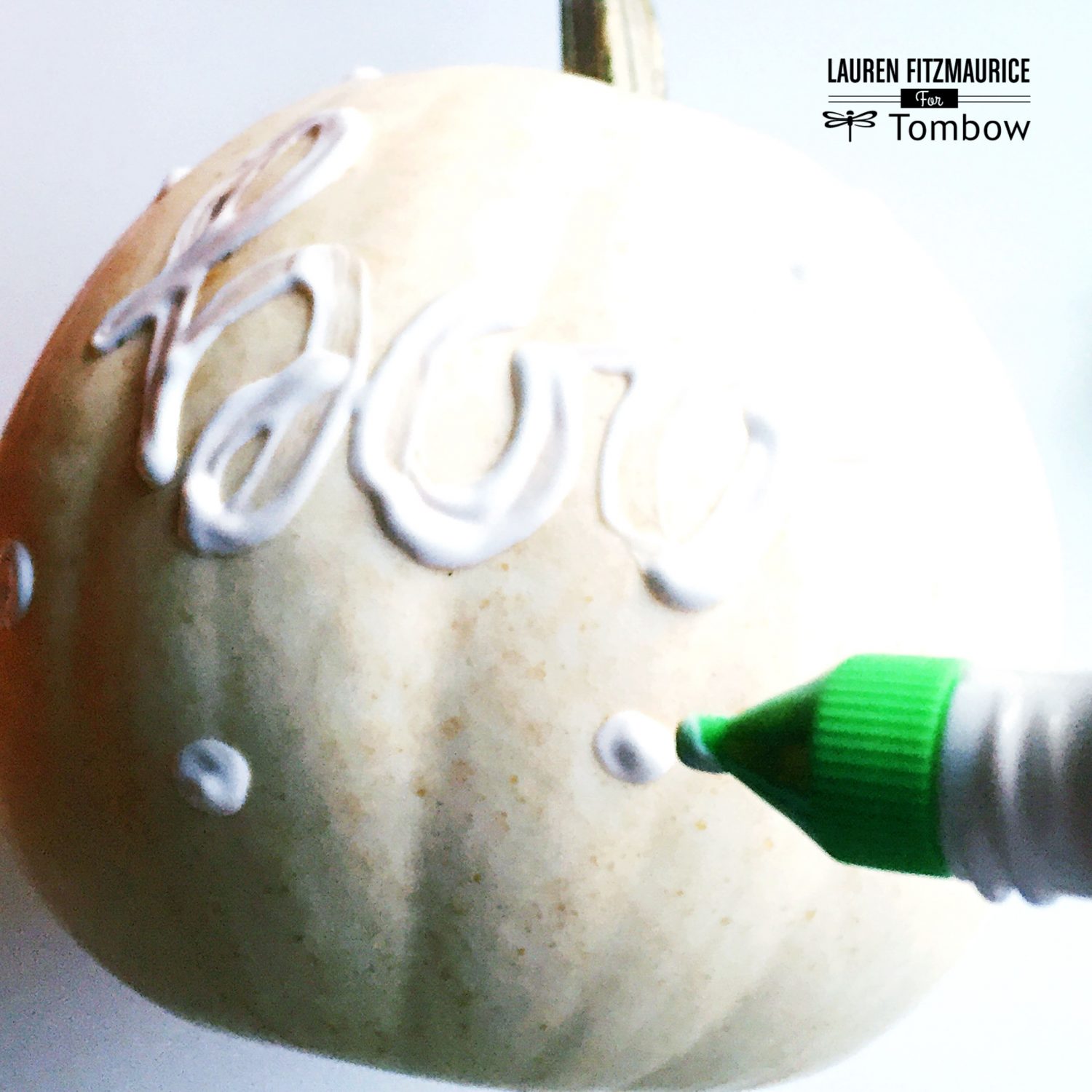 Then let the glue dry.  You may want to trace over the word that you write with a small paint brush.  The thicker the glue the longer it will take to dry.  You will know when your design is ready to be foiled because it will be dry and completely clear instead of white.  It will be tacky to the touch but will no longer be wet.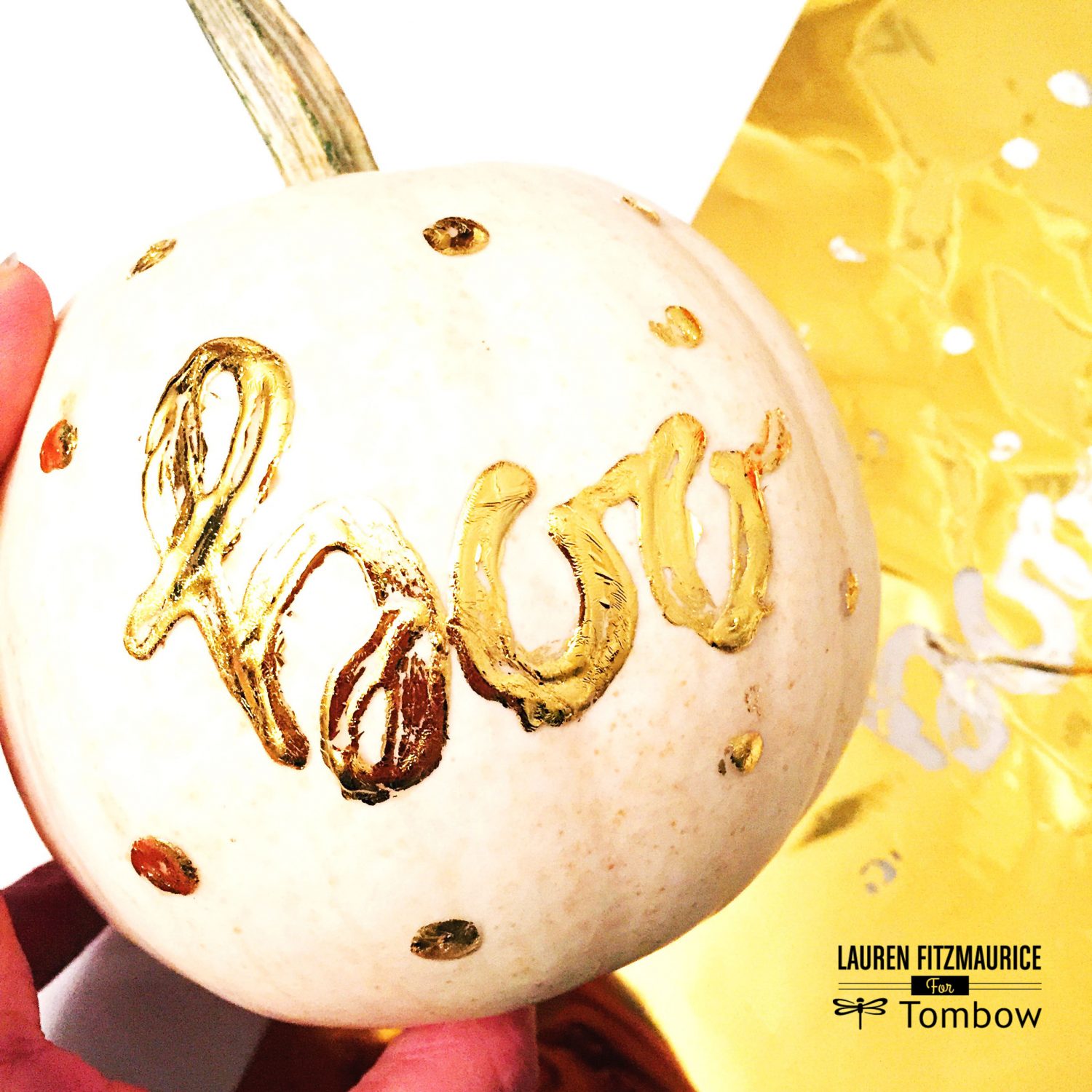 Then attach the foil to the pumpkin by firmly pressing down on the foil over the design.  Voila, you have a beautiful and creatively lettered pumpkin.
MIX AND MATCH
These three techniques can be mixed and matched to create a variety of fun pumpkins, perfect for the front porch or in the middle of your kitchen table as a center piece.  Create a few different pumpkins and layer them together for a fun and creative way to decorate for the fall season. How will you use Tombow products to decorate your pumpkins? I'd love to know!!!! Share them with me over on Instagram! For more lettering tips and tricks, check out the Letter Lovelies Community (1600 members strong and we'd love for you to join), follow me on Instagram, or check out the hashtag #tombowlikealefty.  Want to learn more about Tombow products? Check them out at Tombowusa.com.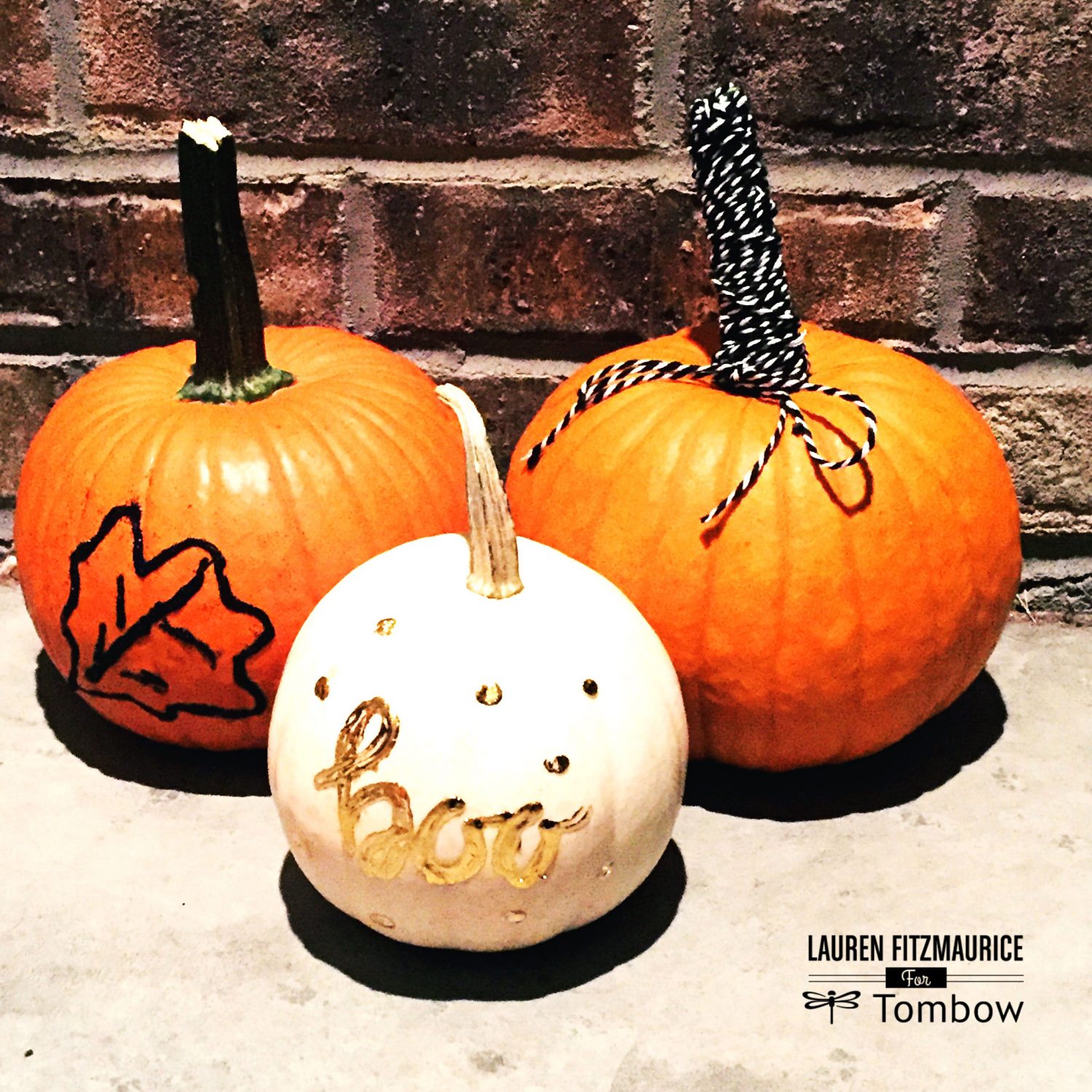 Happy Fall Crafting, Y'all!!!!
Lauren