Hi friends! It's Dani from @popfizzpaper here today with a tutorial for your Thanksgiving dinner table! These little envelopes are perfect for using as place cards, but why not also tuck some gratitude conversation prompts inside? Not only will they enhance the spirit of Thanksgiving, but they'll also get your family talking around the table. Below you'll find a process video of these gratitude place cards, as well as 25 prompt ideas to get you started!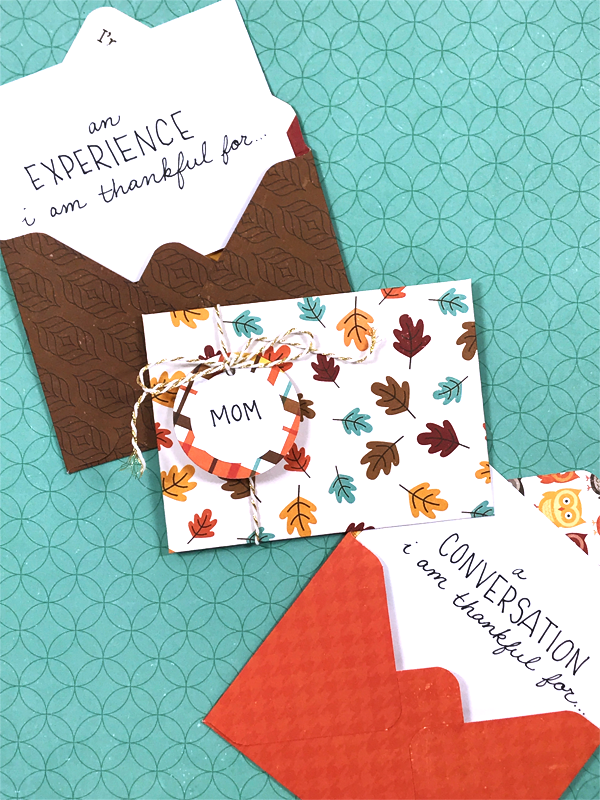 SUPPLIES:
White cardstock
Patterned cardstock
Envelope template or punch board
Circle punches or dies
Bakers twine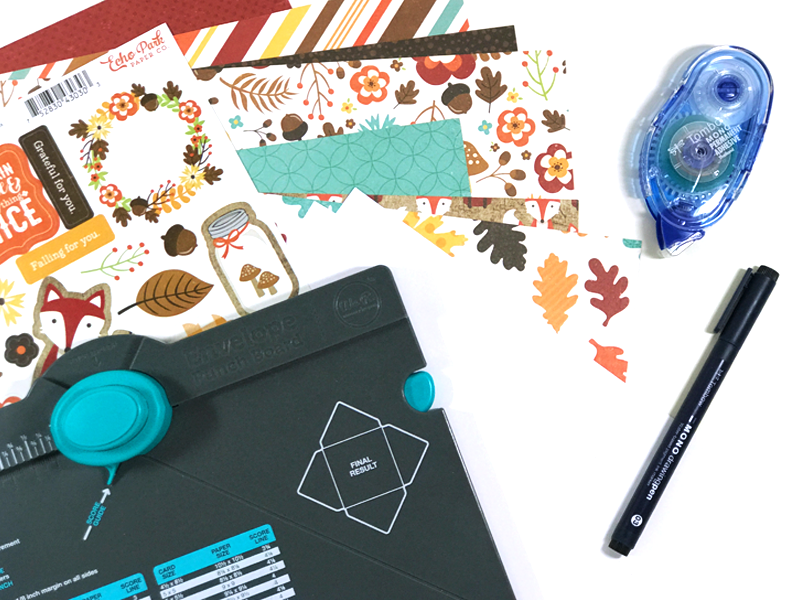 STEP ONE:
First, cut your papers into 6″x6″ squares if you are using a punch board, then score and punch to create a 3″x4″ envelope shape. If you are using a template, trace and cut out your envelope shape. Repeat for as many people as you need place cards for.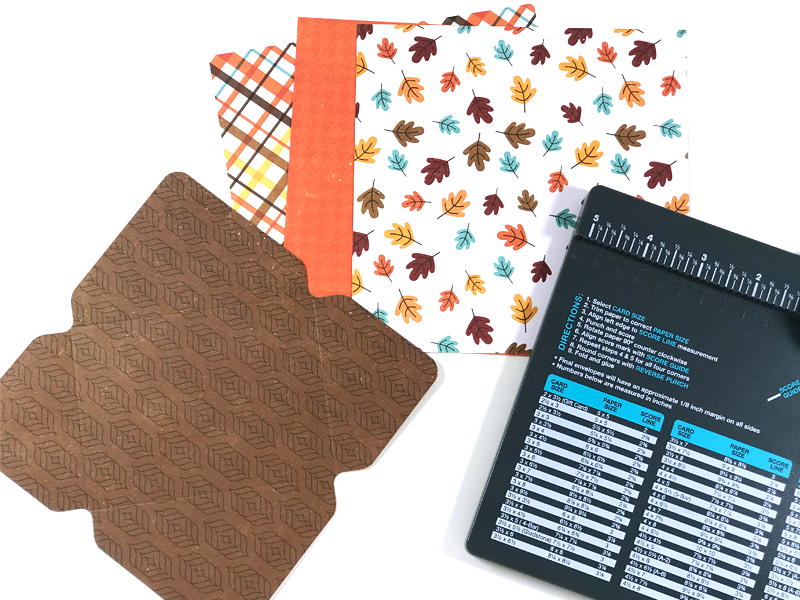 STEP TWO:
Next, assemble your envelopes! The Tombow MONO Permanent Adhesive makes it super easy and quick to create custom envelopes. These envelopes will be the base of the gratitude place cards.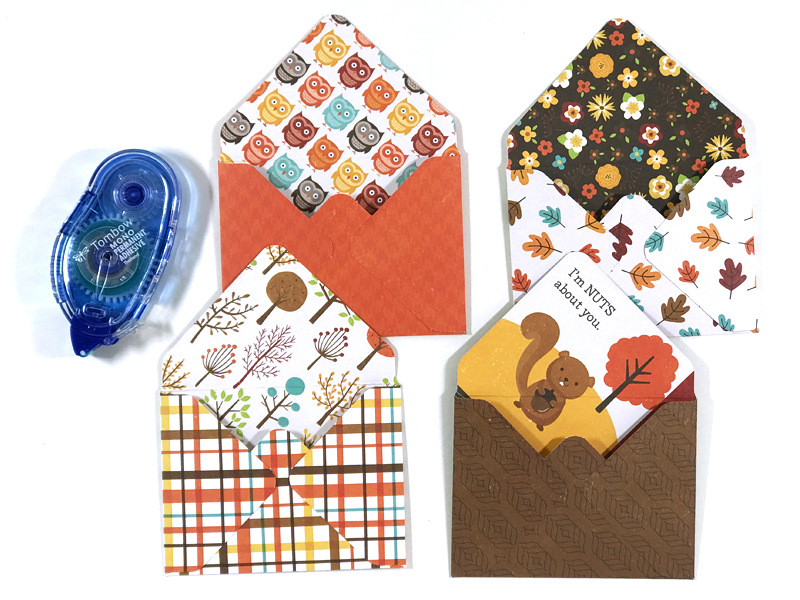 STEP THREE:
Now grab your white cardstock and cut it into slightly smaller rectangles that will fit into your envelopes. You could also use coordinating journal cards if you prefer them! With the Tombow MONO Drawing Pens, write your conversation prompts on your cards.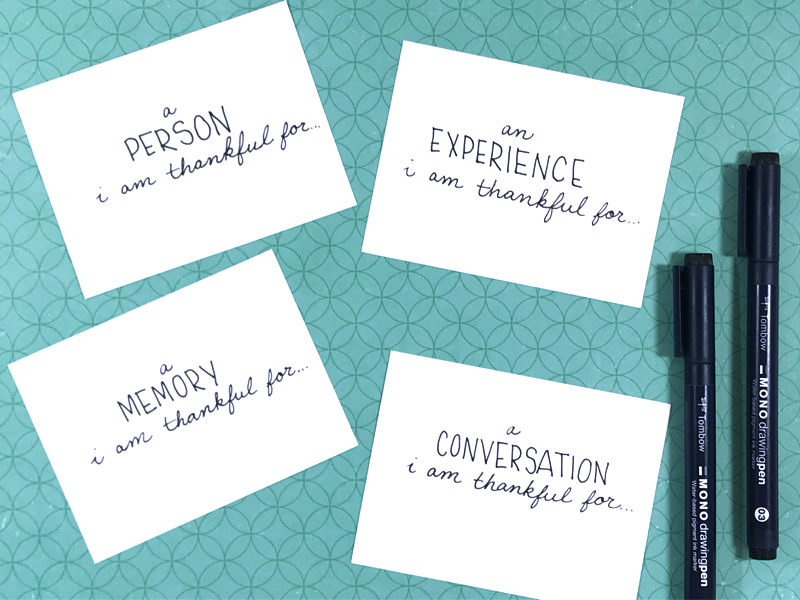 STEP FOUR:
Time to create the name portion of the place cards! Cut out patterned paper using a circle die or punch, then cut smaller circles out of white cardstock. Layer the white circle on top of the patterned one and adhere with the Tombow MONO Permanent Adhesive. Next, punch a small hole towards the top of your circle tag, then write in the person's name.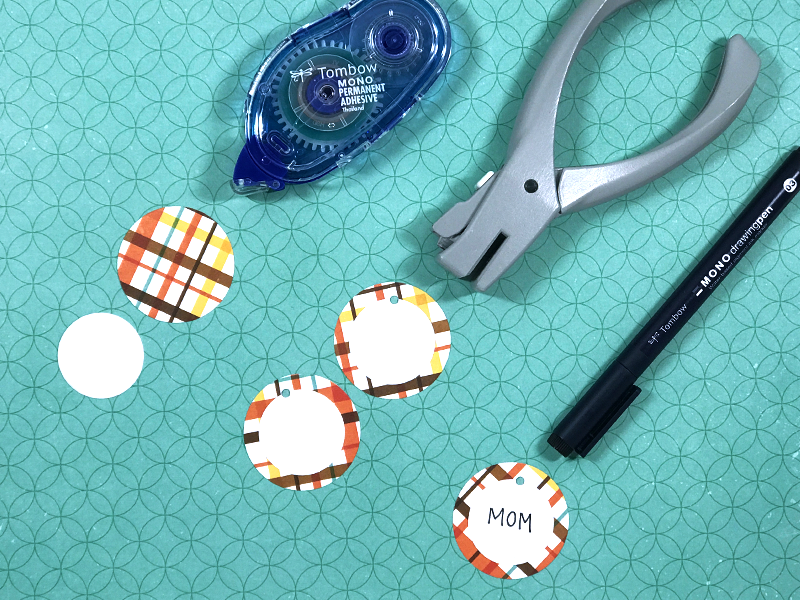 STEP FIVE:
Finally, let's assemble our gratitude place cards! In each envelope, tuck in a gratitude prompt. Now close up the envelope with adhesive, a sticker, or some washi tape – whatever you like! Wrap a bit of twine around the card, add your name tag, and tie a bow. All that's left is to set the table!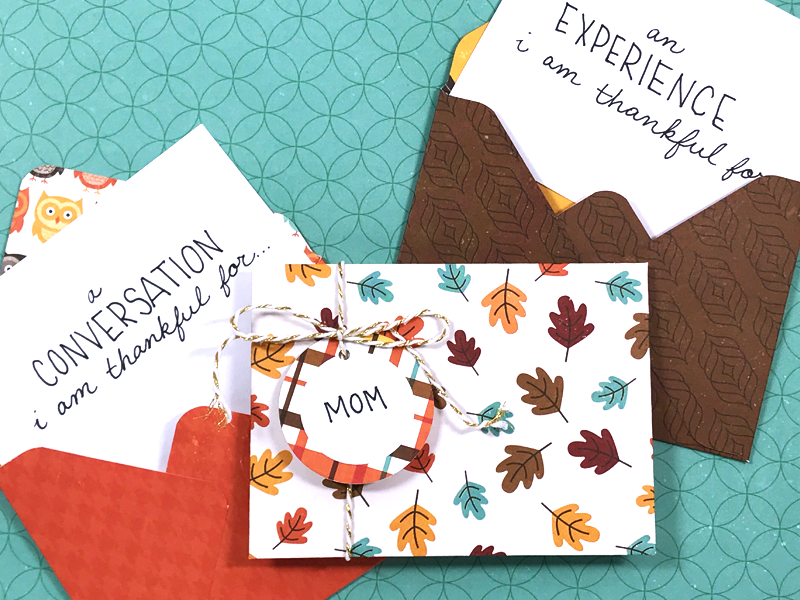 And that is it for today's post! Thank you for watching my video and following my tutorial – I hope you enjoyed it and that it will bring insightful conversations of gratitude to your Thanksgiving table! For more place card inspiration, check out this post by Lauren and this one by Smitha. Please tag me @popfizzpaper on Instagram if you create your thankful prompt envelopes  – I would love to see. Happy Thanksgiving!
GRATITUDE PROMPT IDEAS:
an EXPERIENCE I am grateful for…
a MEMORY I am grateful for…
a SONG I am grateful for…
a PERSON I am grateful for…
a VICTORY I am grateful for…
a CONVERSATION I am grateful for…
a CHALLENGE I am grateful for…
a BOOK I am grateful for…
a TRIP TAKEN I am grateful for…
a LESSON I am grateful for…
a LAUGH I am grateful for…
a RELATIONSHIP I am grateful for…
a PROJECT I am grateful for…
a TEACHER I am grateful for…
a SMALL JOY I am grateful for…
a DAY I am grateful for…
a MEAL I am grateful for…
a STRUGGLE that I am grateful for…
a GIFT I am grateful for…
a TREAT that I am grateful for…
an OPPORTUNITY I am grateful for…
a FRIEND I am grateful for…
a HOBBY I am grateful for…
a MOMENT ALONE I am grateful for…
a TIME TOGETHER I am grateful for…