Hi crafty friends! It's Dani from @popfizzpaper here today with a galaxy bookmark tutorial that makes a cute teacher appreciation gift! You can definitely get the kiddos involved in creating these easy bookmarks. Plus, they can write a little message to their favorite teacher on the back. Let's get started!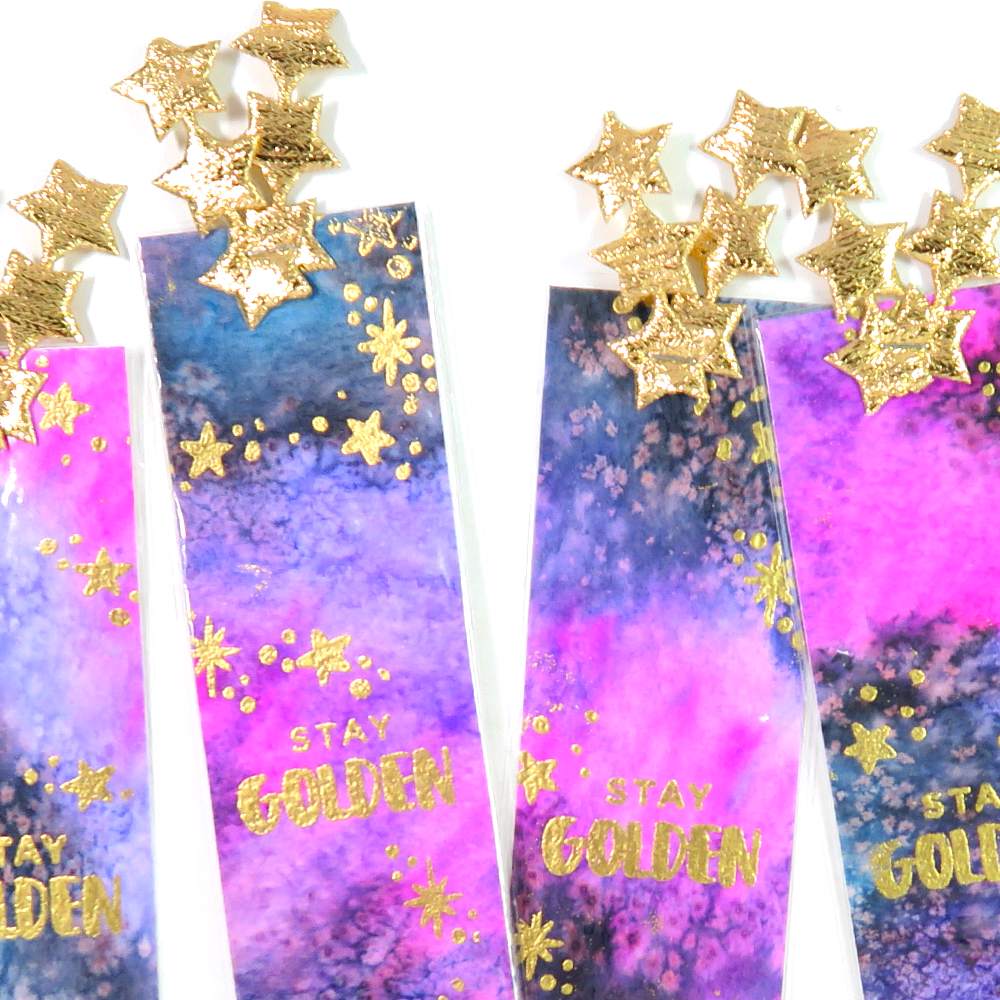 SUPPLIES:
Watercolor paper
Spray bottle
Waterbrush
Star and sentiment stamps and block
Embossing powder
Heat setting gun
Clear packaging tape (about 2 inches wide)
Scissors or paper trimmer
Stapler

STEP 1
Tape the watercolor paper down to a board or piece of cardboard to prevent the paper from warping too much. Next, squiggle a wonky Y shape across your watercolor paper with the pink Tombow Dual Brush Pen. Then, add purple on either side of the pink. Around the edges of your paper, add some patches of the blue Dual Brush Pen and fill in with squiggles of black. For a brighter galaxy, use less black and more of the other colors. You do not have to be super precise with this. This technique is also a great way to get the last bits of use out of your brush pens! Next, spritz well with water. Use a waterbrush to blend out all the colors. Leave blending the black for last, so your galaxy doesn't get muddy. Sprinkle on some salt to pick up dots of ink and let dry completely.
I've included a clip from another project using this same galaxy painting technique.

STEP 2
Now cut out your bookmarks! I was able to get 8 bookmarks, each measuring 1.5″ wide and 6″ tall.

STEP 3
Let's make things shine! I'm using a "Stay Golden" sentiment from a stamp set by Amy Tangerine and star stamps by StudioL2e. Using clear embossing ink, I stamped the phrase in the middle of the bookmark and heat set it with gold embossing powder.
Next, use the star stamps to follow the swirling shapes of the galaxy pattern. I suggest doing this individually for each bookmark, so you can customize the stamping to each bookmark's patterning. Make sure all of your stamping is heat embossed before moving to the next step.
If your child wants to write a message to their teacher on the back of the bookmark, do that now.

STEP 4
We want our galaxy bookmark to last, but we also want to protect the pages of the books it will be used in. Get your clear packing tape (mine is just shy of 2″ wide) and cut off a piece that will cover the length of your bookmark, plus about an inch on either side. Lay this piece of clear tape on the front side of your bookmark. I suggest starting in the center and working your way to the outer ends. Press down firmly, flip over and repeat on the back side.
Press the sticky sides of the tape together, sealing well along all the edges of the bookmark. Carefully trim off the excess tape around the bookmark. I kept about a 1/8″ clear seal around my bookmarks. You can trim all the way up to the edge if you prefer. Keep in mind it might not be as durable. Finally, cut off a 4″ length of decorative trim, fold it in half, and staple to the top of your bookmark. Done!

See how easy it is to create a galaxy bookmark! Thank you so much for following along with this teacher appreciation gift tutorial today! Check out more teacher gift ideas here on the blog. I will see you next time!