Do you want to learn some easy methods to make your stamped holiday cards just a little bit EXTRA this year? Hello, Katie from Studio Katie! Today, I'm going to show you two fun ways to embellish your handmade holiday cards using Tombow's MONO Glue Pen and Whimsy Stamps!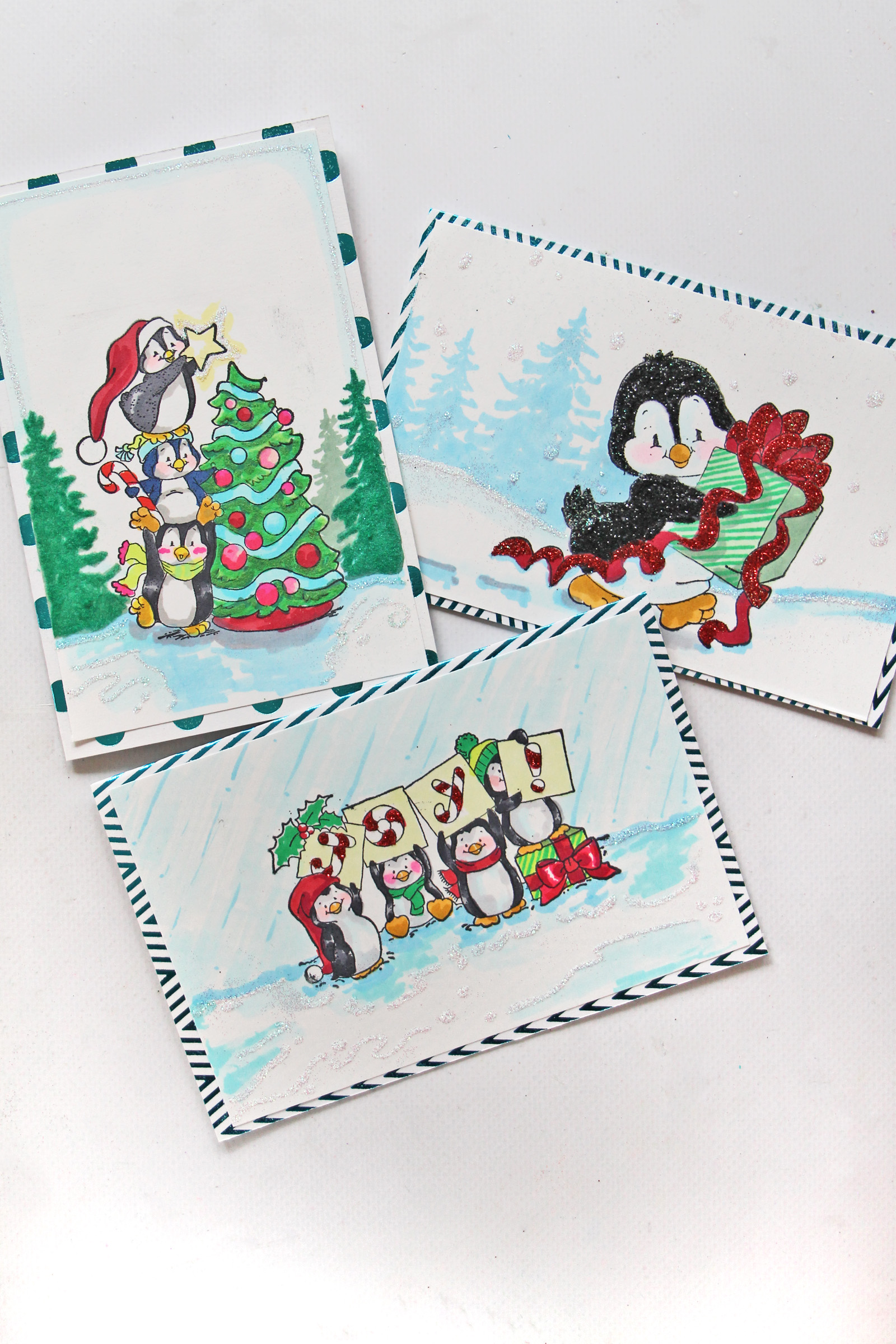 Supplies:
Extra fine glitter
Velvet flocking
Marker paper or cardstock
Patterned paper or card blanks
Black dye ink pad
Tombow MONO Adhesive + Permanent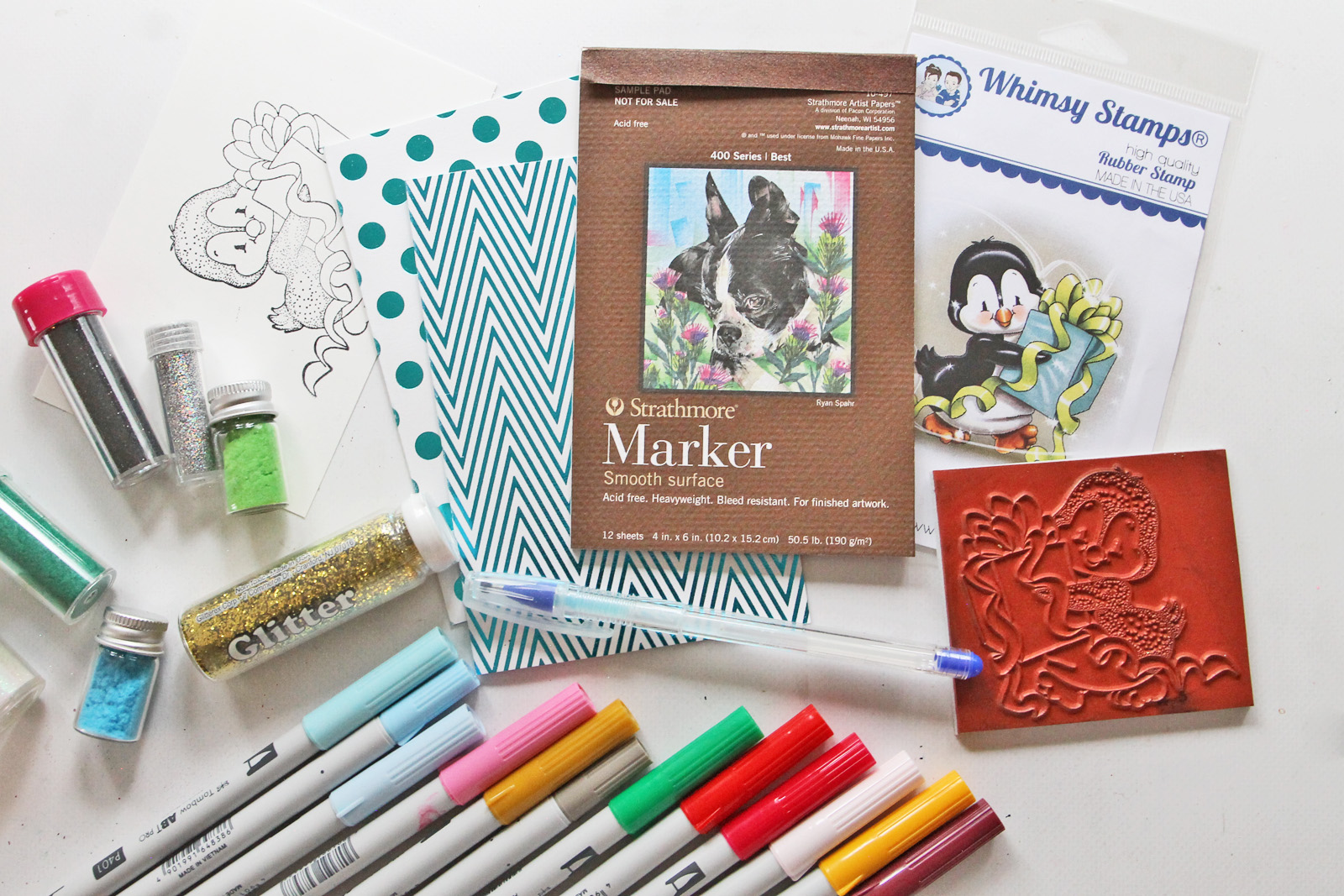 Step one:
To start, stamp and color your designs as usual! I just love these Christmas penguins that Whimsy Stamps sent me! I stamped them on marker paper and colored them in using the ABT PRO Markers. These markers are so great for coloring! Learn more about these brand new Alcohol Based Art Markers here.  
I have found that the best ink to use to avoid smearing with the ABT PRO Markers is Tsukineko's Memento Dye Ink.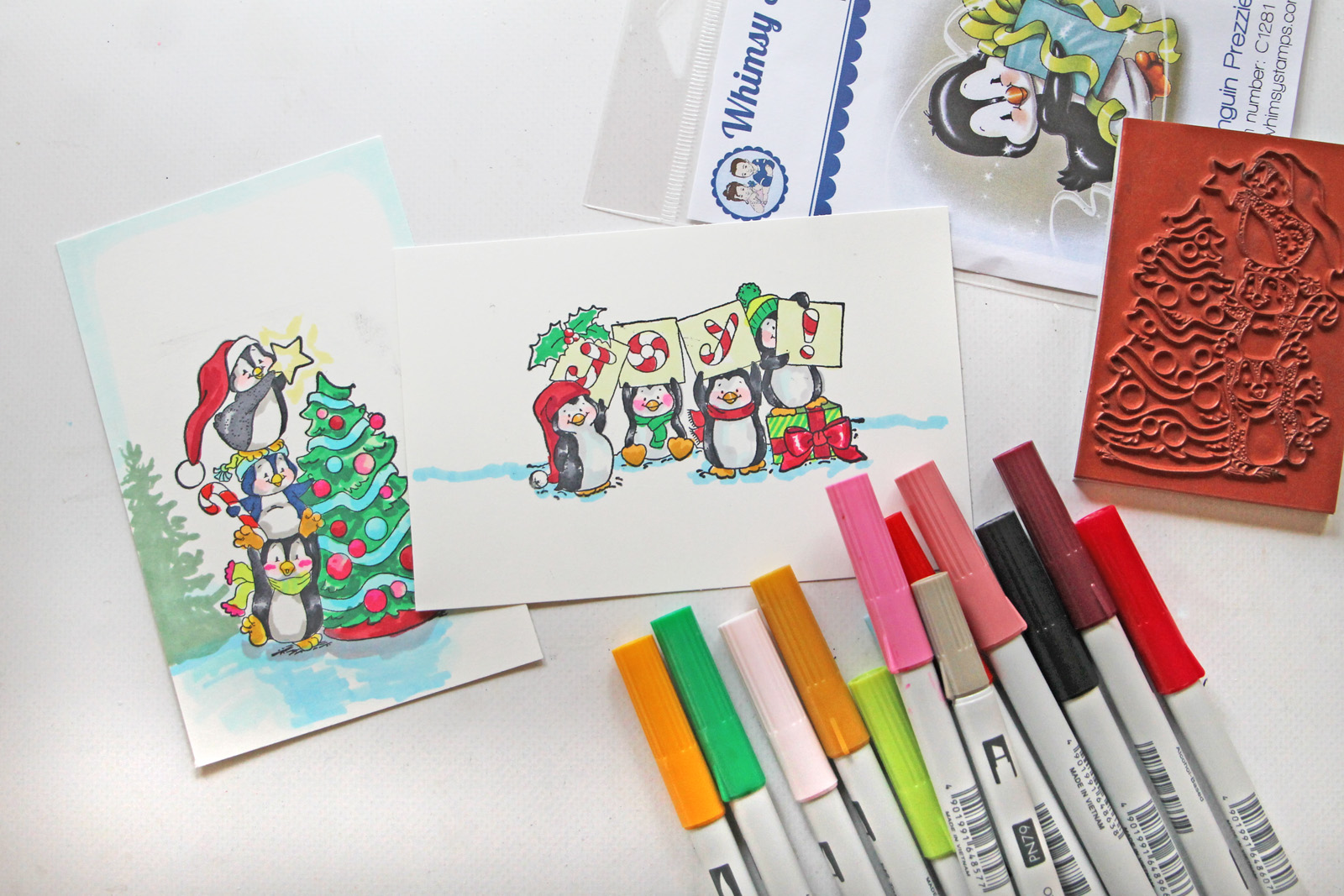 Step two:
Use the MONO Adhesive + Permanent to adhere your designs onto the front of your card blanks. This is a strong adhesive that easily sticks paper to paper, so your designs won't be going anywhere!
Next we're ready to embellish!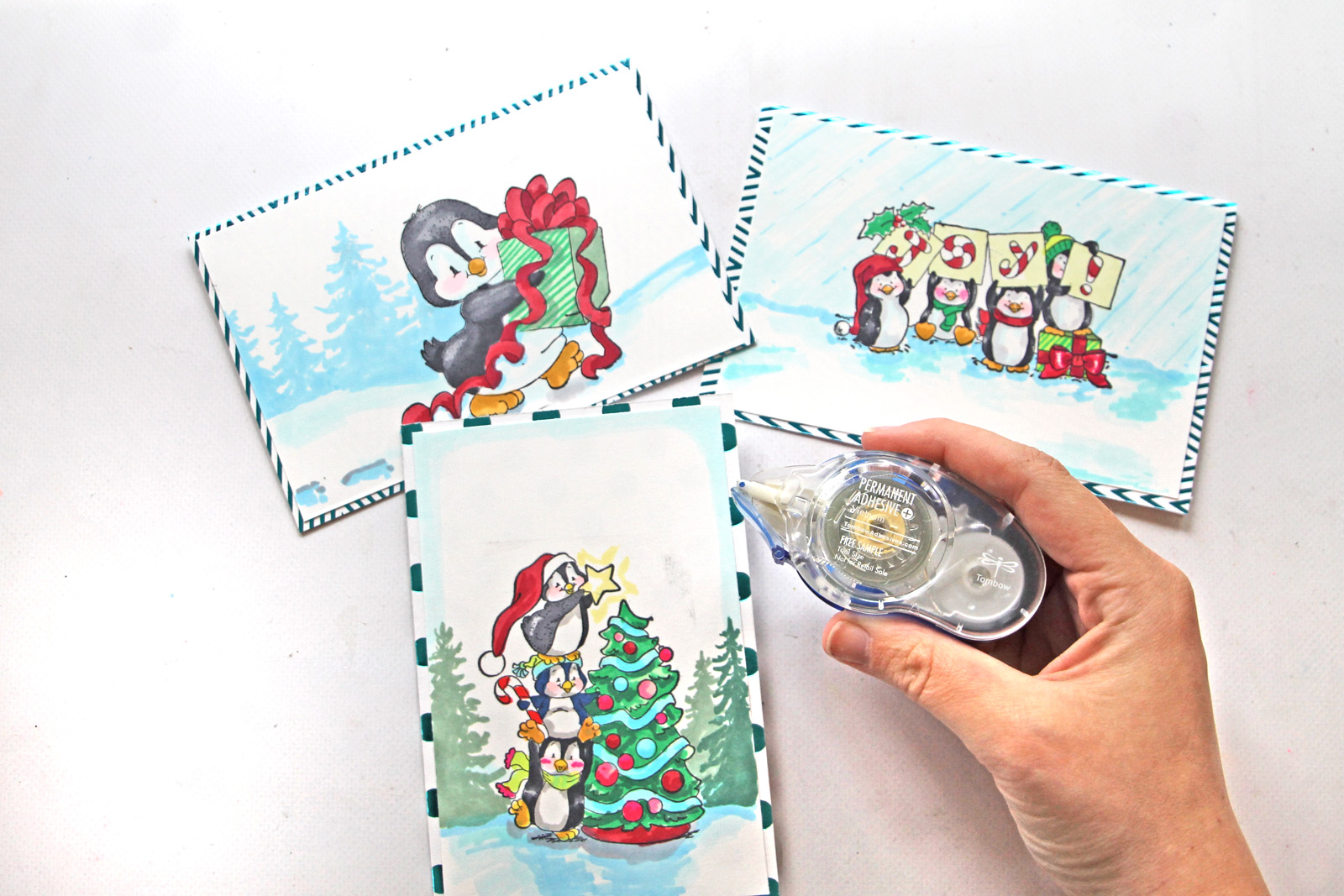 How to Embellish with Glitter:
For this technique, you'll want some extra fine glitter in any colors that will match your color scheme.
Step one:
Use the MONO Glue Pen to draw lines and flourishes around your stamped design. Because my card is wintery, I chose to draw swirls in the snow.
The glue comes out clear, so to see where you're drawing, look at the paper from an angle! The glue flows just like ink from a ball point pen.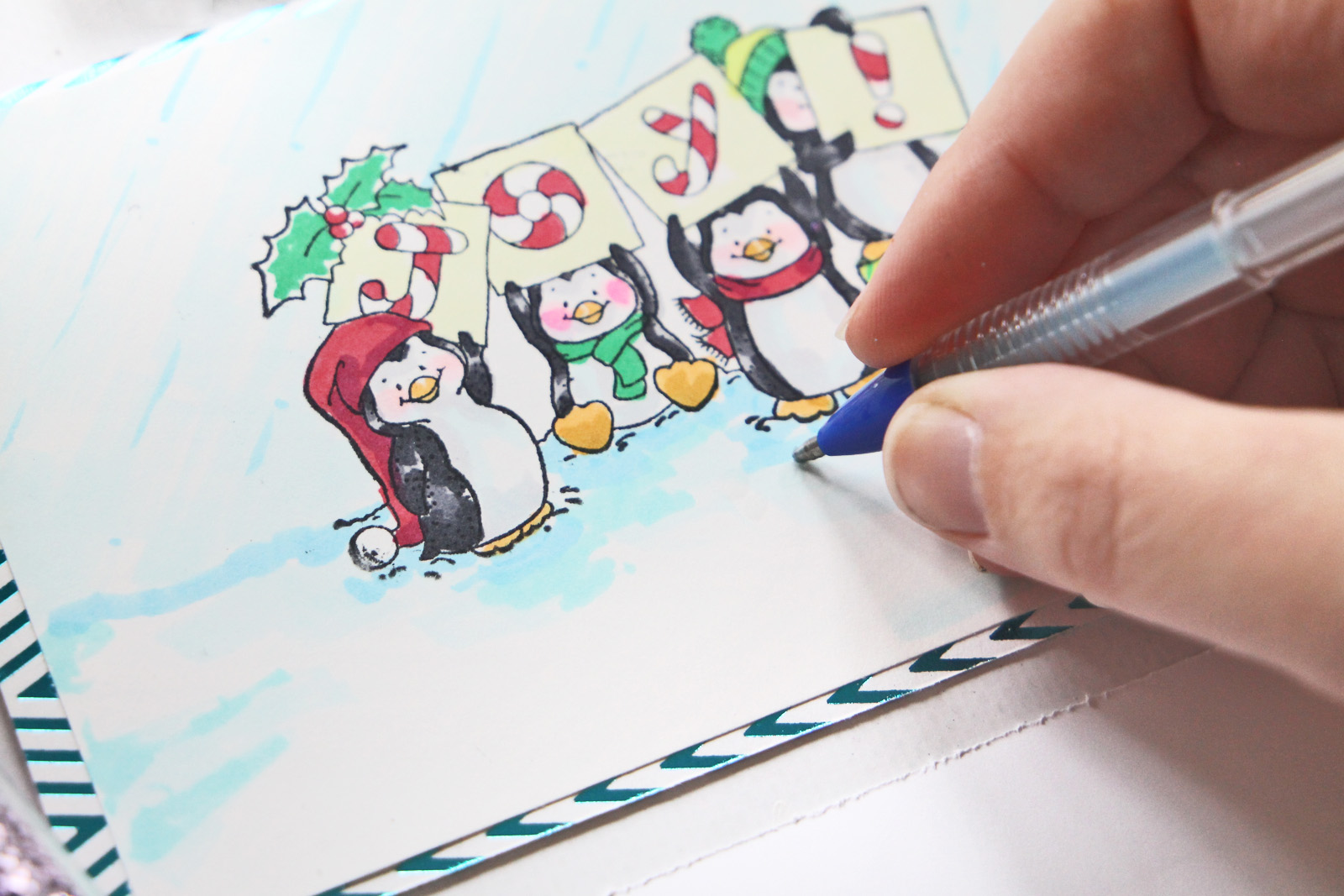 Step two:
While the glue is still wet, sprinkle glitter over top of it. Make sure to fully cover everywhere you drew with the glue pen.
Next, pour the extra glitter off onto a piece of paper to reveal your glittery designs!
Bonus tip: Use that extra piece of paper to pour the glitter back into the container to save it for your next project! 
How to embellish with Velvet Flocking:
This technique is very similar to the first one, however instead of glitter, we'll use velvet flocking to add a soft fluffy feel to the designs!
Step one:
Repeat step one of the glitter technique by using the MONO Glue Pen to draw on your designs. I filled in my Christmas tree with glue.
Step two:
Cover the glue in velvet flocking, making sure to cover it all. You can very lightly pat the flocking to ensure it sets into the glue.
Step three:
Knock the extra flocking off onto a piece of paper (to be poured back into the container) to reveal your flocked and fluffy Christmas tree!
If you want to fill a much larger area with glitter, you can also use the pen tip of the MONO Aqua Liquid Glue!
Want more? Check out these posts from the Tombow Archives:
How To Use These 6 Tombow Adhesives for Card Making
Handmade Embellishments to Make with Tombow Adhesives (perfect for card making)