Hello everyone, I'm Katie from Studio Katie! Today, I want to show you how to create some bohemian watercolor galaxy bookmarks! These bookmarks make such great little gifts for friends. They are also the perfect project that you can make to take part in Tombow's Sharing Art Matters project to share free art with your local community!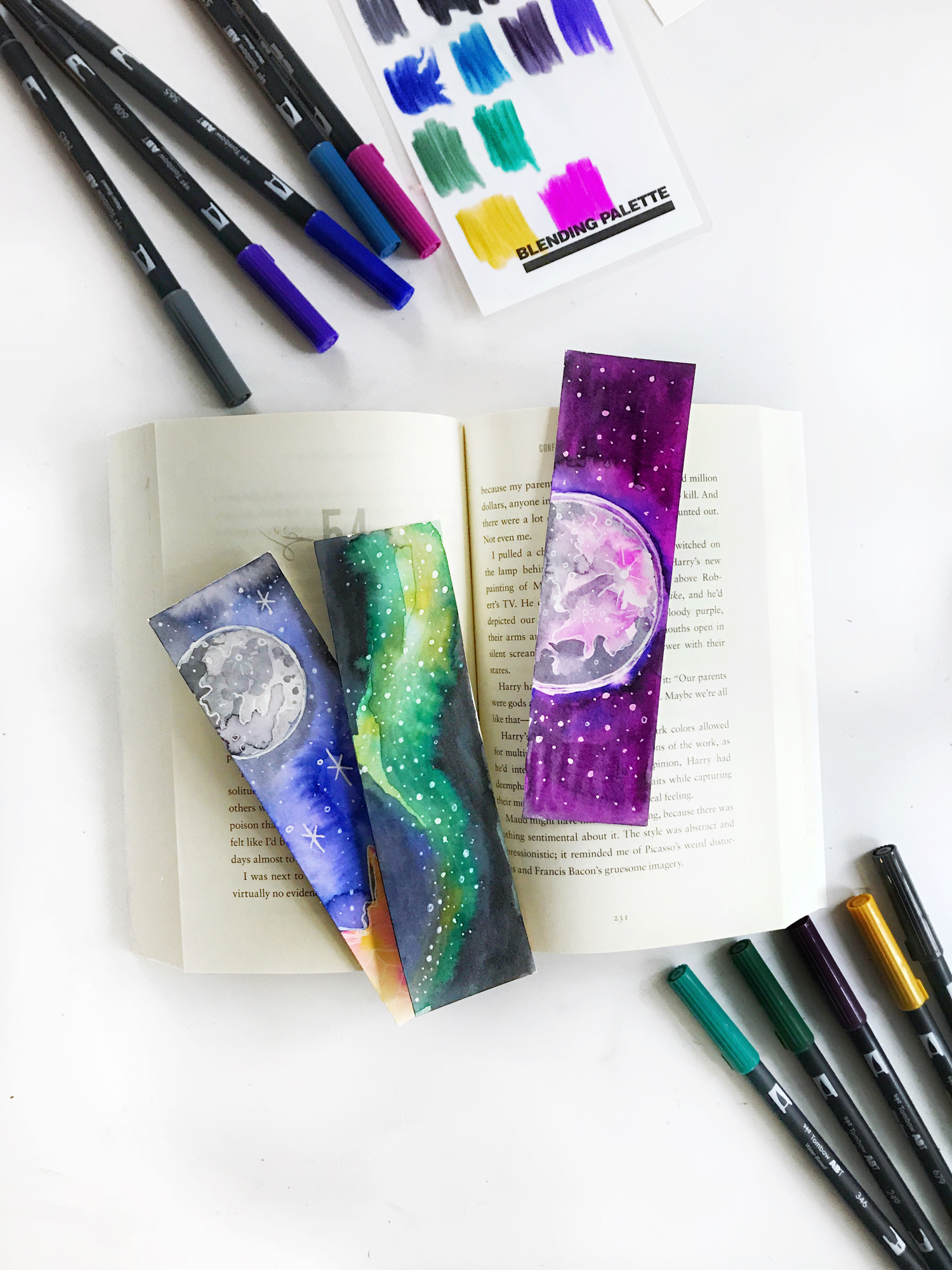 Supplies:
Watercolor paper (I'm using 140 lb paper from Canson)
Paper trimmer or scissors
Paper towel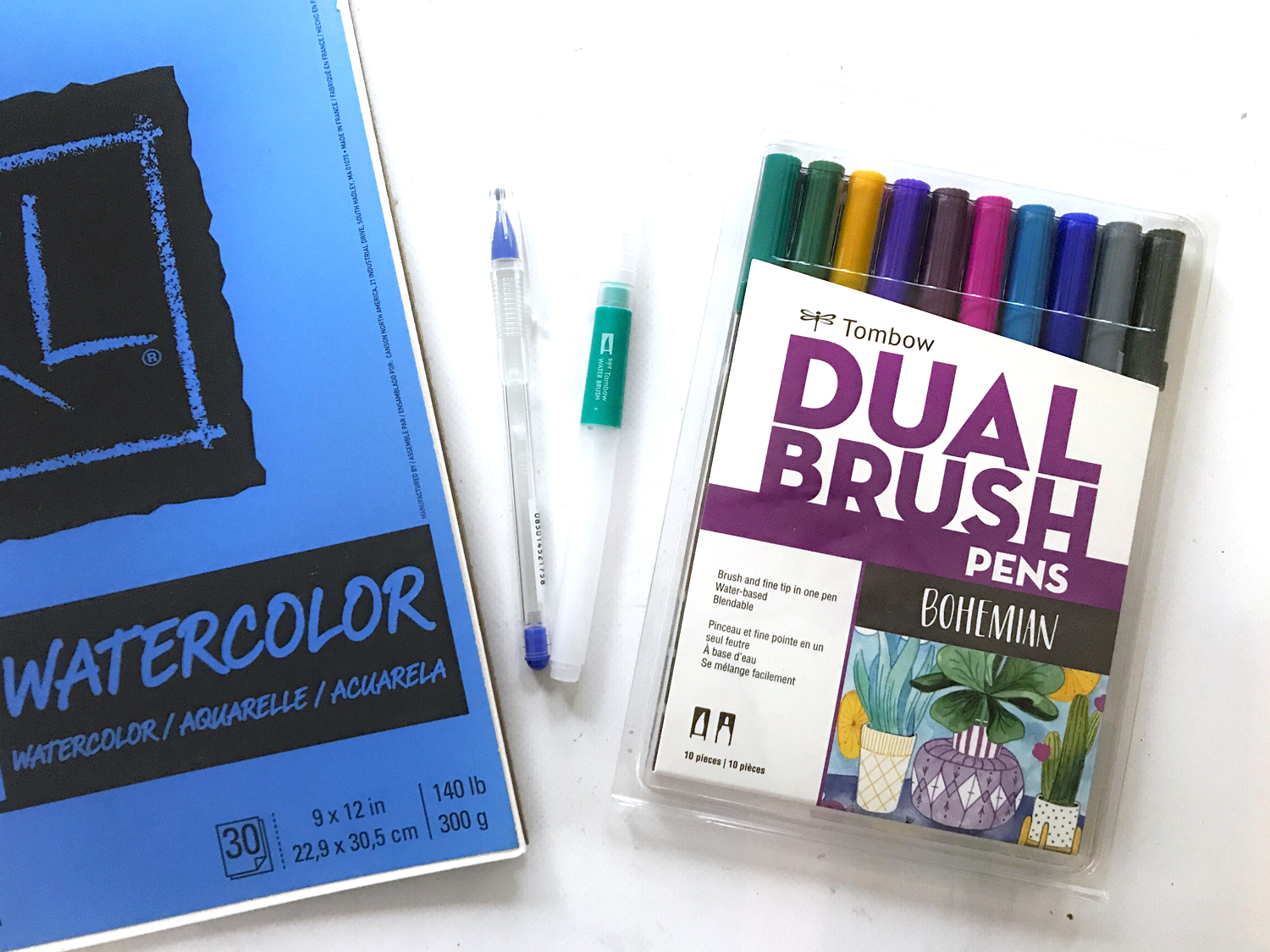 Step one:
Use a paper trimmer (or scissors) to cut your watercolor paper down to 2×7″ for a nice bookmark size.
Step two:
Using the MONO Glue Pen, draw designs onto your bookmarks. Here's a tip: The glue both goes on and dries clear. So, if you find it challenging to see what you're drawing, look at your paper from an angle, and it will be easier! Another tip: If you find that not much glue is coming out, just tap it down a few times on a piece of scrap paper to disperse any air bubbles that may be inside.
A few ideas on what to draw: mountains, moons, planets, trees and of course lots of dots for stars.
Let the glue dry (approximately 5 min.)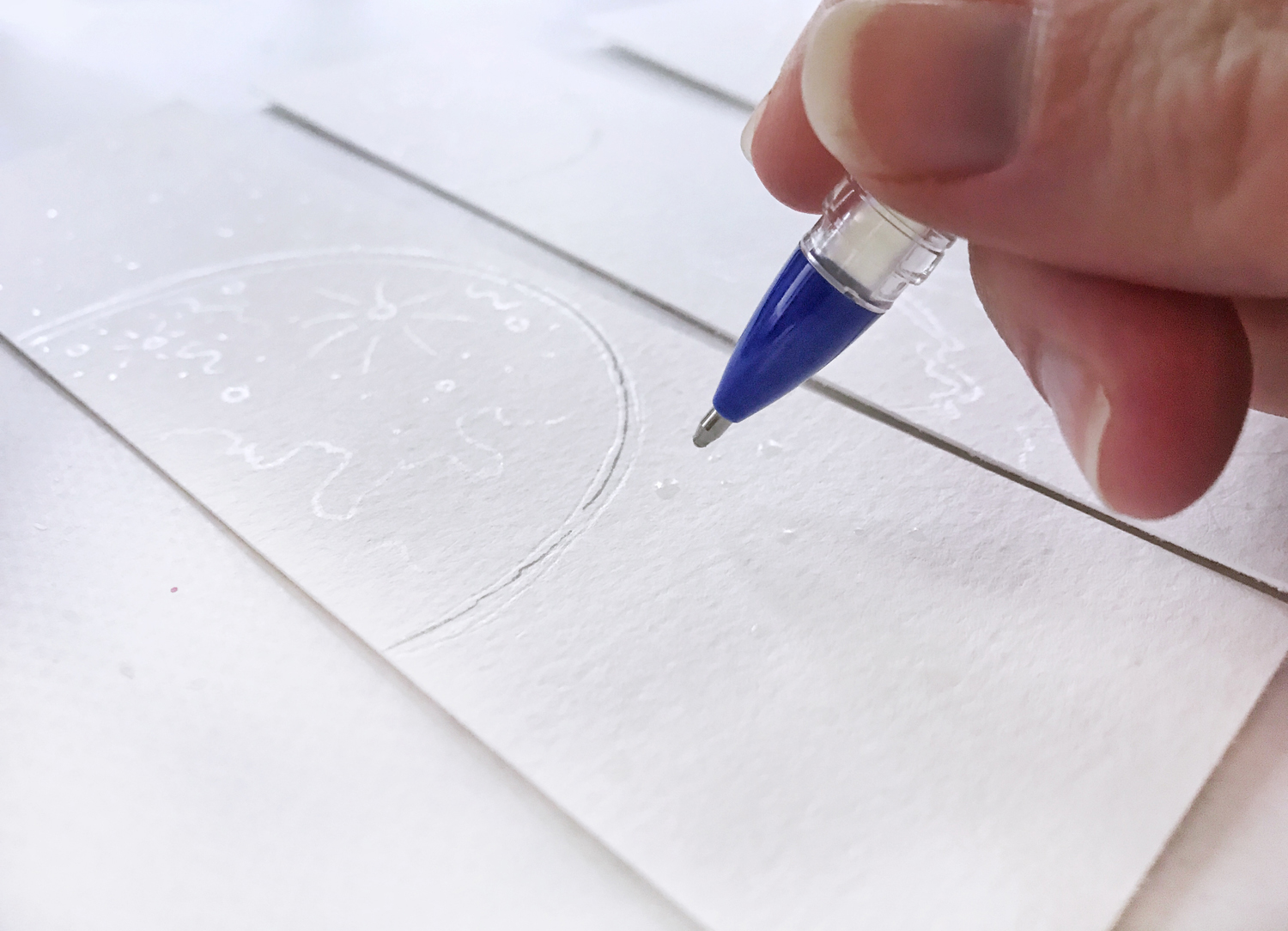 Step three:
Apply ink from the Dual Brush Pen onto the Blending Palette by scribbling the brush tip onto the palette surface. Use the Water Brush to pick up the ink and brush it onto your bookmark. The cool thing about the MONO Glue Pen is that it will resist the marker ink. So, your design will appear like magic!
Have you seen Tombow's newest Dual Brush Pen 10-packs? The new color sets include: Bohemian, Cottage, Retro and Celebration! I'm using the Bohemian Dual Brush Pen 10-Pack for the bookmarks. The rich jewel tones make for lovely galaxies!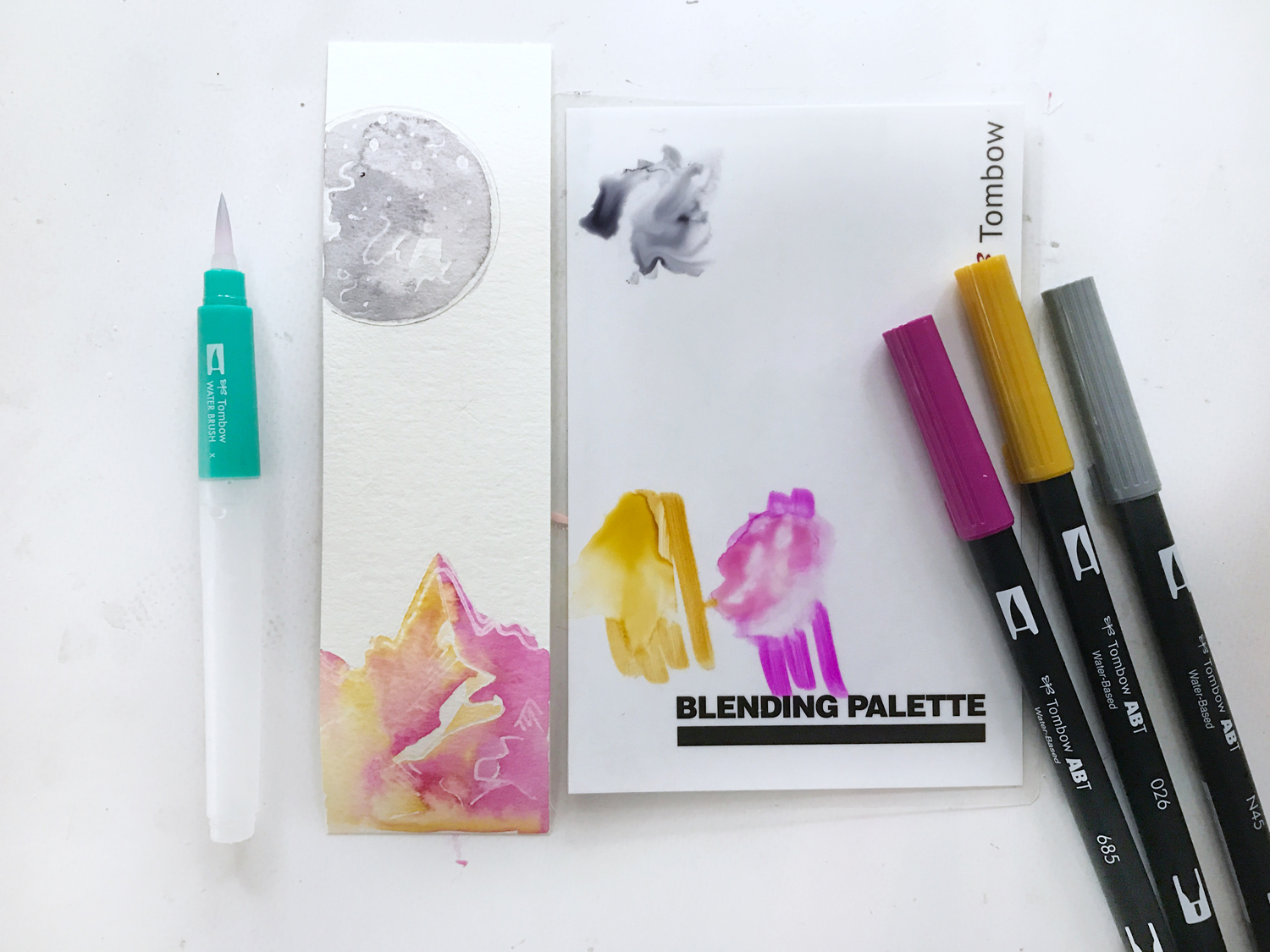 Step four:
Repeat step three for your other bookmarks, playing with colors and designs. Remember that the Dual Brush Pens act like watercolors when you work with them like this, so the colors can blend together!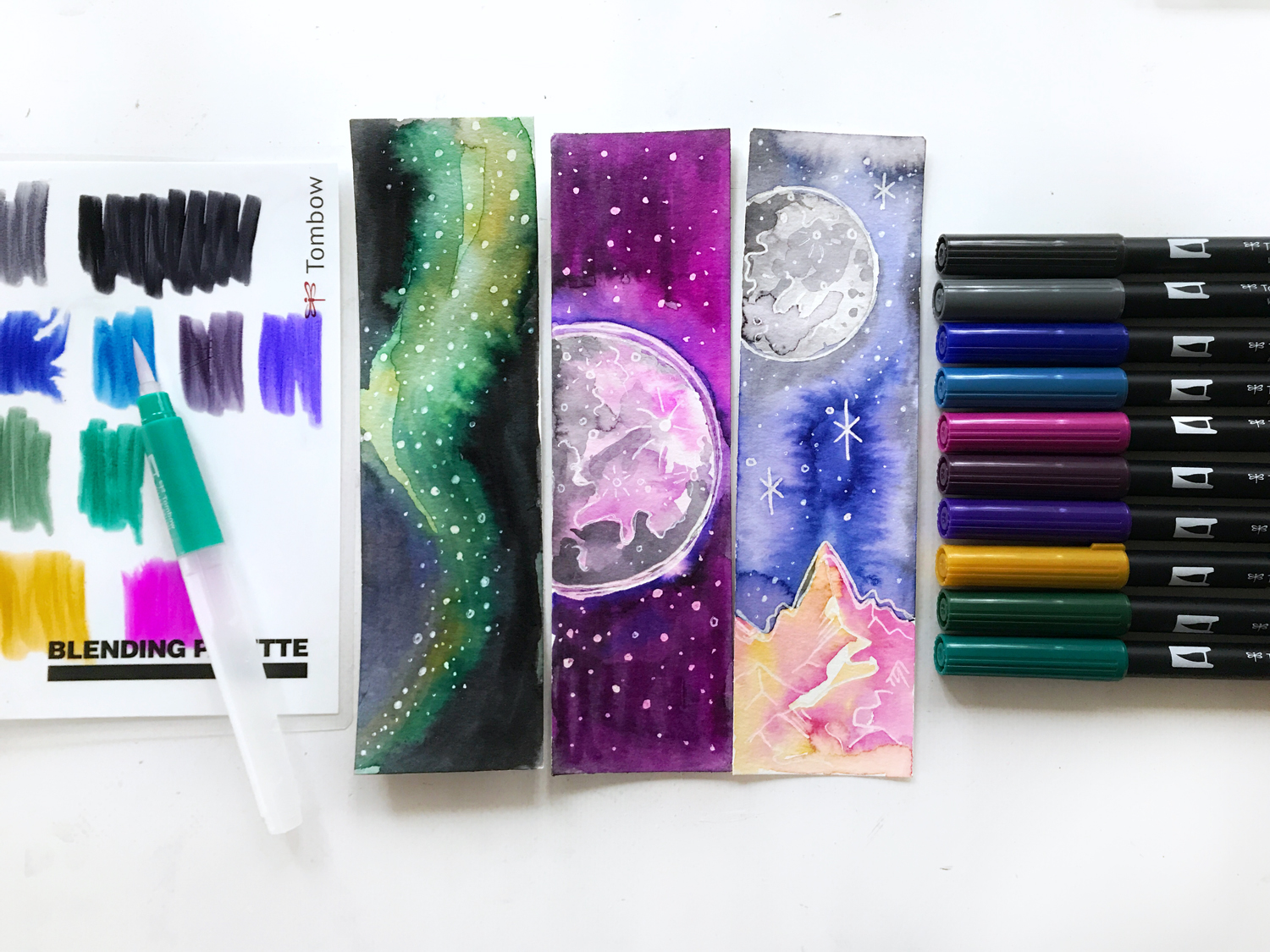 Step five:
If you want to give your bookmarks away, write a little note on the back! Something along the lines of "Free art!" or "adopt me!" are great options. You can also add #SharingArtMatters. If you don't want to write on your bookmarks, Tombow has some easy printouts you can include as well. Get them here.
Want to participate in Sharing Art Matters? It's so easy and a great way to connect with your community! Here's how:
Create Your Art! Create a small piece of art reflecting your own unique creative style! It can be hand lettering, a simple doodle, an intricate art piece or anything in between.
Prepare it for sharing! Use the free downloadable sticker templates to adhere a sticker to your art or write #SharingArtMatters on the back, so the lucky recipient can learn about the movement. An informational insert is also available for download.
Leave it behind! Find a place to leave your art in public where someone else can find it. Hopefully finding your art piece will be the highlight of that person's day!
Snap a Photo & Share! Don't forget to take a photo of your piece before you part with it! Share it on social media using #SharingArtMatters and let people know where they can find it. We'd also love to hear why Sharing Art Matters to you.
I plan to leave these bookmarks at my local library for others to find!
Want more book crafts?
Learn how to create a Colorful Book Tracker or a Fantasy Book Illustration.