how about something cute and portable to keep your holiday shopping organized…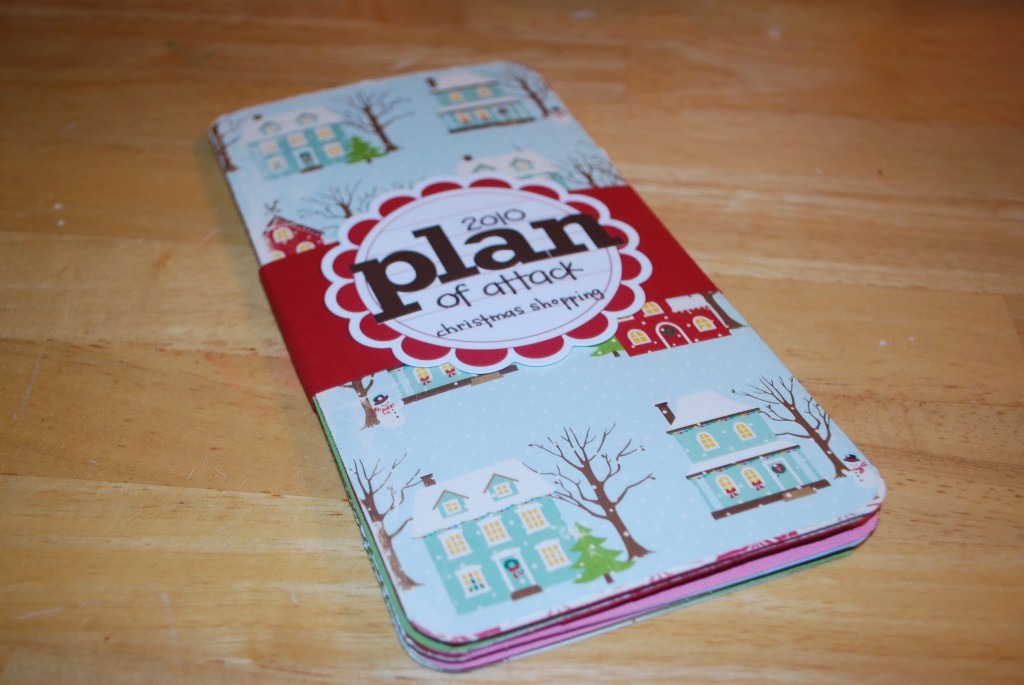 this project has stumped me more than any other project…and I can name several others that got me!
my assignment was "shop til you drop". so my first thought was…layout? but how many of us take cameras with us shopping and how many more of us remember to take that camera out and get a picture of the action?
well, perhaps if it was a girls day out, or a shopping adventure with your daughter who actually *WANTS* to shop with you now…then I can see the camera's coming out. but, since this is posting the day after Thanksgiving, on Black Friday, when people are attempting for the best bargain possible and hoping to jump start the Christmas spirit by getting as many gifts as they can in one day, well then perhaps the camera is long forgotten at home or in your bag.
so, my next thought was to make something FUNCTIONAL to take with you while shopping and dropping. a few years ago i did a class using pockets…"Pockets, Flaps and Things that Move" was the title of this class. we made an accordion book, and on each panel was a different functional addition. i decided that i would attempt to re-fashion this accordion book as a way of creating a plan of attack when shopping for those sought after items. use the pockets to slide in clippings from ads, or make your own notes, cards or tags to add in there.
now, my next issue was… "let's make this functional, but not spill all the secrets when prying eyes come back to look at your creation." so, perhaps this can become more of  a wish list, especially for those little ones many requests.
i used Tombow MONO Multi for the paper-to-paper adhesion, to keep it durable while putting it in my bag.  to make the pockets i really like using Tombow MONO Aqua Liquid Adhesive. (don't use the Tombow MONO Multi for pockets because it is meant to dry tacky, so if any of the glue leaks out from under the edge of the pocket, the items you slide inside will not slide well because of the sticky factor). the Glue Pen will also work for the pockets, if you work quickly. I used the Very Merry line from October Afternoon, Jillibean Soup letter stickers and journaling sprouts, and a corner rounder. in addition, don't forget to keep a good writing pen with the organizer. using ribbon attached to the project, tie on a Dual Brush Pen, then it will always be at your fingertips when taking notes or crossing things off. write the name of each store you need to visit on the tabs OR write the name of the people you are shopping for (i've done both in my pictures) and then list the purchases you need to make.
either way you look at it, using an organizer that is cute and functional will make your shopping a little more manageable…or at least i hope it does!
HAPPY BLACK FRIDAY – good luck out there!
materials:
(5) double sided pattern papers
(4) pieces of cardstock, different colors
white cardstock (to make tags for the pockets)
coordinating stickers
letter stickers
pre-cut journaling circles
Tombow MONO Multi
Tombow MONO Powerbond
Tombow MONO Aqua
Tombow MONO Dual Brush Pen
directions:
cut (2) 12X12 pattern papers to 12×9
score each page two times, at 4″ and 8″, creating three panels/sections which can be folded accordion style
using Tombow MONO Multi adhere the two pages together by overlapping two of the panels
create several more "panels" – 4″x9″ and again using Multi to put them over the accordion folded panels
use the corner rounder on all corners
cut cardstock 3″x4″ to use for pockets, and round two of the corners
use Tombow MONO Aqua put glue on three sides of the cardstock- the bottom and two side to create the pockets
cut white cardstock to create tags (as many as you need)
using the pre-cut journaling circles and a circle punch make tabs for the top of each tag
decorate with stickers
make a belly band cut a cardstock strip 2″x12″, wrap it around the folded-up organizer
use powerbond to keep the strip together
decorate the front of the belly band with another pre-cut journaling circle and letter stickers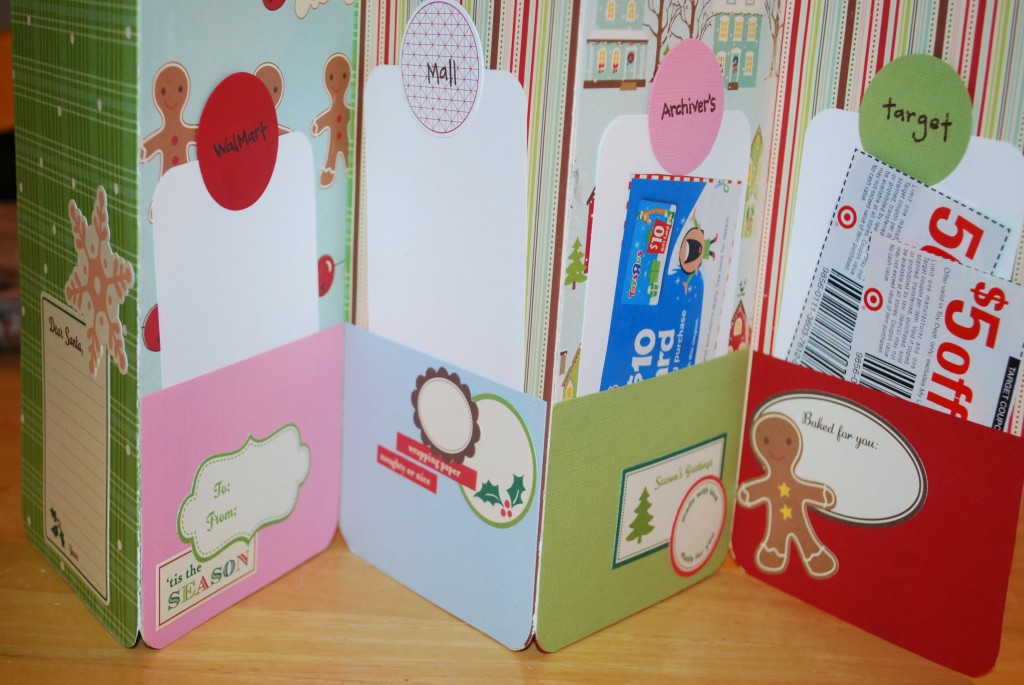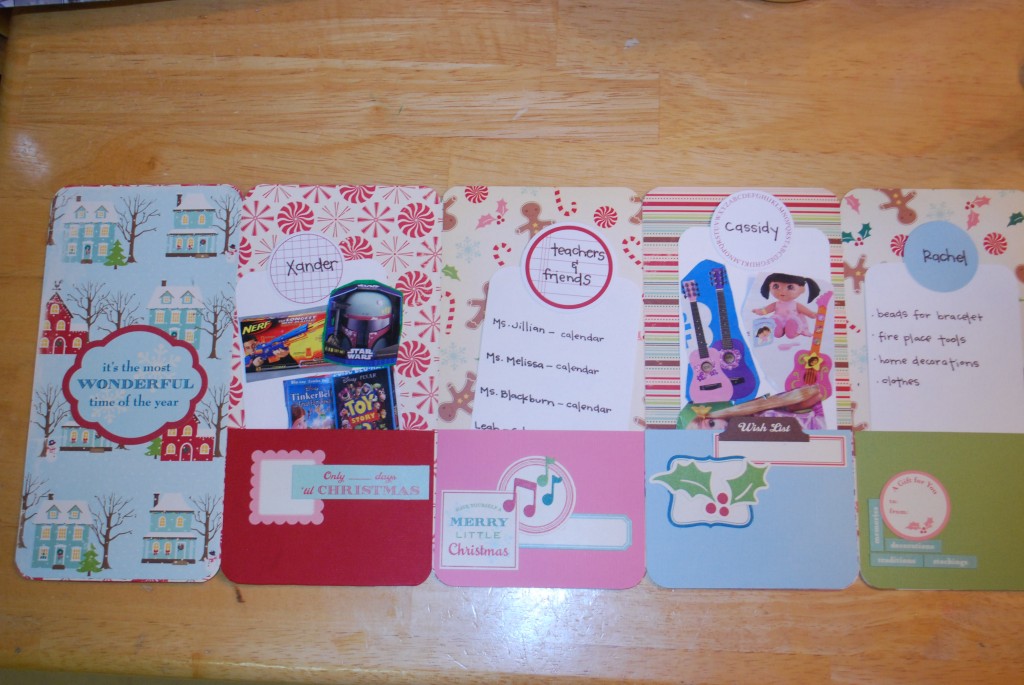 ***if you liked this you may also like 
Sarah's Daddy Decor Project, Magnetic Boards or her 'Up the Chimney He Rose' Cards***