is it cliche to say that i love my family…. and they are who i love creating for?
well, it is true. i love the anticipation of creating something and hoping that they are going to love it. i love taking the time to create handmade projects. i love putting myself into something for someone else.
here are some i've posted on the blog – christmas ornament, christmas traditions scrapbook, recipe scrapbook, and the framed daddy decor.
i love the line from the chorus of "you spin me round" – right round baby right round, like a record baby, right round, round round!
that is how i feel about my family, they spin me… spin my world…and mostly in good ways. (we all have our moments!)
when i take pictures i start to scrapbook them in my head. i contemplate color schemes and whether i'll use them on a layout or altered piece or create a mini book to show them off.  last fall we visited the pumpkin patch. i was so anxious to scrapbook with my pictures that i created a circle album. i couldn't wait til all the pictures were printed so i grabbed a few pictures and kept it simple.
these three people are the most important things in my life.
let's keep on spinning!
gather your adhesive. and to answer your question, yes, i used each of these. i'll explain…
gather anyhing you think you might want to use. my theme was "you spin me" so i gathered any tools or embellishments that were circular.
here is the title page.
circles cut with the creative memories circle cutting system. lettering is hand cut from an old EK Success lettering template. each letter is also "inked" by using a Tombow Dual Brush Pen N15 (black). the brush tip is great for getting in the little corners of the small letters.
i cut large circles from several pieces of paper, cardstock and patterns and glued them back-to-back with the Tombow MONO Multi Glue. it adds stability to the pages.
i used the Tombow MONO Glue Pen to attach the letters and small embellishments. and Tombow MONO Permanent runner to add the paper embellishments and Tombow MONO Adhesive Dots Roller to glue down the pictures.  my reason for this would be because i am indecisive and i like the ability to move my pictures around til i get it just right.
this page is glued to the back of the title page – pattern paper to cardstock. it holds up really well, and the glue doesn't get the papers too wet, therefore – no warping!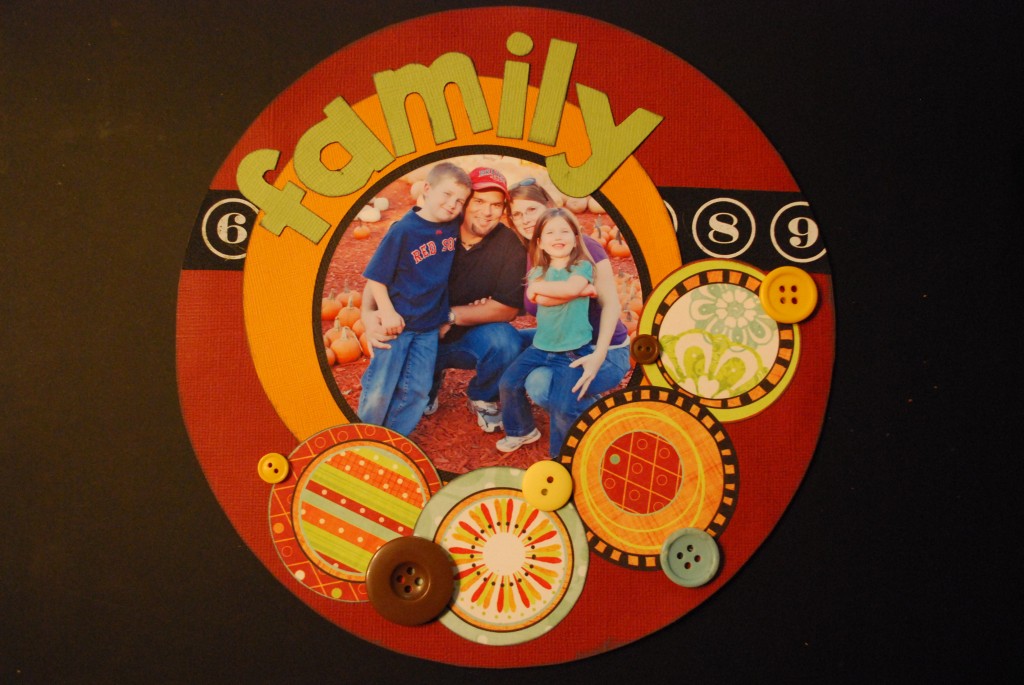 my son's page – name, pictures and a few embellishments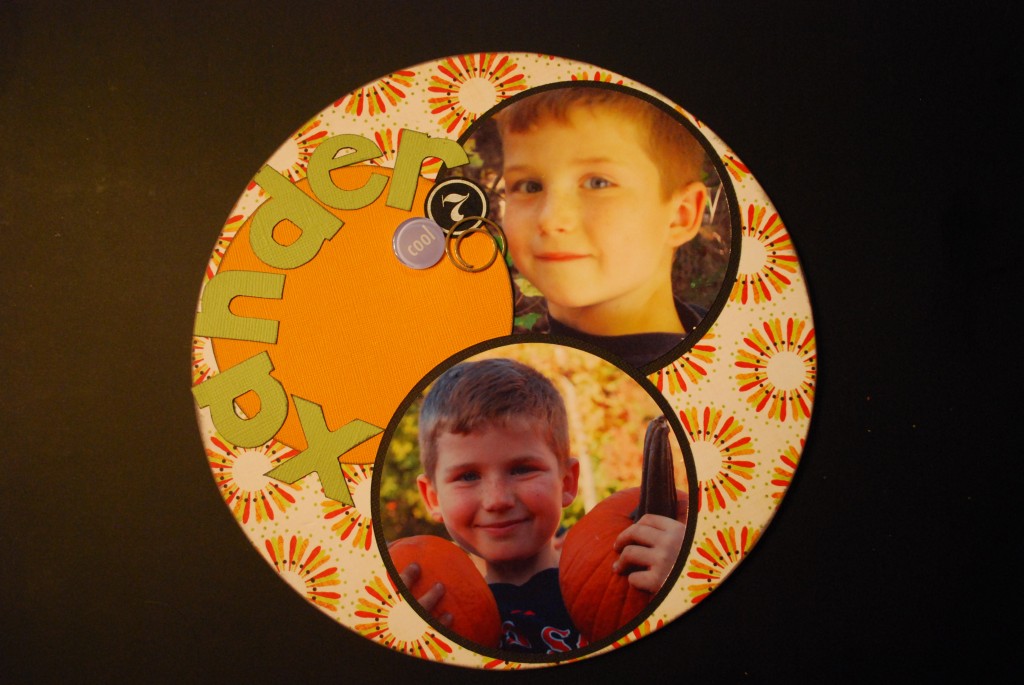 here is my daughter's side – again, name, pictures and embellishments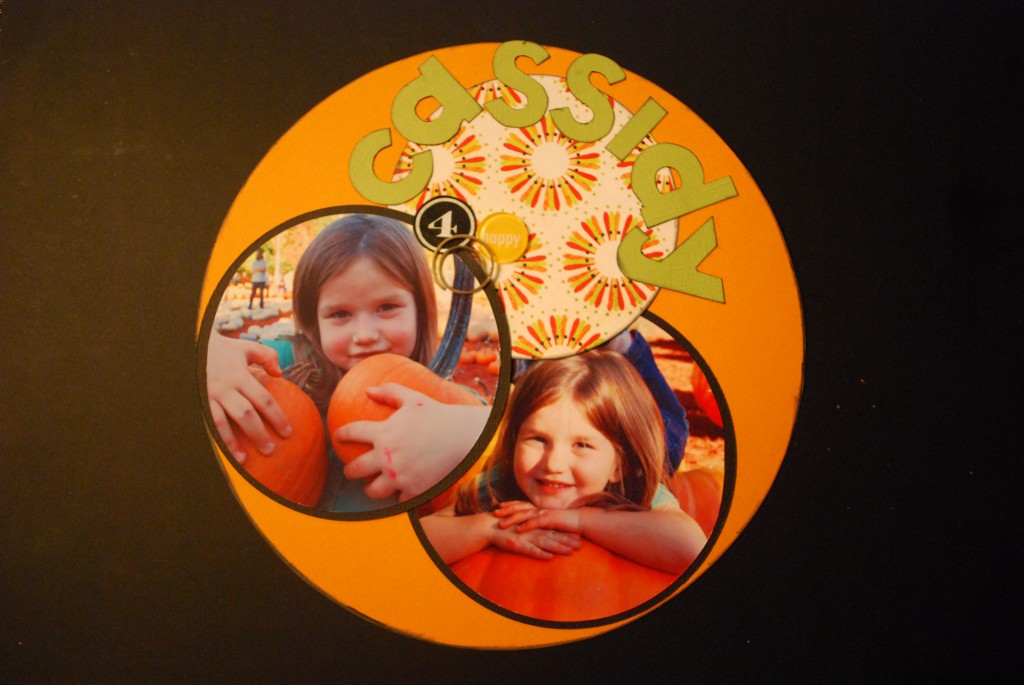 on this page i wanted to use the conchos, but because that pages are back-to-back i didn't want to set them all the way through. (that would be a little unsightly on the back). so i cut off the prongs that wouldn't be going though paper (much like i did here with the back of a brad) and used the glue pen to hold them in place. the conchos go through the green paper strip, but the other sides have a bit of glue under them to keep them from sliding.
here i am using the glue pen on the letters. so easy and fast. and because the formula in the glue pen does not adhere to your skin, when picking up little letters to put them on your project they will not stick to you! the glue flows pretty easily, just push the roller ball in by putting the tip on your project and applying pressure. when the glue starts to flow trace around your letter (embellishment).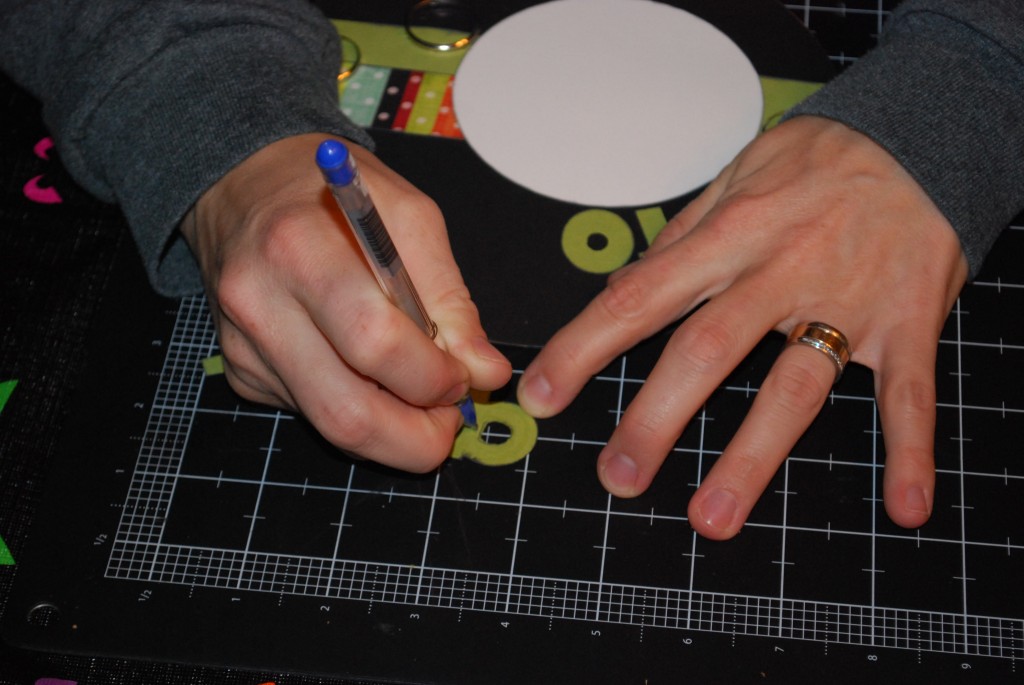 how about a button? yup, the glue pen works on that too!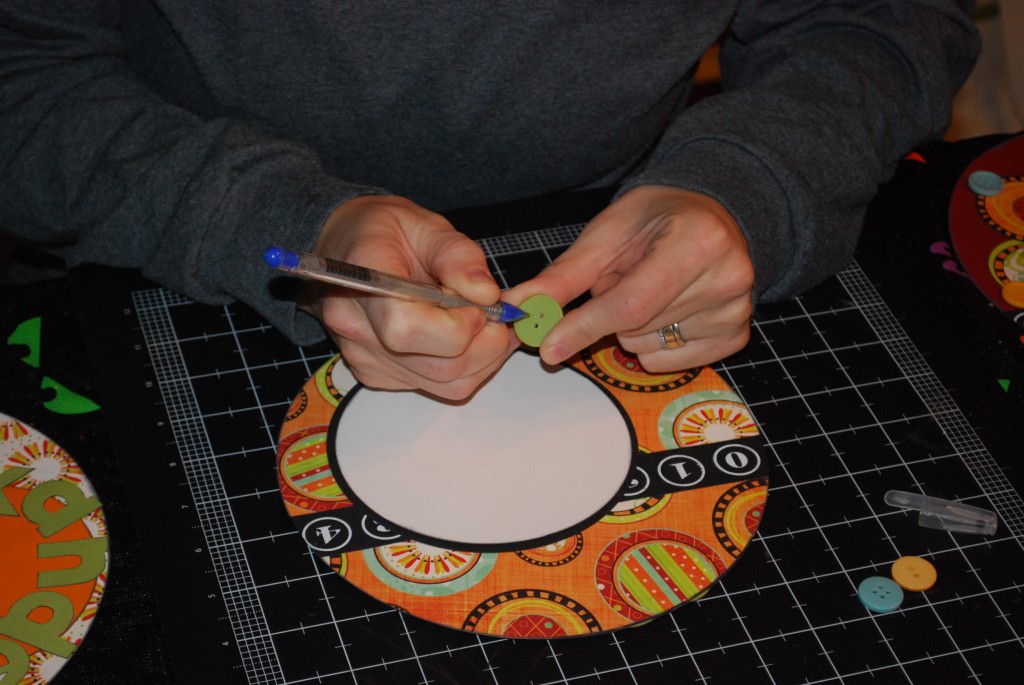 while we are talking about love…
my love for tombow was sealed with the introduction of the glue pen. don't get me wrong, it wasn't that i didn't love the other adhesives before, but the glue pen just sent my heart a-flutter! so many uses. so many projects. so versatile!
however, we all know that i really do love the adhesive dots too,  so much that i carry them around with me.
can a girl love two adhesives at the same time? leave a comment today and later this week Joanna will pick winners to receive a fun package of everything the design team loves!
sarah