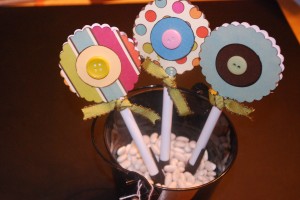 a month to thank some very important people in our lives!
are you looking for a personalized gift to make?
how about a bouquet of flowers? what if you make them useful?
this bucket of flowers will make a creative addition to any desk…mom or teacher
tools needed: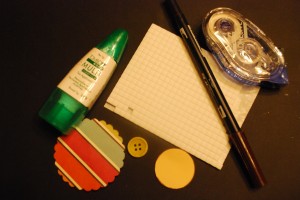 scalloped circle punch
circle punch (smaller than the scalloped)
buttons
ribbon
Tombow Foam Adhesive
Tombow MONO Multi Adhesive
Tombow MONO Permanent Adhesive Runner
pens or pencils
beans
bucket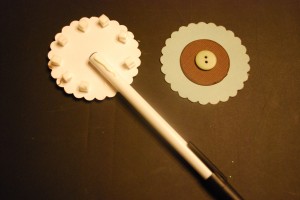 1. punch out 2 scalloped circles and 2 circles for each flower and glue together.
i inked the edges with a Tombow Dual Brush Pen first, loved the shadowelook
2. lay the flower flat and using Mono Multi adhere the pen. let it lay flat
3. around the outside of the flower add Foam Adhesive. i stacked it up, 2 square high to fit the girth of the pen
4. add more MONO Multi to the exposed side of the pen and sandwich the pen with the other side of the flower.
5. add a button to the center
6. tie a ribbon directly under the flower, to resemble petals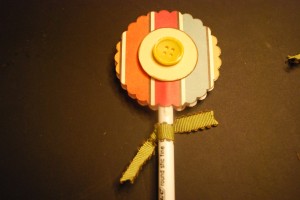 7. use a bucket filled with beans and add the flowers in
Happy Mother's Day and Thank you Teachers!
** INSPIRATION FOR THIS PROJECT WAS ORIGINALLY FOUND ON JILLIBEAN SOUP'S BLOG …. THANKS FOR SHARING YOUR AMAZING TALENTS! **