When I received the box of Maya Road products I was in embellishment heaven! The mini chipboard, trinket pins, stamps, velvets and bows instantly inspired me. I was also inspired by Crafty Chica and Safe Sparkle Glitter Movement, so I blinged everything up using Tombow Adhesives and Art Institute Glitter! With MONO Multi and MONO Aqua Liquid glues you can glitter responsibly with no fear of loose glitter.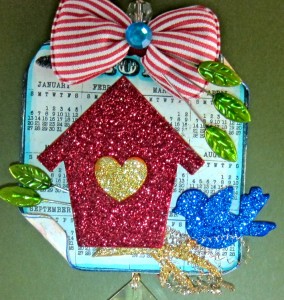 This ornament started with a base made with cardstock and a stamped calendar from Maya Road. I used the Dual Brush Pens to color the chipboard then covered with MONO Aqua Glue and glitter. A candy striped bow and trinket pins from Maya Road embellished it further.  When dry, the chipboard pieces are attached with both MONO Multi Glue and Foam Tabs for a a varied dimension, and the bow and base attached using the Power Tabs. I was happy with the ornament, but I loved the difference when using  pretty pale colors.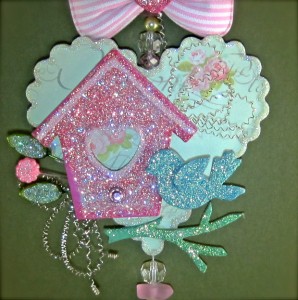 This ornament was done the same as the bright colored ornament, but I used two scalloped hearts cut using a Sizzix die as my base. The cardstock is from Pink Paisley's London Market Collection. I also added extra sparkle (you can never have TOO MUCH sparkle!)  by coating the tops of the trinket pins with MONO Multi Glue and glitter.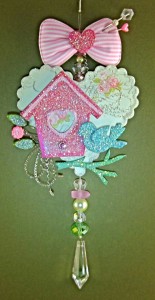 Here's the finished ornament complete with beads and crystals. All the best on your glittery quest Crafty Chica! I believe in glitter too! What about you? Do you believe in sparkle?