My family was visiting this weekend and my 12 year old Niece LOVES to craft with me, so we created these Quick and Easy Branch Slice Jack O Lanterns in just about 30 minutes!  Some were made into magnets and some were made into pins to give as gifts to family and friends!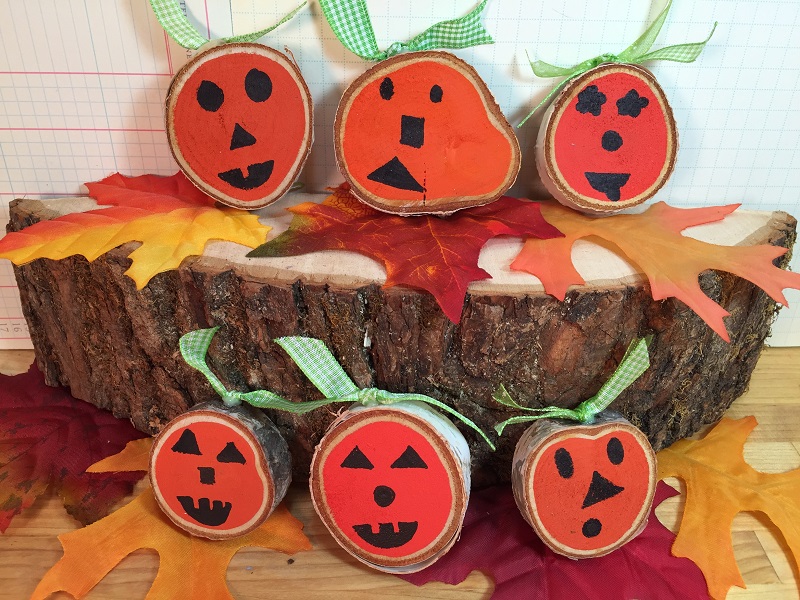 Now, on to my project!
Color in the Branch Slices with Tombow Dual Brush Pens – #925 and #933.  Even out the brush strokes with a small amount of clean water on a paint brush.  I love the Dual Brush Markers for quick projects like this, because there is not drying time.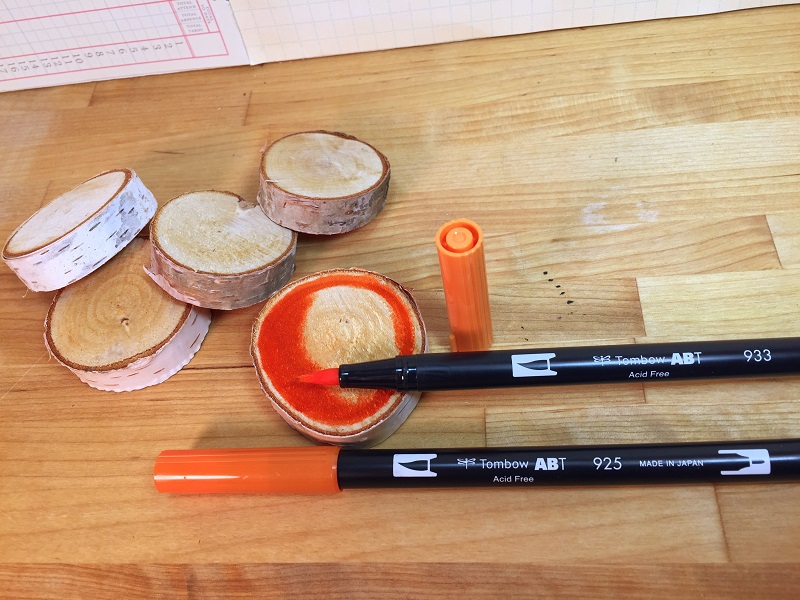 Draw in the Jack O Lantern faces using the Tombow MONO Twin Permanent Marker.  The MONO Twin has 2 tips for broad strokes and fine lines.  It is also permanent, which makes drawing on rough surfaces like wood much easier!  If you are intimidated by drawing directly on the wood, then sketch in the features with a pencil first.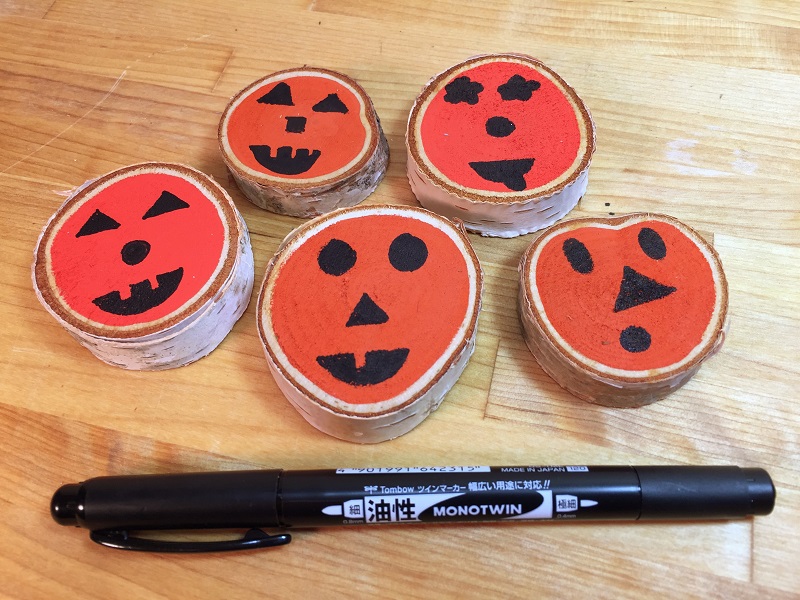 Select some cute green ribbons, layer them and tie in knots.  Fishtail the ends, so they do not fray and attach at the top of each Jack O Lantern with Tombow MONO Multi Liquid Glue.  I created a dot of glue, let is set up for about 5 minutes and get tacky, then attached the ribbon.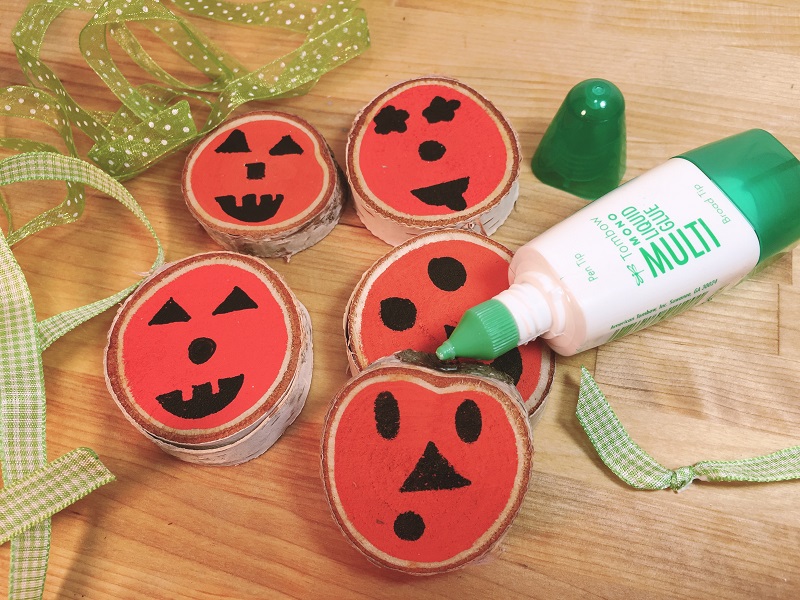 The final step is to decide how many Jack O Lanterns should be pins and how many should be magnets.  Attach to back of branch slice with Tombow MONO Multi Liquid Glue.  Let glue dry completely.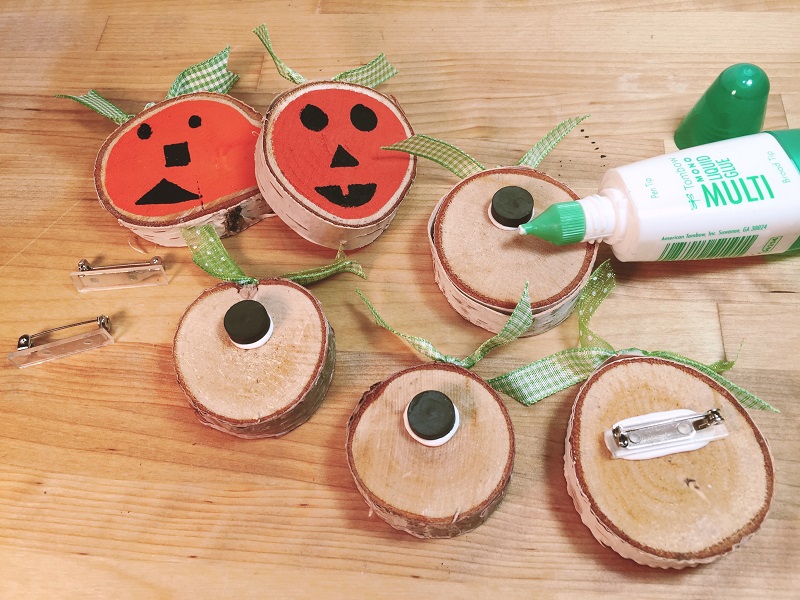 These Branch Slice Jack O Lanterns would make a great Teacher gift – magnets for the men and pins for the ladies!  The pins could even be attached to a card or bag of candy to create the perfect gift for a neighbor or co-worker!
Thanks for stopping by and don't forget to check out the Tombow Instagram for more spooky inspiration!  -Beth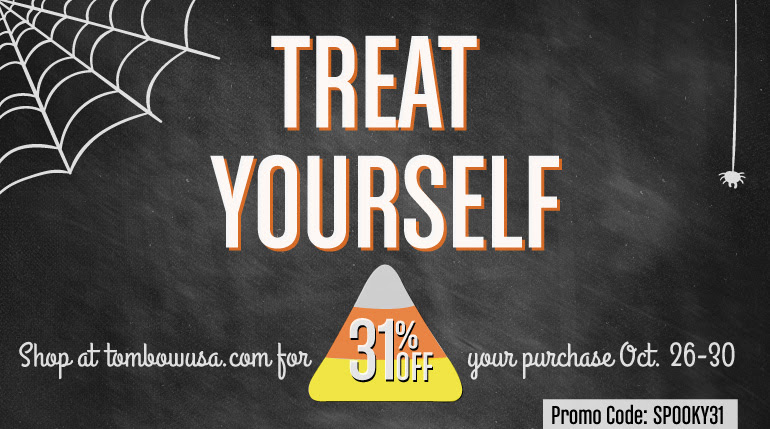 Don't forget to use the code SPOOKY31 to get 31% off your purchase!