Hi Everyone! This is Jennie and like very crafter I have a crazy amount of tags! I keep hoarding them but one of my resolutions for this year is to buy and hoard less. Here are 10 Ideas for Tags.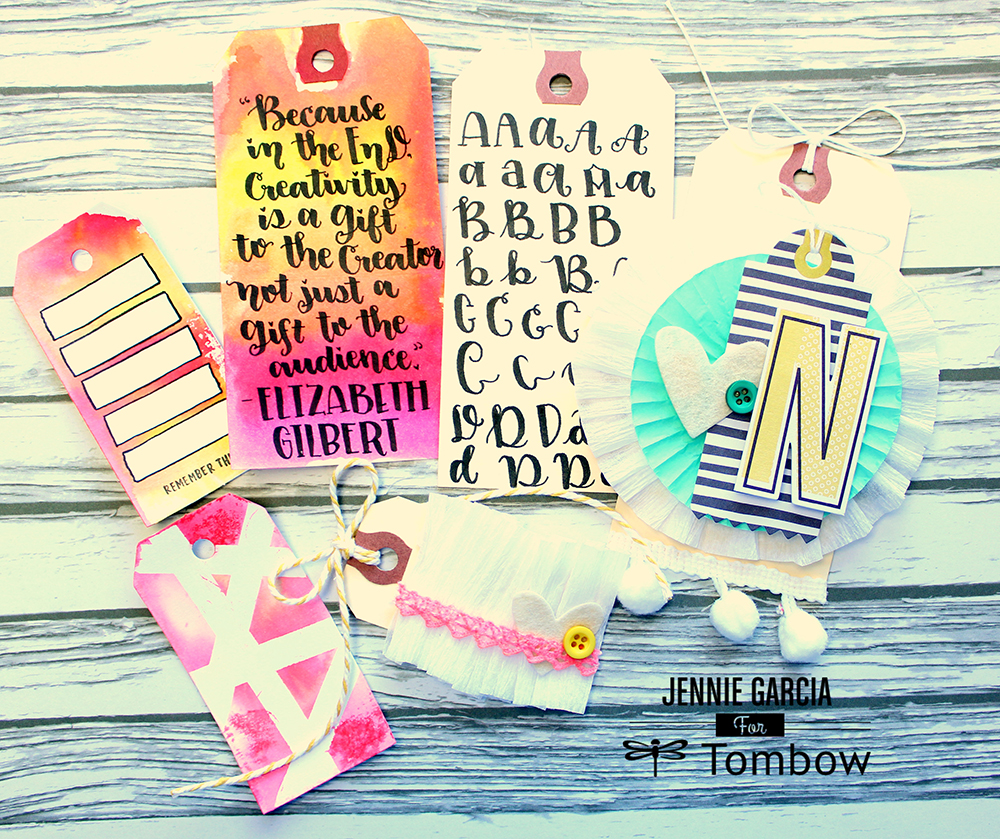 1. Make bookmarks!
You can just write a simple quote or make more complicated designs like these or these.
2. Practice your ABC's
You can practice and categorize your letters using one tag for each letter or a style per tag.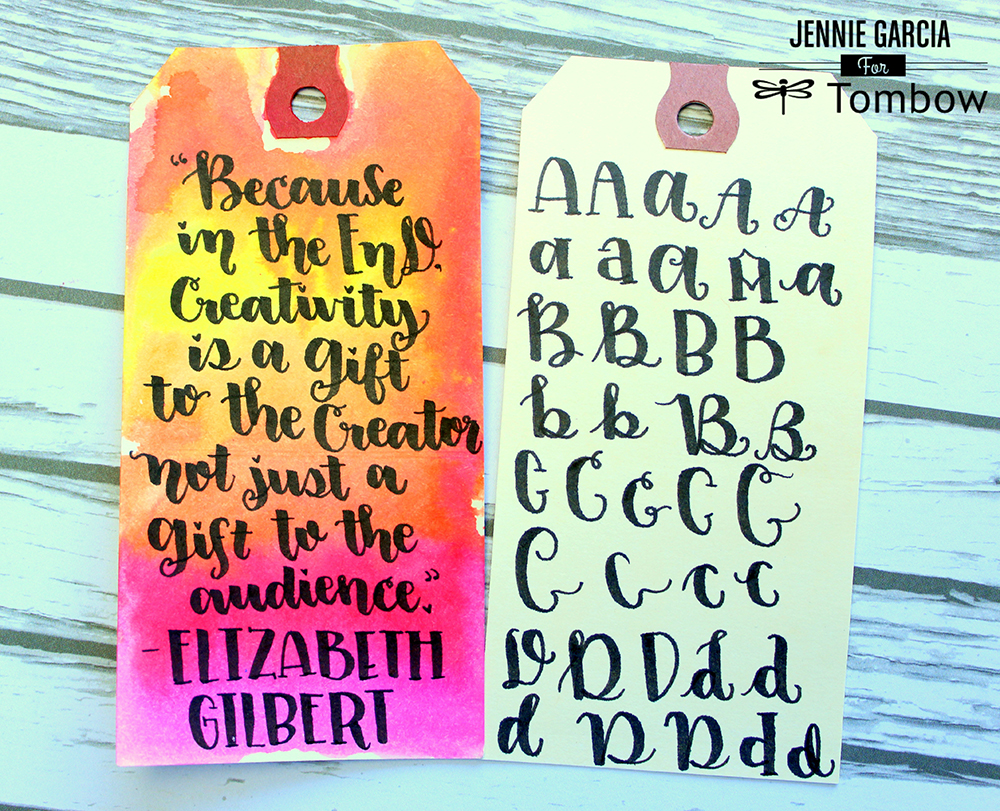 3. Alter you tag!
You can use paper, embellishments, stamps or in this case the Tombow Dual Brush Pens. I made some stripes using the Tombow Mono Removable Adhesive. In this case, it works as a resist. After you make the stripes with the adhesive, scribble on the Tombow Blending Palette with the Tombow Dual Brush Pens and use the Mister to spray water. Put your tag over the color. Let it dry and then rub the Tombow Mono Removable Adhesive off the tag using your finger.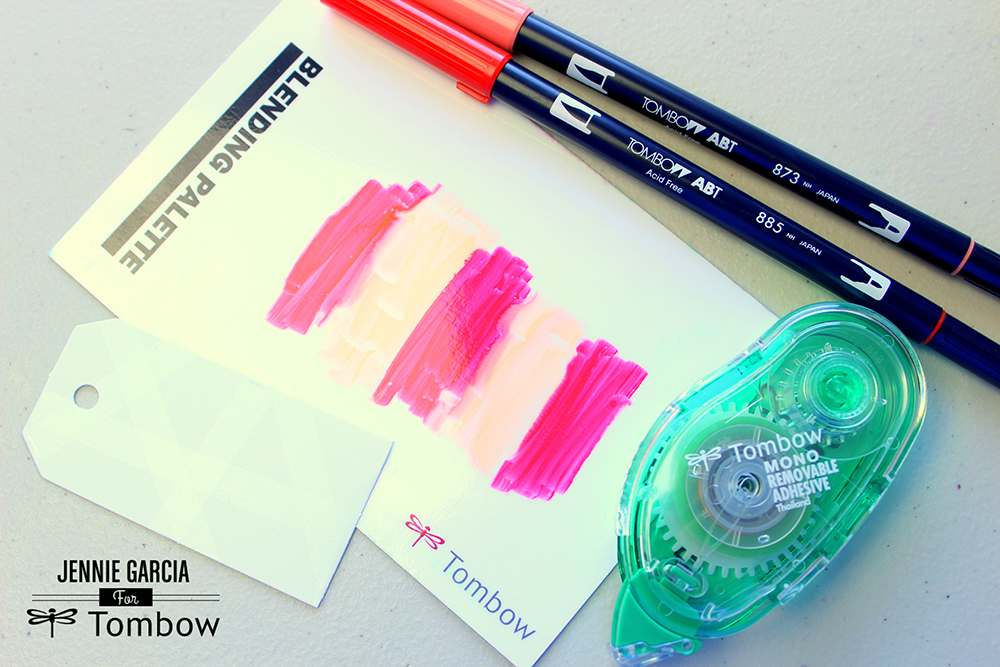 4. Experiment with the color wheel.
You can try different color combinations of this splash technique and keep swatches like I did HERE. You can refer to the Tombow Dual Brush Pen Color Selector to pick colors from the same family to create harmonious combinations.
You can so a similar technique to the one above using the Tombow WideTrac Corrector or you can make lines to create list.
5. Keep track of your supplies.
You can use tags to keep swatches or your stamps, inks, washi, Colored Pencils or Dual Brush Pens.
6. Share your washi!
I have a crazy amount of washi so I often share it with my friends winding it around a tag. It's a small extra happy detail that fits perfectly in an envelope or one of the pockets in pocket letters.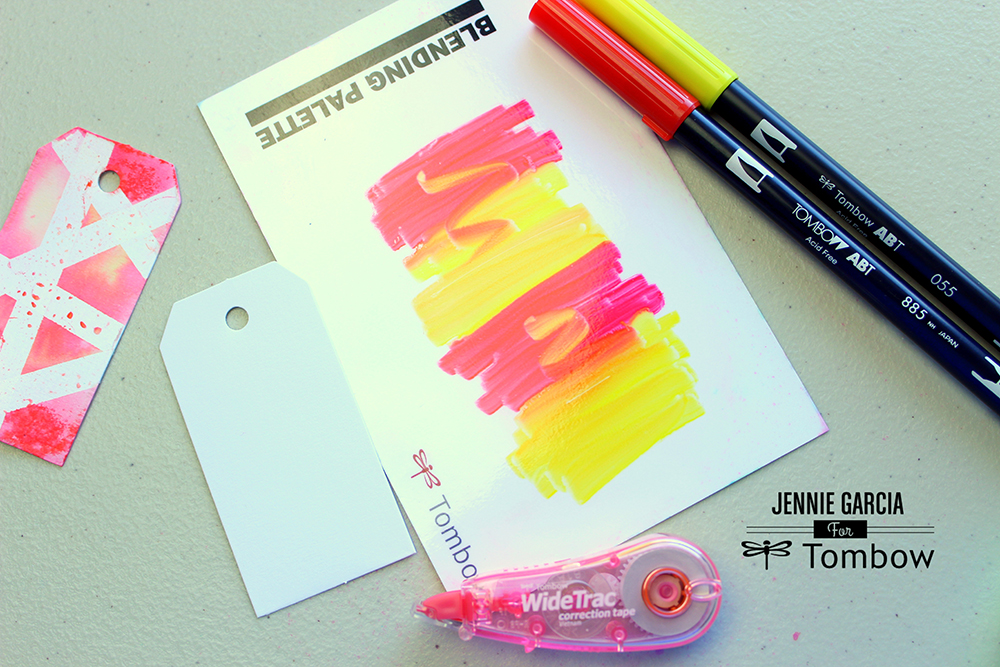 7. Make your own embellishments.
Layer papers, ribbon, stamps or other embellishments to create your own embellishments for scrapbooking or card making.
To make this one I gathered crepe paper and glued it down using the Tombow Xtreme Permanent Adhesive.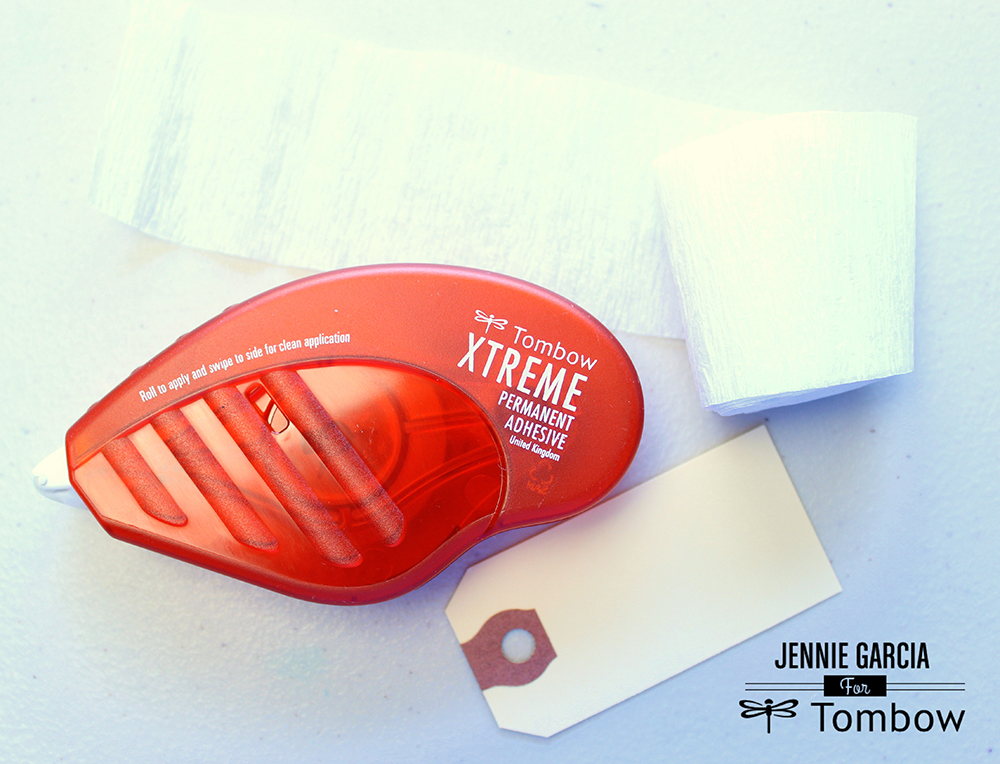 Using the Tombow Mono Multi Liquid Glue I added ribbon, a felt heart and a button.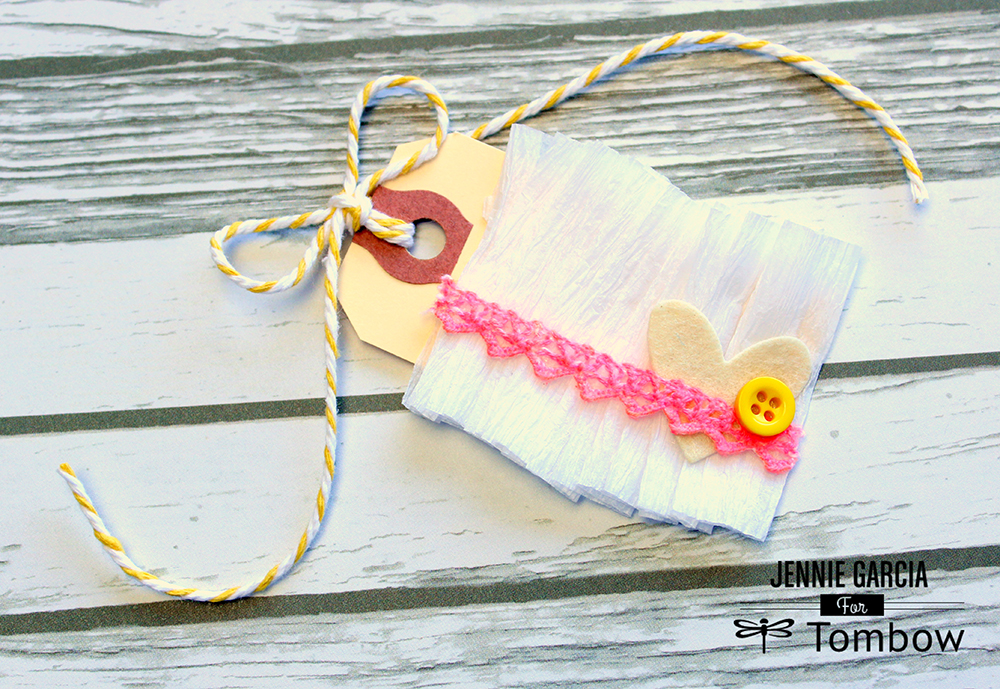 8. Make Gift Tags.
I added a cupcake liner, crepe paper, another decorative tag a felt heart and the initial of the receiver to make my gift tag using the Tombow Xtreme Adhesive.
9. Use Tags for Table Numbers at Parties.
Instead of writing an initial you can use a number at the centerpiece of a table at your party.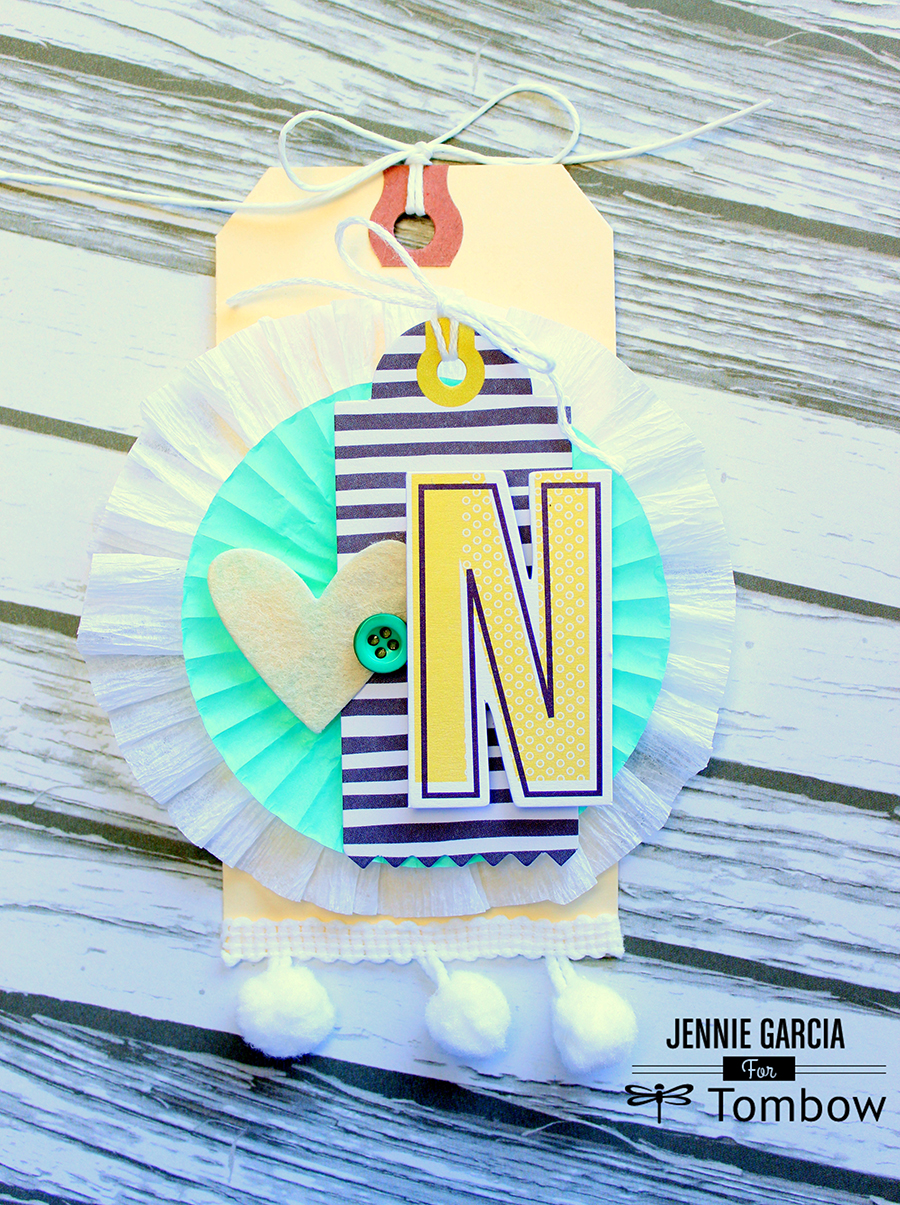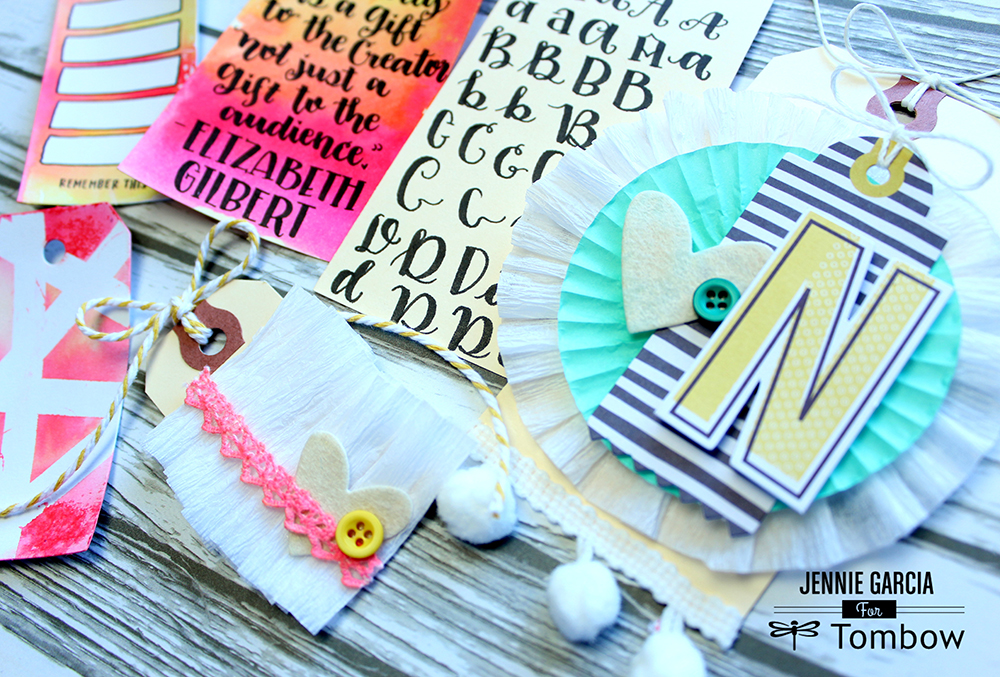 10. Use them to add journaling to your scrapbooking pages.
In this journaling prompt I used the tags to write some of my favorite songs.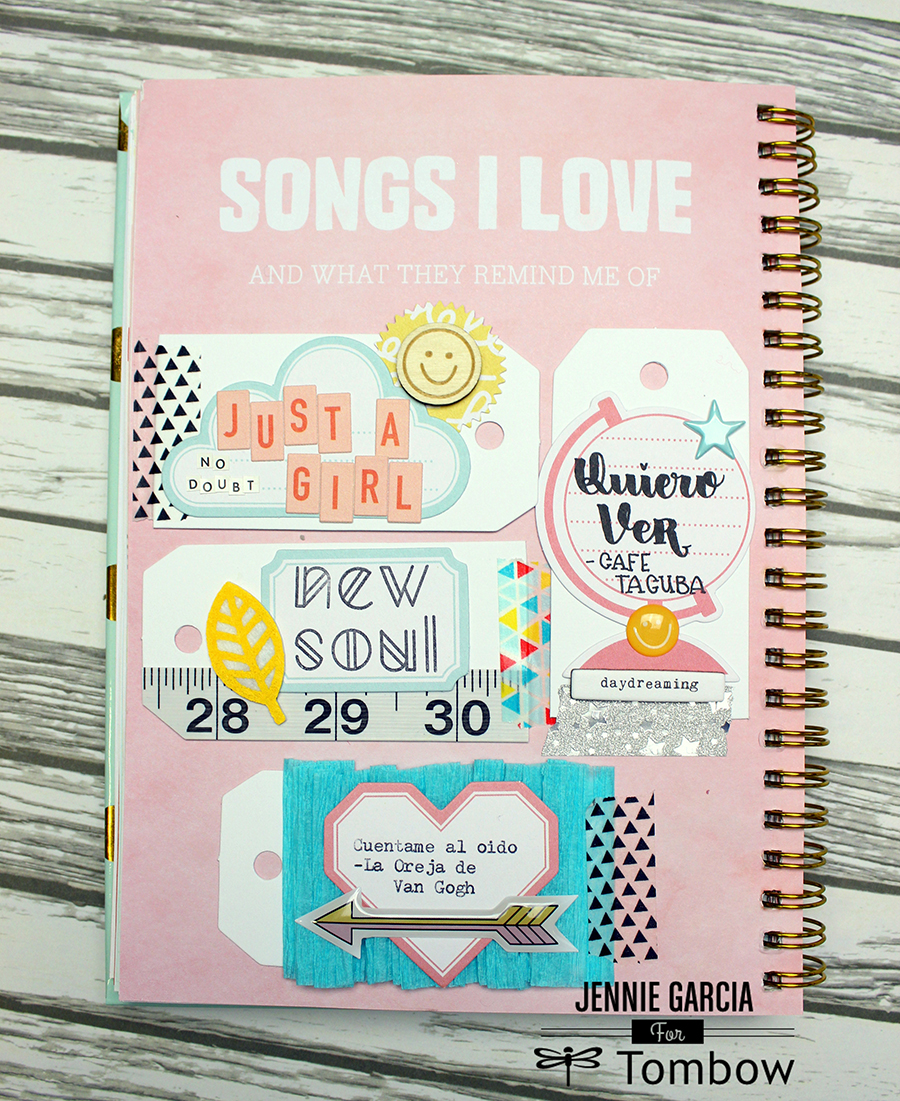 In these tags I used a mix of alpha stickers to make it super quirky and I added a little handlettering using the Tombow Fudenosuke Hard Tip.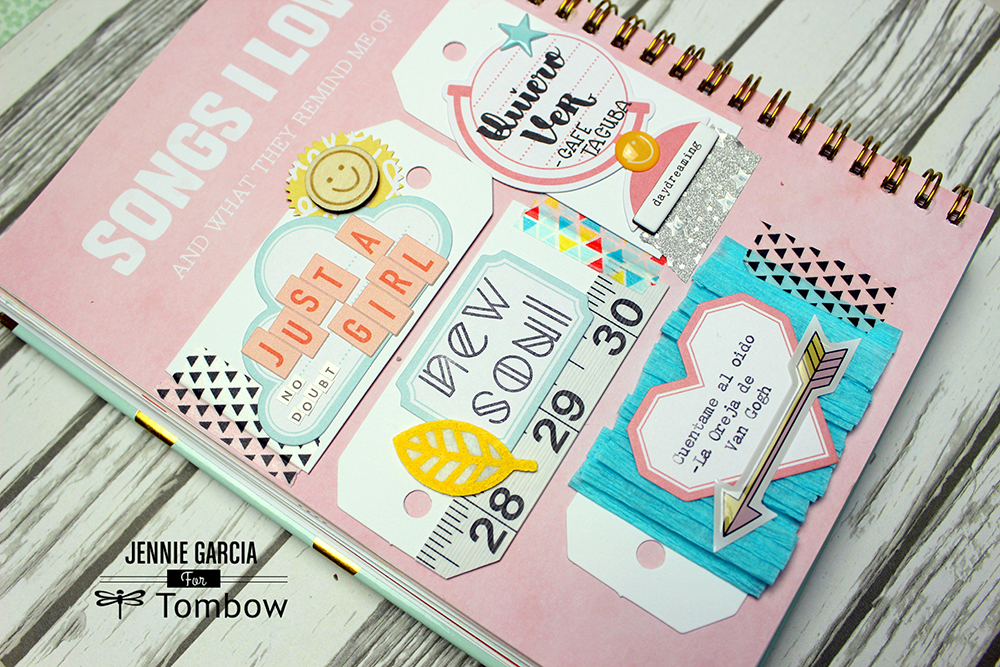 I wrote what they reminded me of in the back of the tag. To create a hinge I used washi tape but I also used the Tombow Mono Removable Adhesive to keep it close. I love this adhesive for this kind of thing because it will keep it from moving and possibly getting ruined and it's soft enough to open it every time I want.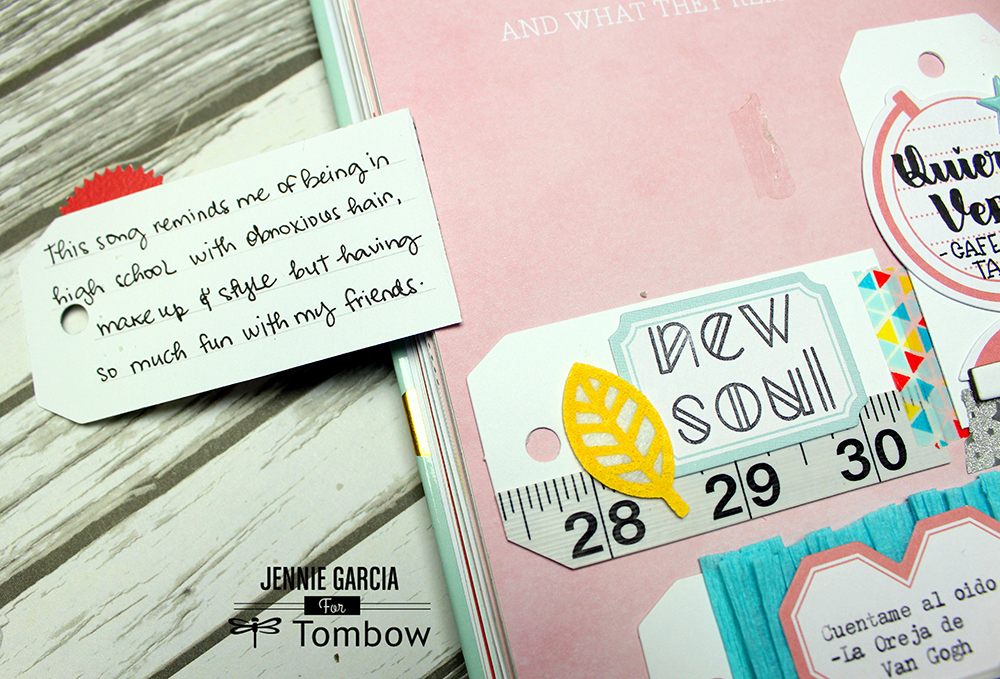 I hope you enjoyed these 10 Ideas for Tags! Which one was your favorite? Share it with friends and turn this into a fun stash buster challenge!