Hi friends! Dani from @popfizzpaper here today sharing how to create an embroidery hoop self portrait! When I was thinking about this project, I wanted to make sure that my self portrait really reflected not only me, but the things I love: papercrafting, hiking, gold glitter, the night sky, working hard. I've included a process video at the end of this post if you want to see this project being created. Let's get started!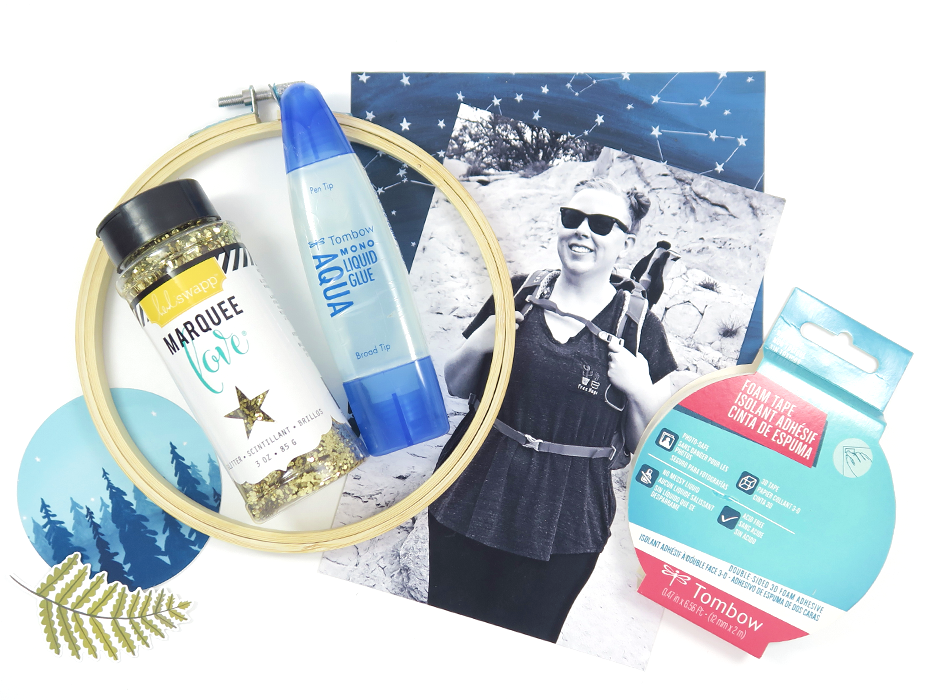 SUPPLIES:
Photo of yourself
Embroidery hoop (mine is 6″)
Tombow MONO Adhesive+ Permanent
Scrapbook papers
Foam brush
Glitter
Scissors
Additional embellishments like stickers, die cuts, sequins, whatever you love!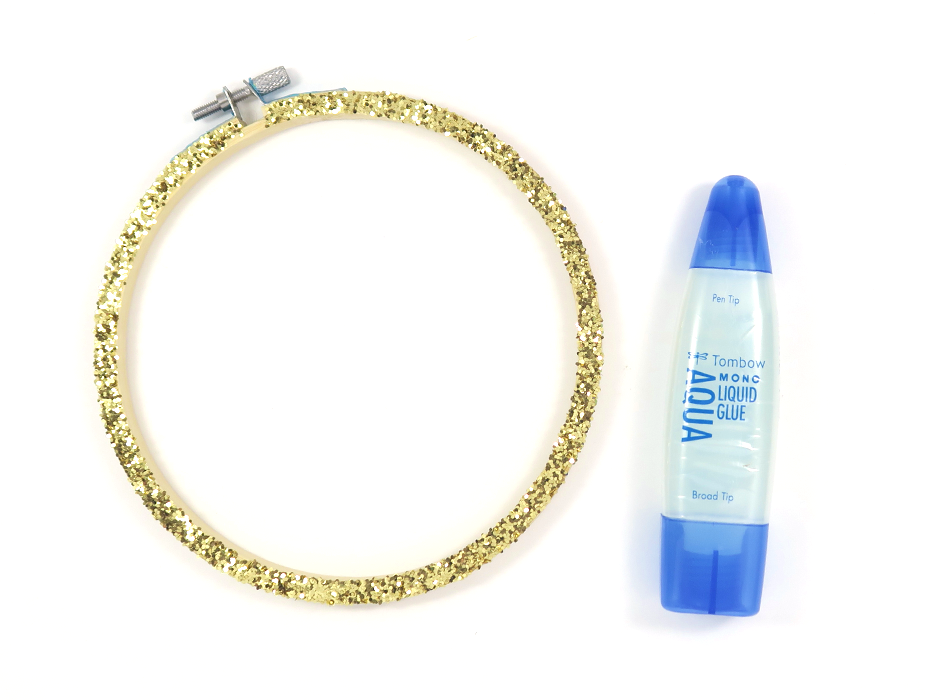 STEP ONE
First, apply a layer of the Tombow MONO Aqua Liquid Glue to the front surface of the embroidery hoop, then spread it out evenly with a foam brush. Next, pour glitter over the glue and shake off the excess. Set aside to dry. TIP: Place the hoop in a paper plate to catch all the extra glitter, then fold the plate in half to return the excess glitter to the bottle.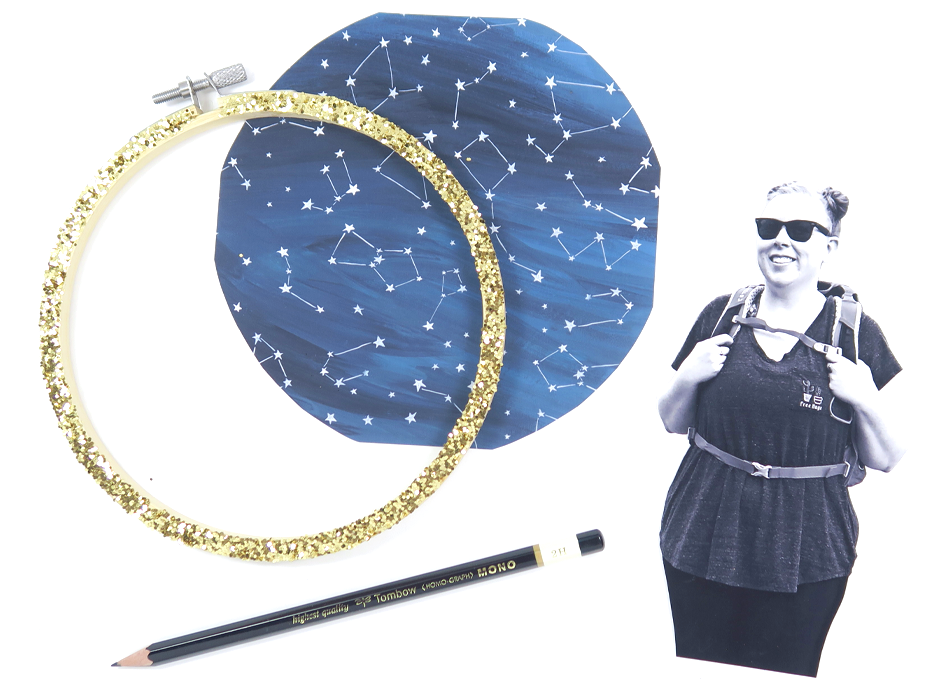 STEP TWO
Use a spare embroidery hoop (or the dried hoop) and a Tombow MONO Drawing Pencil to trace a circle on your scrapbook paper. This paper will become the background of the self portrait, so choose a pattern you love! I picked the night sky because I love astronomy and astrology. Cut out the circle of paper, then cut out the picture of yourself.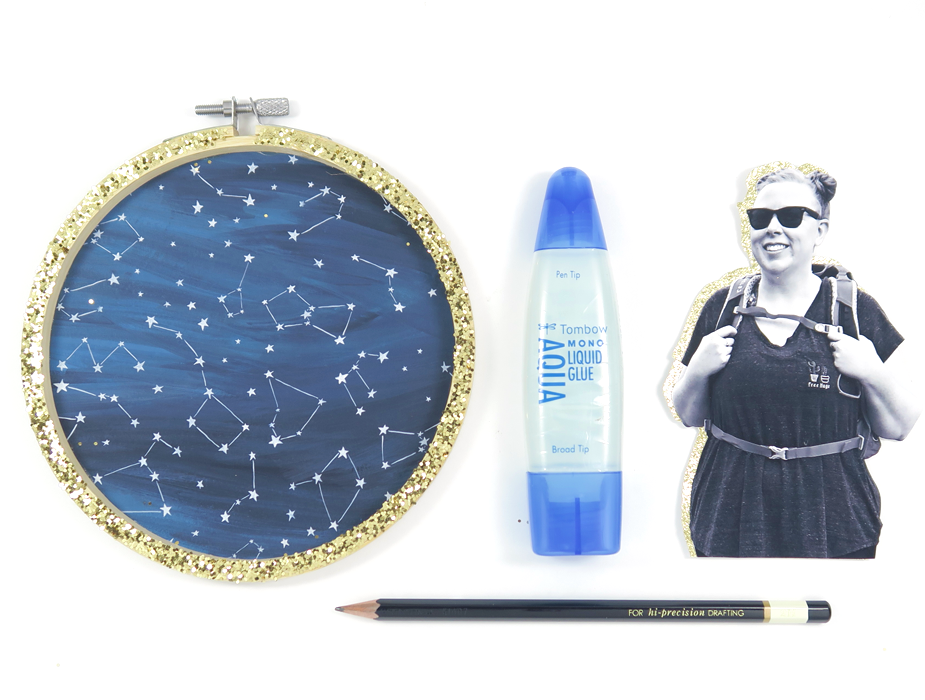 STEP THREE
Now, use the MONO Aqua Liquid Glue to adhere the background paper to the back of your embroidery hoop and again set aside to dry. Because I feel like there's no such thing as too much gold glitter, I decided to back my cutout photo with some glitter paper. To do this, place your cutout over the glitter paper, trace around it with the Tombow MONO Drawing Pencil, then cut out your tracing, too. I offset my gold glitter "shadow" and glued it in place with the Tombow MONO Aqua Liquid Glue.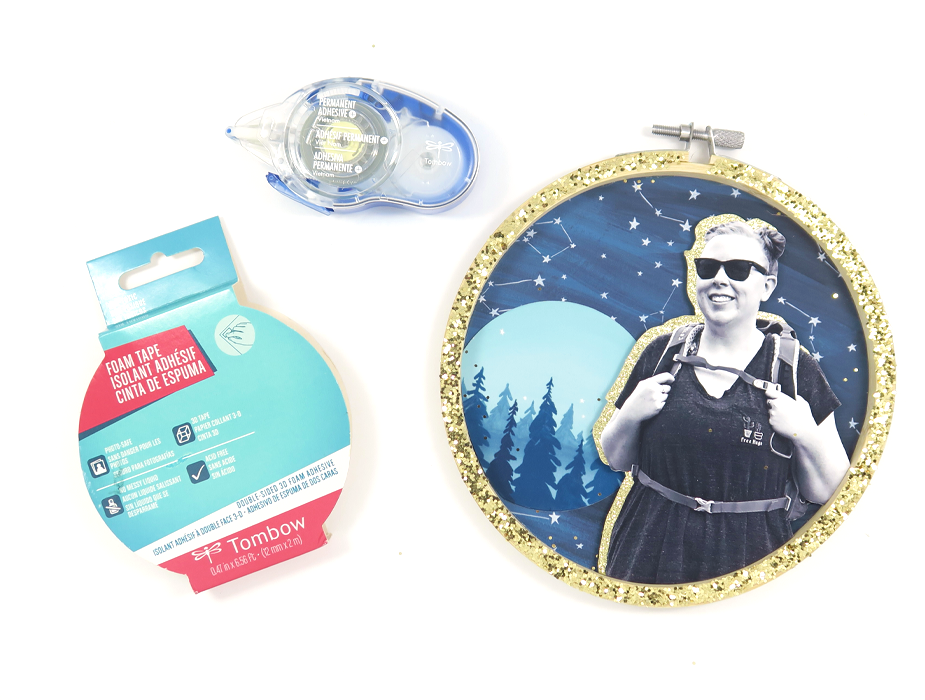 STEP FOUR
Now it's time to start assembling the hoop! I layered a forest diecut right on top of the background paper, using the Tombow MONO Adhesive+ Permanent to adhere it down. To give the picture of me more dimension, I backed it with the Tombow Foam Tape. To complete my self portrait, I then layered on some stickers – a bumblebee because I'm a hard worker, "Happy" because I love hiking", golden stars because the night sky calms me, and my star sign constellation because I feel it represents my at my core.
In my picture, I'm wearing my favorite "free hugs" shirt, my fave sunnies, and of course my space buns – all things that I feel help make me, me. I also really love being out in nature, so that's why I used the forest diecut. The last step is to string a ribbon through the top of the hoop and hang up!

Thank you so much for following along with embroidery hoop self portrait today! If you would rather draw your self portrait instead of using a photo, make sure to check out this post by Jennie, it's filled with step by step directions of how to draw a face. See you next time!