Hi friends, Adrienne from Studio 80 Design here today to talk about art journaling! Do you like to travel?? Travel journals are great to use to document all the beautiful places you visit! Today I want to show you how you can create a watercolor landscape in your travel journal using the Tombow Dual Brush Pens!
Materials you'll need: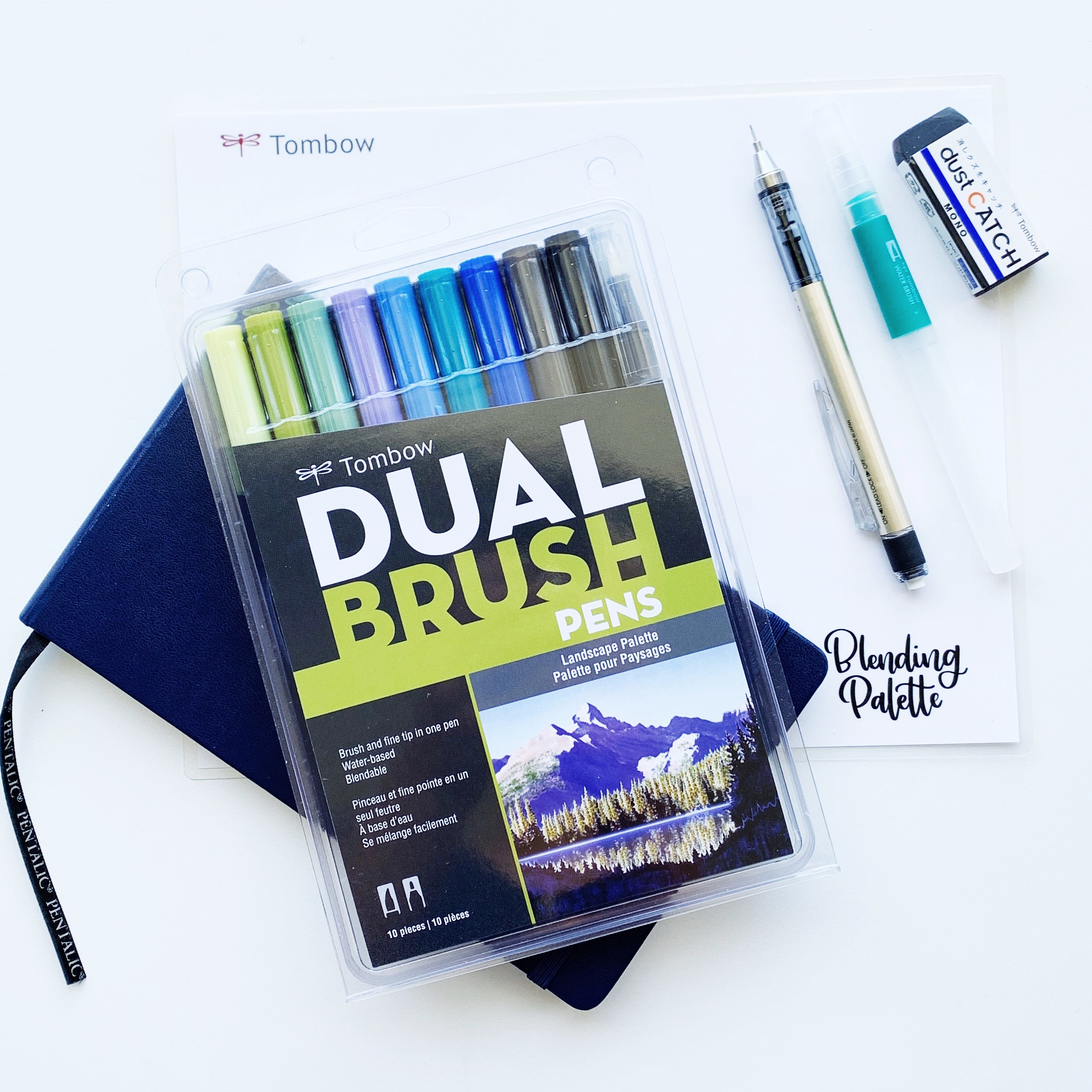 Step 1
The first step is to find your color palette for the place you are traveling to! I'm going to be documenting my visit to a waterfall I just recently visited with my children, and the Tombow Dual Brush Pen Landscape Palette has the perfect colors for any nature adventure! You can use the Dual Brush Pens as watercolors, and there are 108 colors to choose from! Making a swatch page in my art journal is super helpful so I know how the colors will act on my page and what the colors will look like. Scribble each color from the set down onto a Tombow Blending Palette. Then use the Tombow Medium Water Brush to pick up some color and color on a page to make swatches.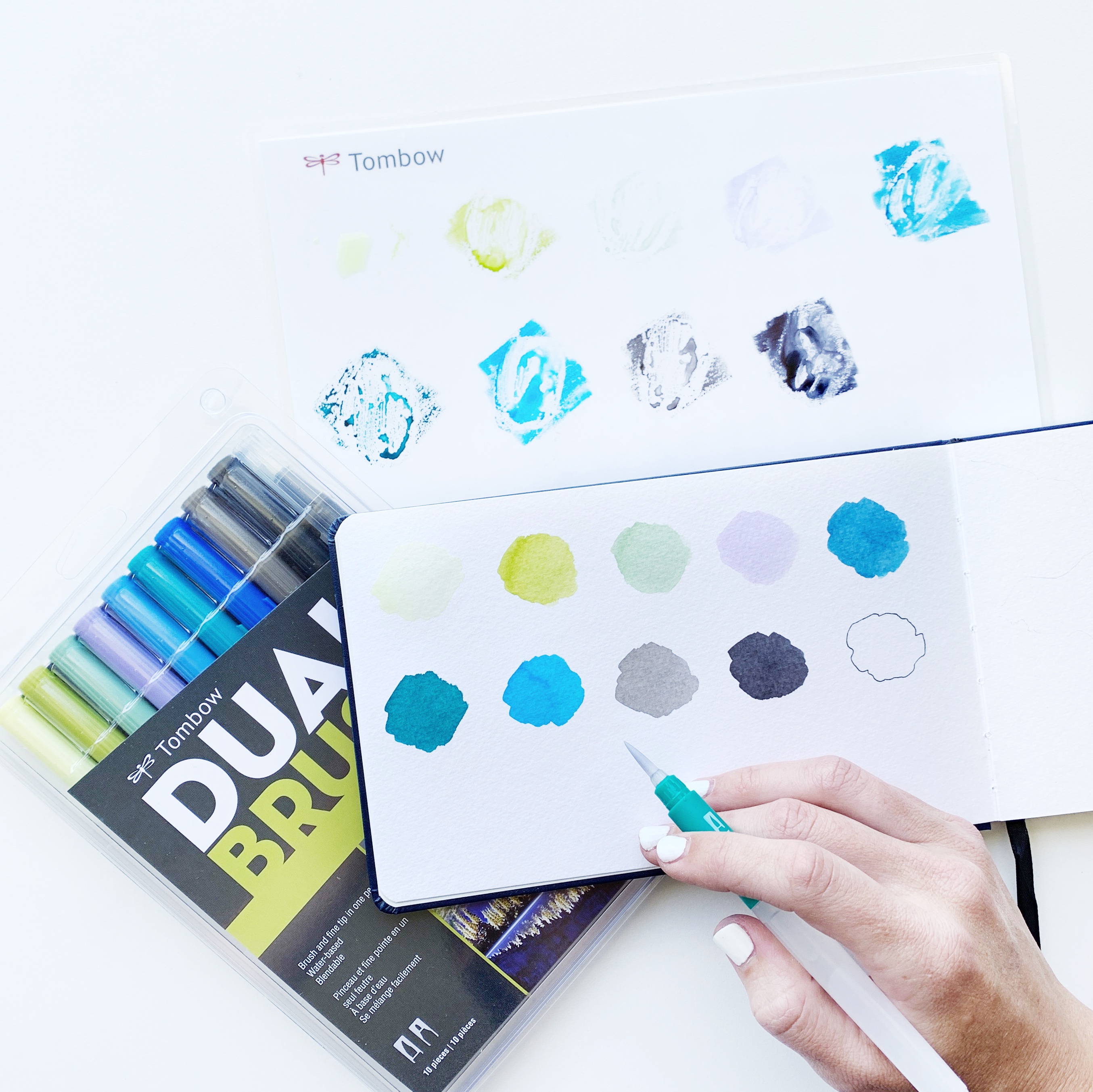 Step 2
Lightly sketch your scene on the next page using the Tombow MONO Graph Mechanical Pencil. Now we're going to lay down the first wash of color! If you need to, scribble more color onto your Blending pPalette. I like to put down a light wet wash first of just water. Then using my Round Water Brush, I'll pick up color from the Blending Palette and add it to my landscape scene. The colors will bleed into the water and move around if the page is already wet. Paint the background colors of what your scene looks like, taking it one section at a time. In my landscape scene, I'm using a lot of greens, the gray, and purple from the set. Let this layer completely dry before moving on.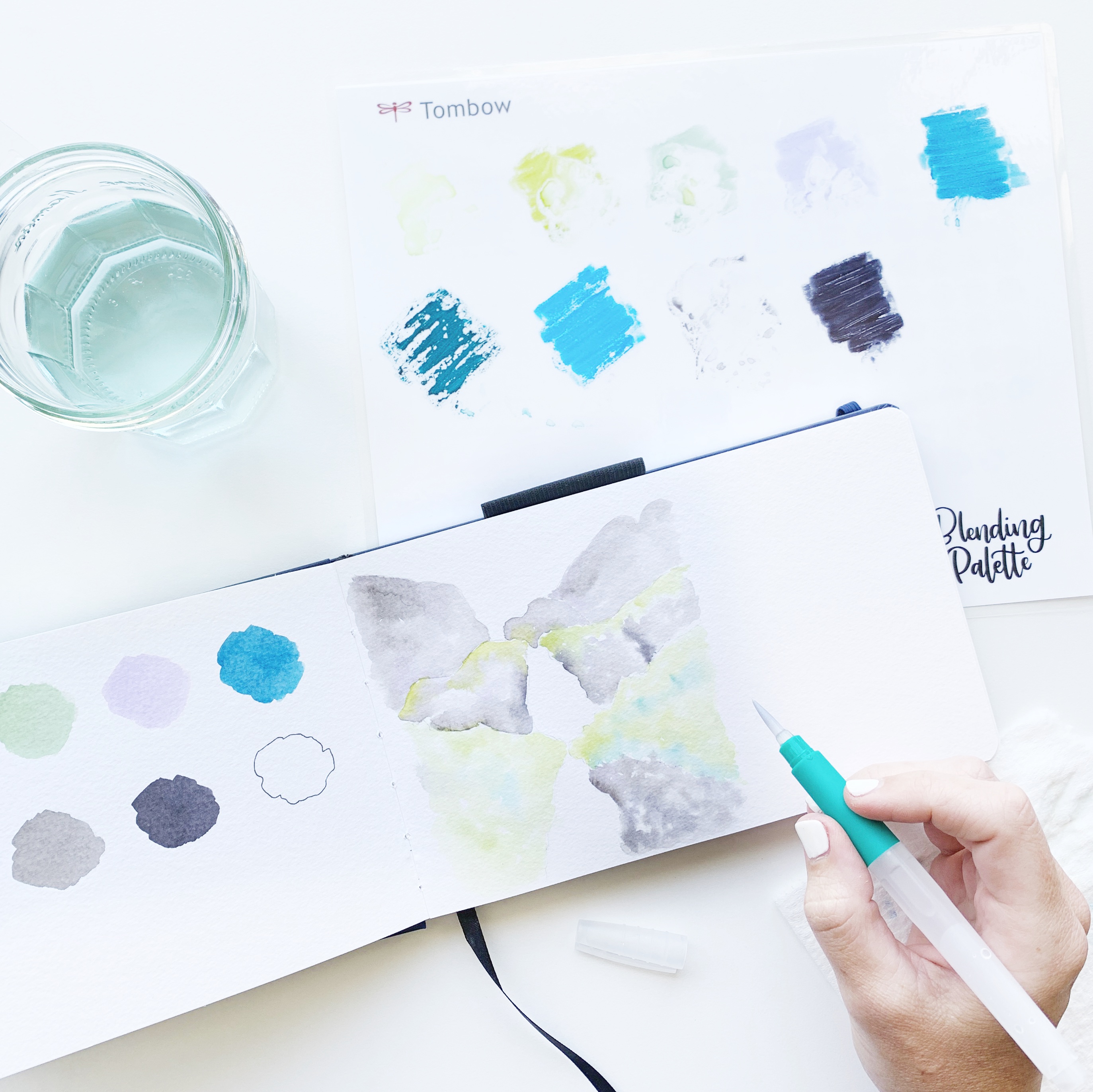 Step 3
Next, I'm going to add another layer for the waterfall and sky. I let the first layer completely dry so it wouldn't bleed with the grey and greens I used on the first wash. Let the second layer completely dry before moving on.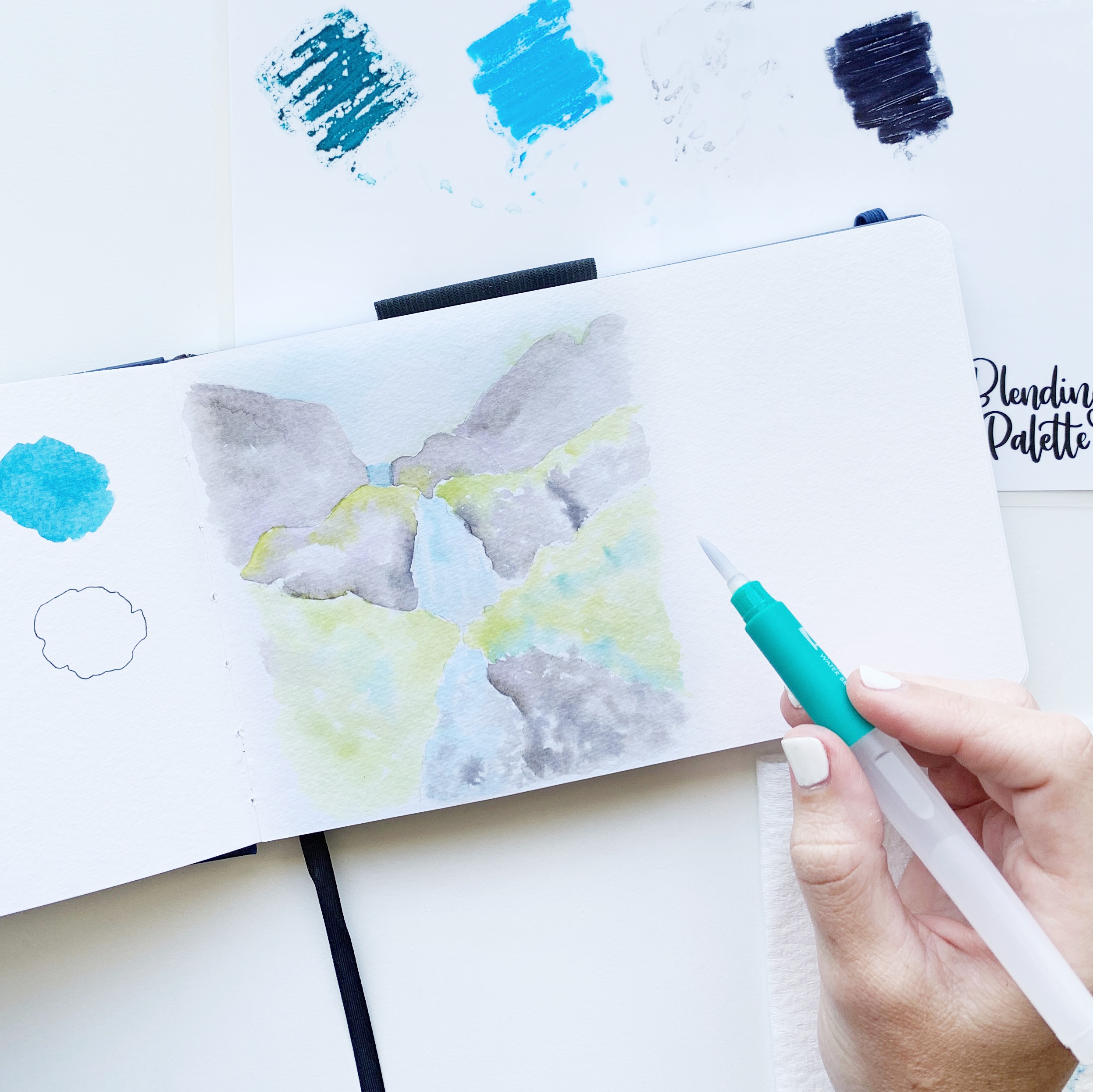 Step 4
Now it's time to add in those small details! Use the darker colors from the Landscape Palette to add in details, like lines in the mountains, rocks, and trees/bushes. I'm keeping this travel journal page abstract, so I'm not too worried about being too precise with my details. It's great practice for when you're painting on location and you want to do a quick sketch in your journal before you move on!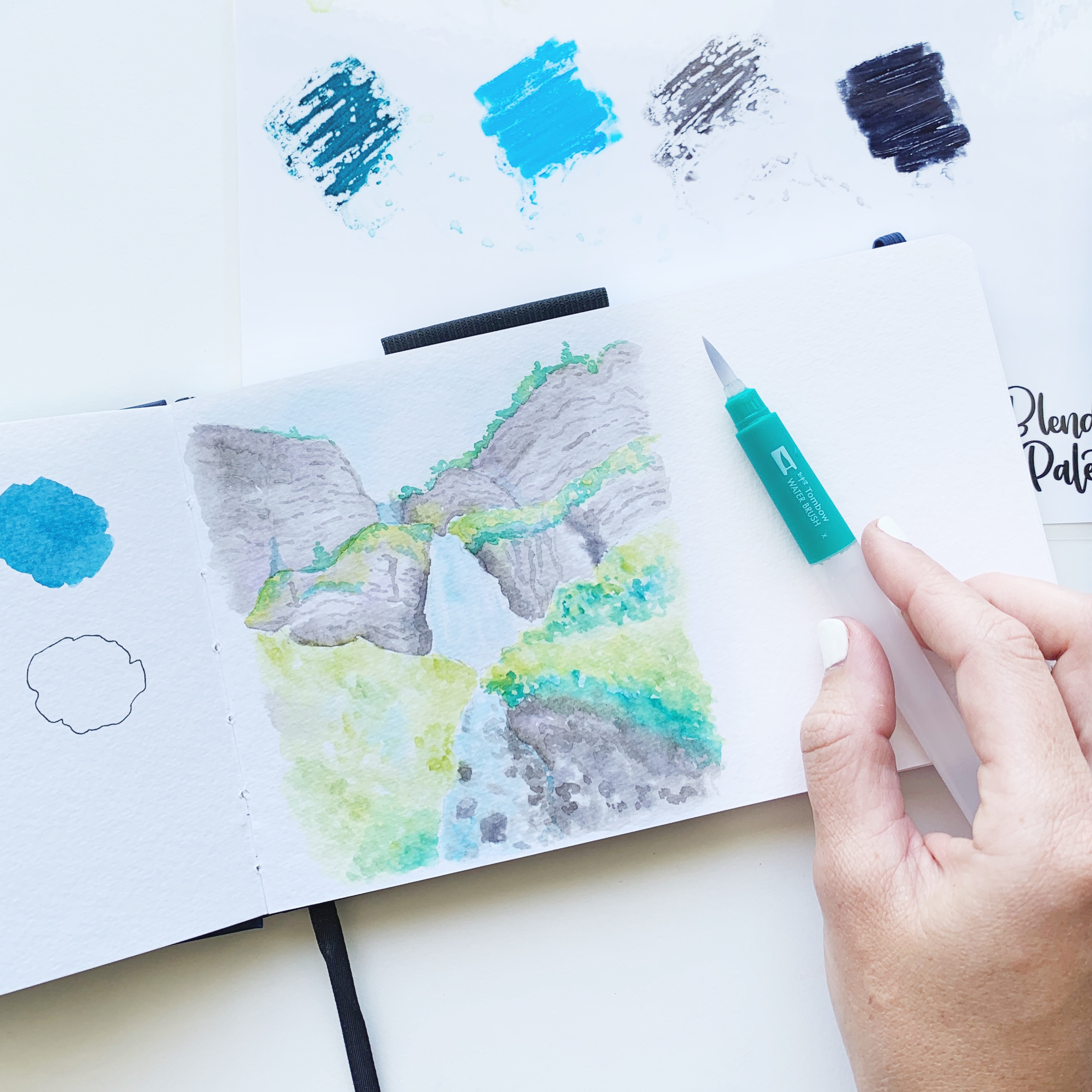 Step 5
The last step is to use the Tombow MONO Drawing Pens to write in the date as well as a journal entry or notes about the place you're visiting. It can be anywhere on the page, so play around with the layout in your travel journal! Then erase any leftover pencil marks still showing on the page with a Tombow MONO Dust Catch Eraser.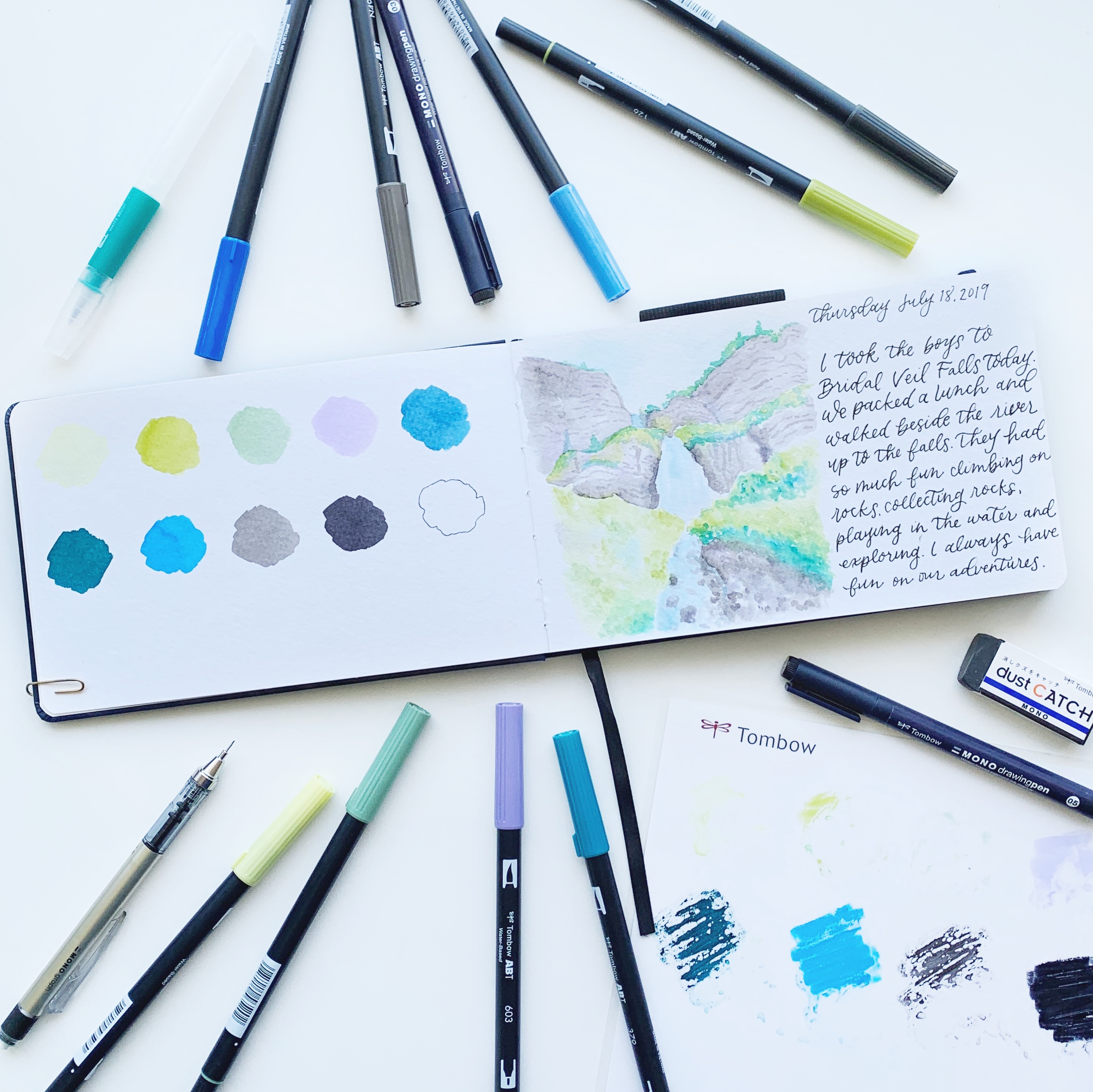 I love documenting where I've traveled by creating little watercolor sketches in my travel journal. It shows your unique perspective and lets you study the places you're visiting. It's super fun to paint on location, but if you don't have time you can simply snap a picture and document your trip later when you have more time. Thanks for visiting today! For more inspiration like this make sure to follow me @studio80design!
For more tips on how to use Dual Brush Pens as watercolors, make sure you check out these awesome tutorials: