Hi friends, Katie from @Studio.Katie here to share a tutorial on how to create a fun and easy Fall Inspired Journal Spread, as well as a few handy tips for illustrating with Tombow MONO Drawing Pens!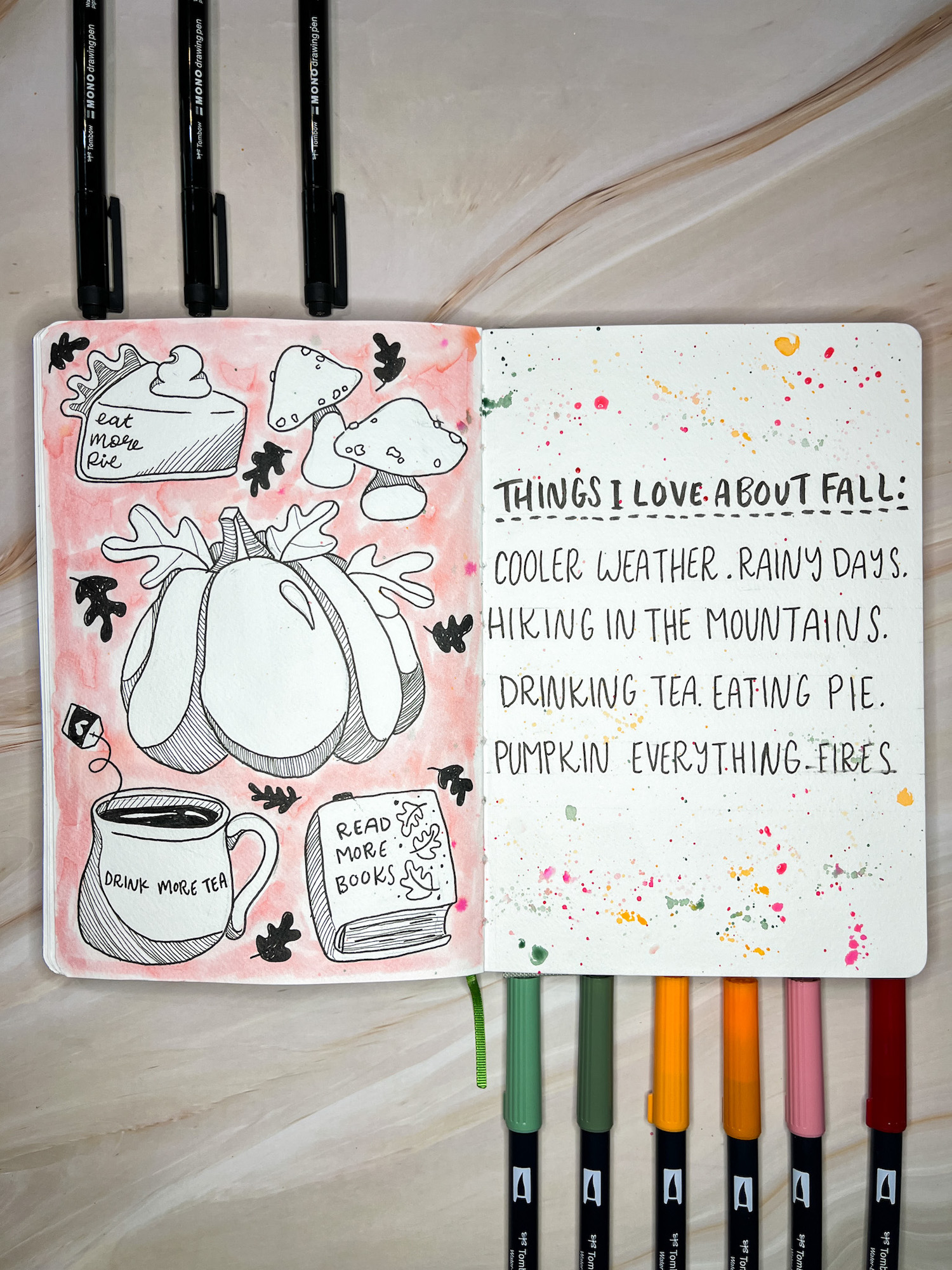 Supplies you will need: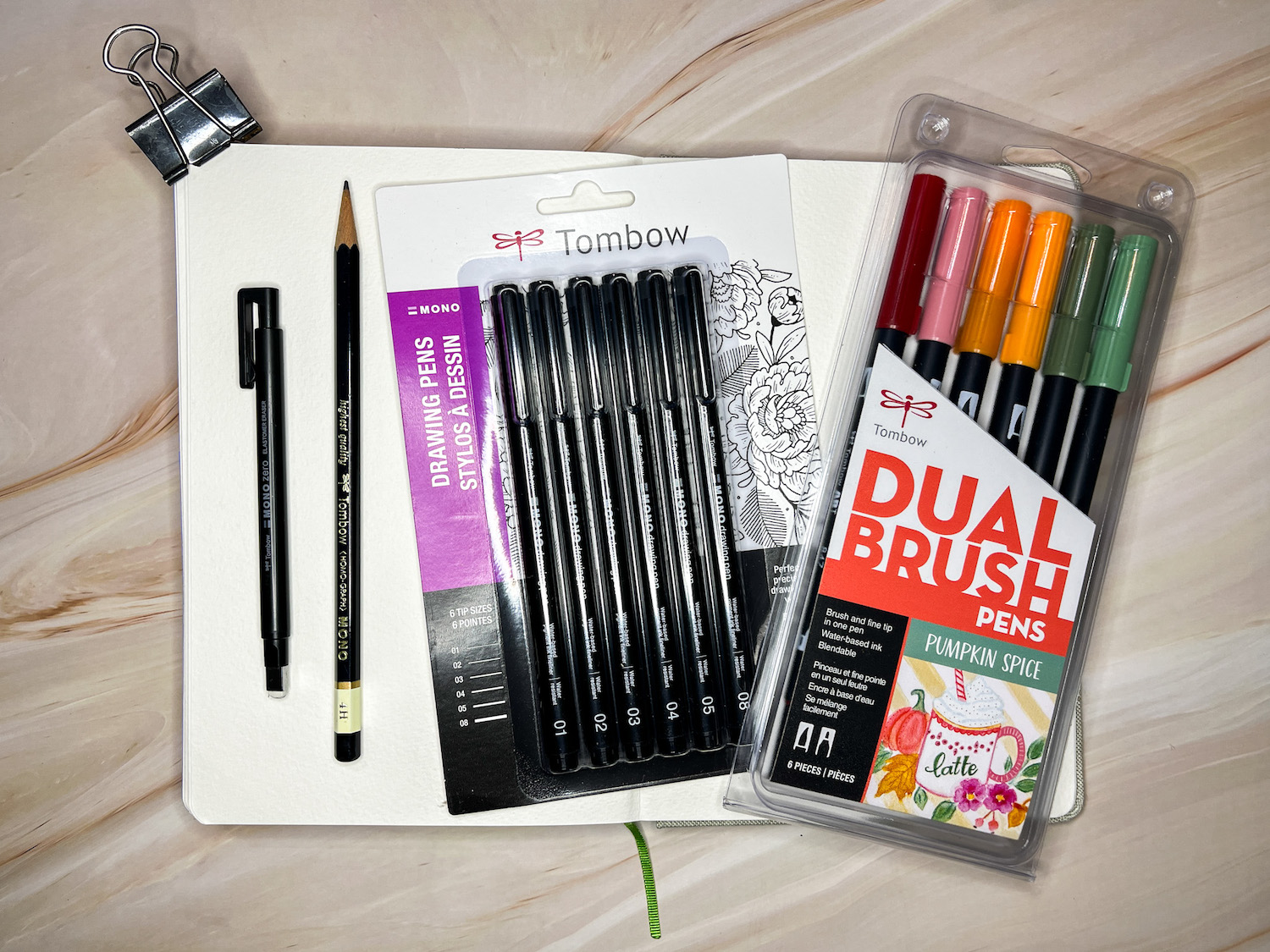 Step One:
Start by using your MONO Drawing Pencil to sketch a big, wonky pumpkin into the center of the left page. I'm using a MONO Drawing Pencil in 4H so that it's a light sketch. You can learn more about the different hardness levels of the pencils in this post: Value Scale Using Tombow MONO Drawing Pencils.
I know this is going to be a 2-page spread, so I also used a ruler to sketch a few guidelines out on the right for when I'm ready to add some journaling.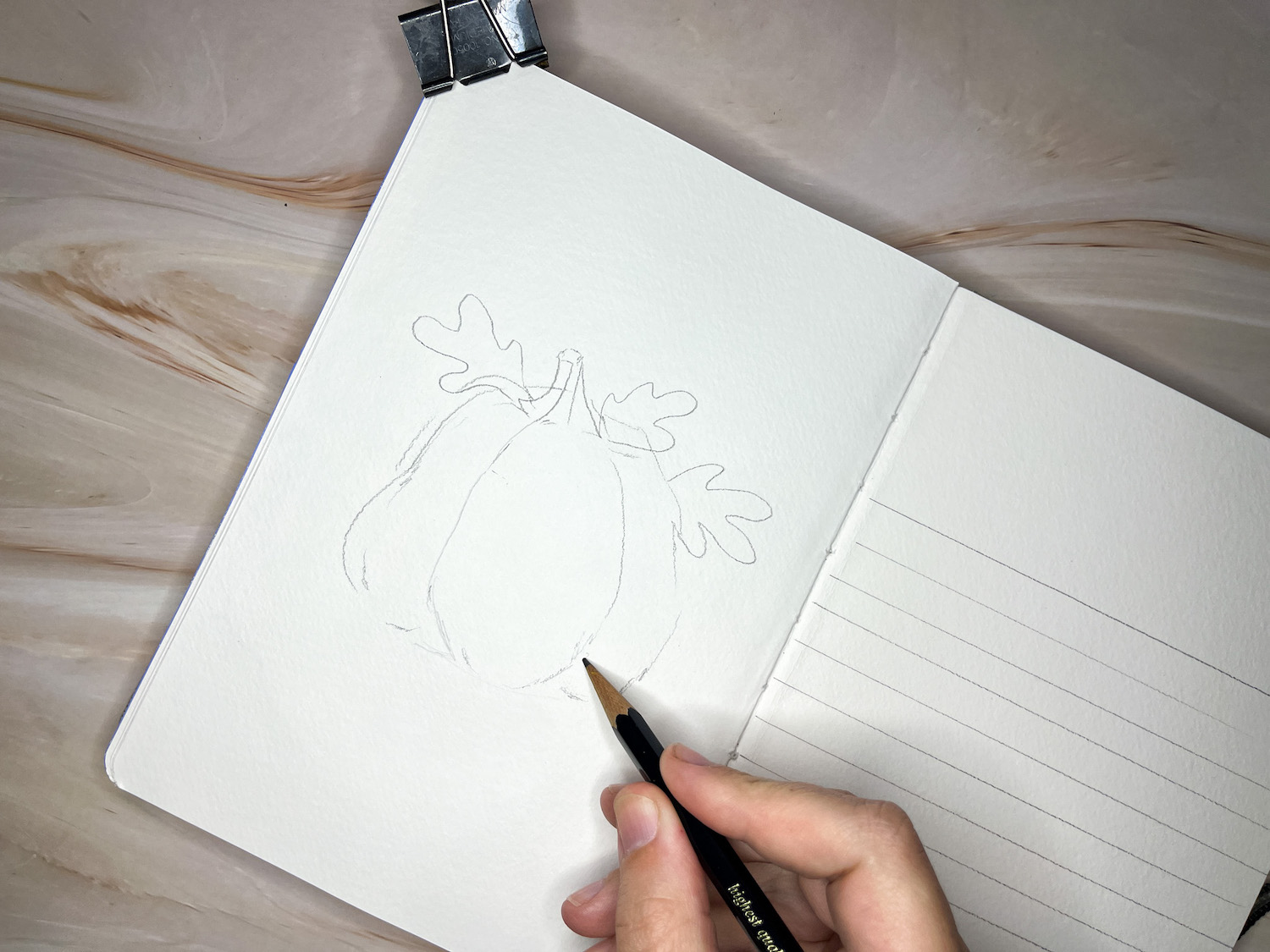 With the pumpkin as the centerpiece, add more illustrations around it to fill in the page. I recommend sketching your favorite things about fall! What is it that brings you joy this time of year?
I sketched a pumpkin pie, some mushrooms (because I LOVE getting outside and hiking), tea, and a book. You can also use your MONO Zero Eraser to clean up your sketches if you want to.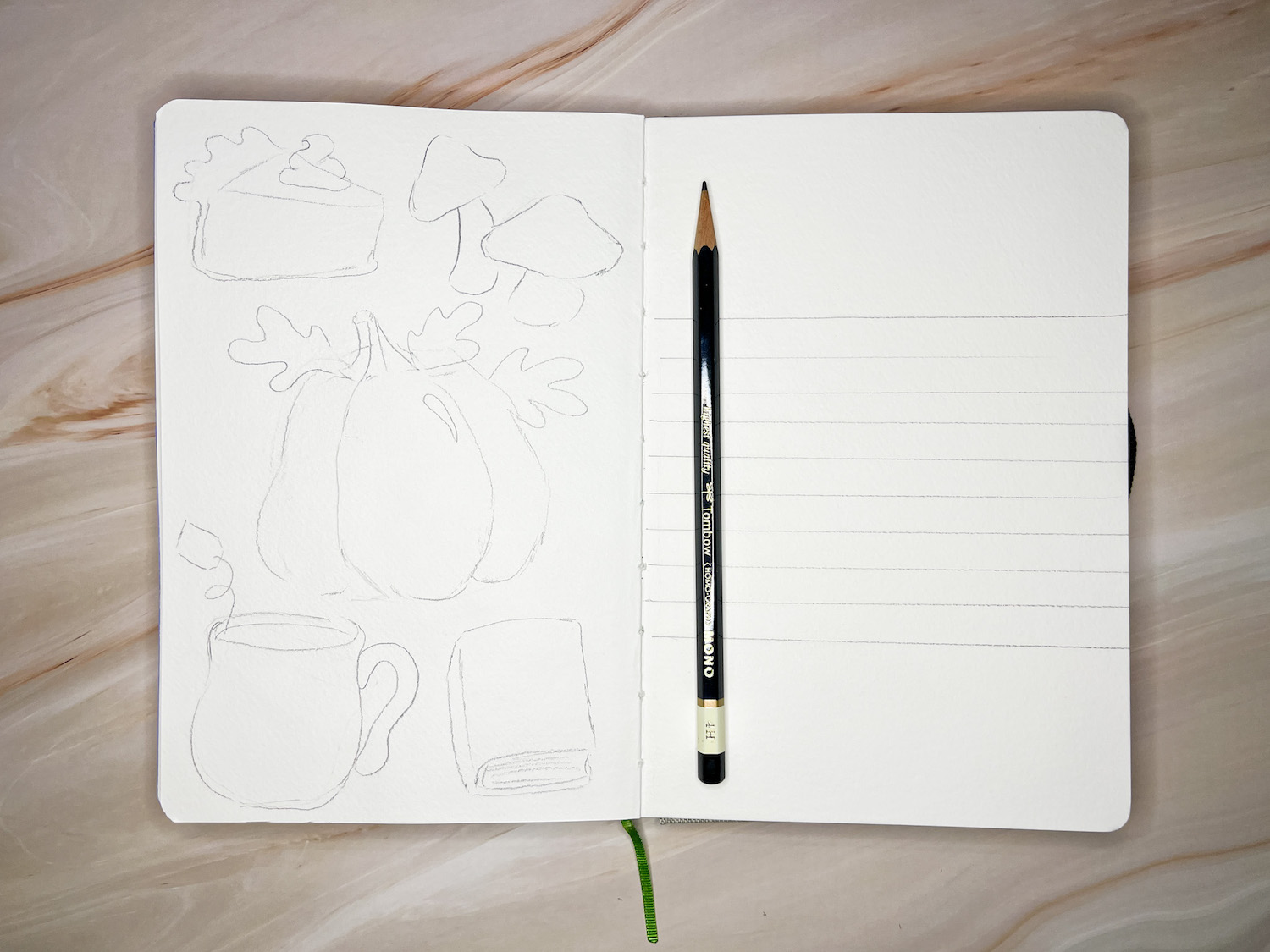 Step Two:
Time to ink! I love using the MONO Drawing Pens for line art because they just draw so smoothly- without any skips, and the tips don't bend or break if I use too much pressure while drawing.
Outline each of your sketches, going over your pencil.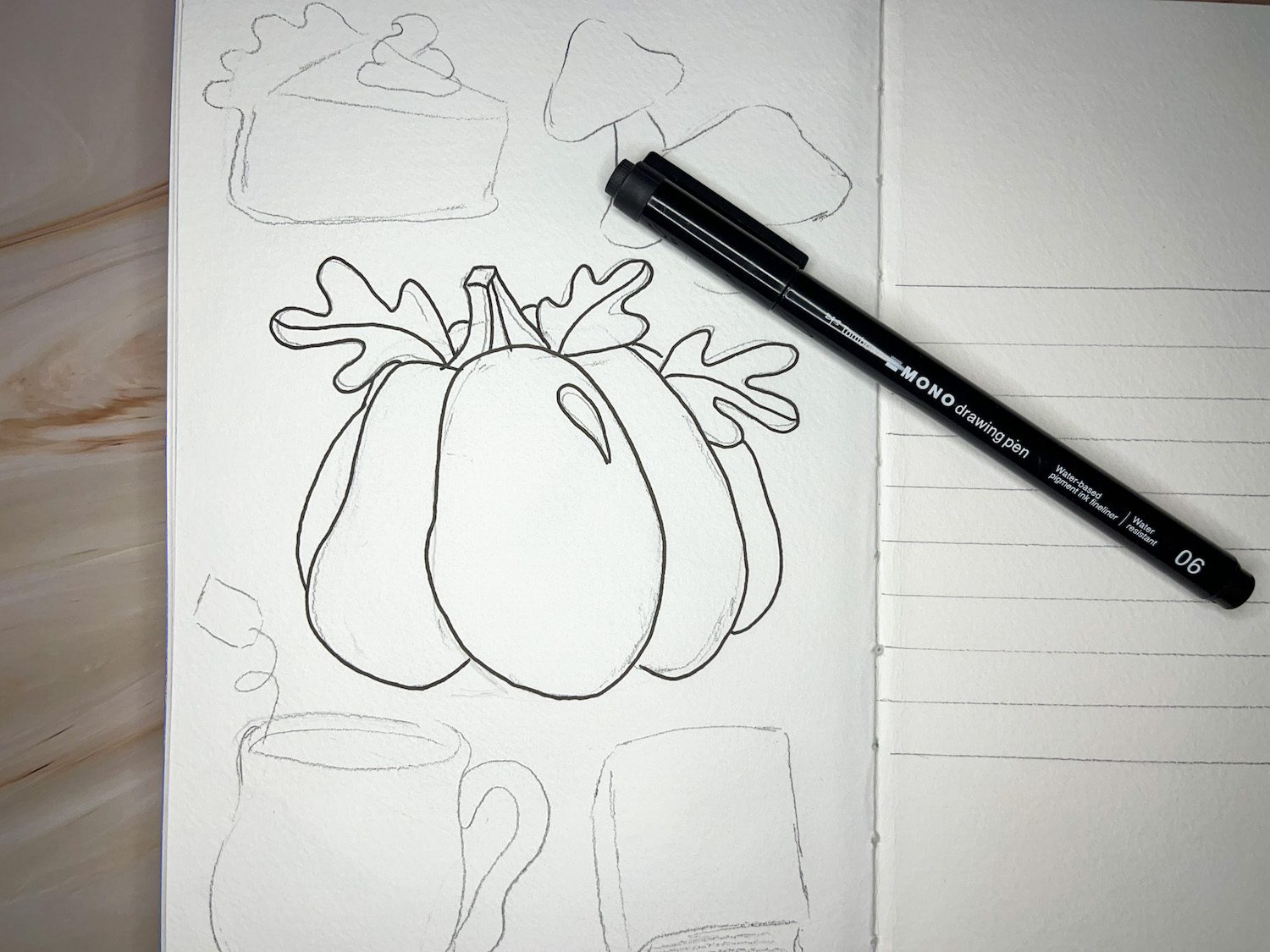 The MONO Drawing Pens are available in 8 sizes, 005, 01, 02, 03, 04, 05, 06, & 08. You can use the different tips for different techniques!
Use a large-sized bullet tip like the 06 & 08 to fill in larger areas that you want black or shadowed.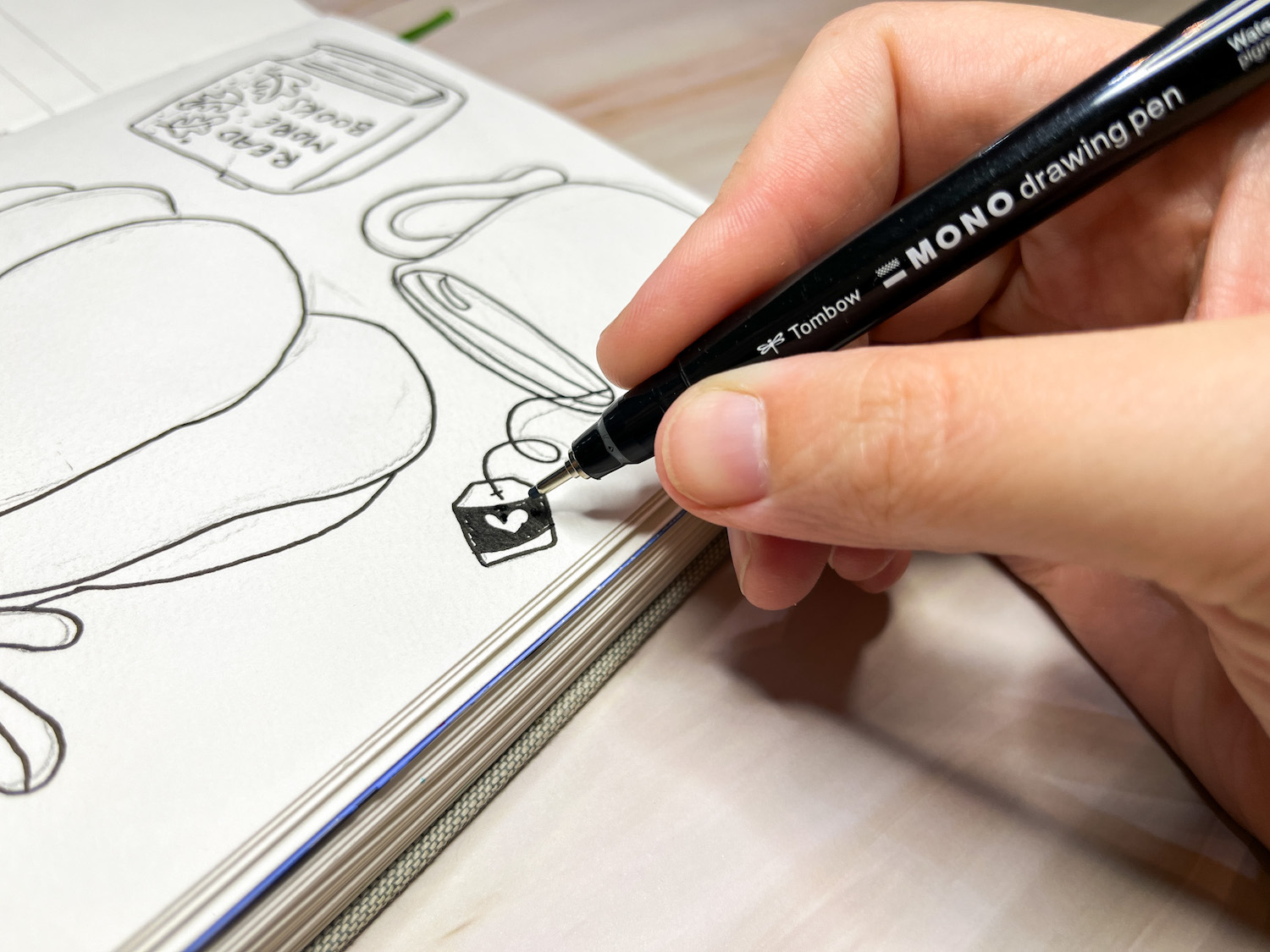 Try using a medium-sized tip like 04 or 05 to add details or dots.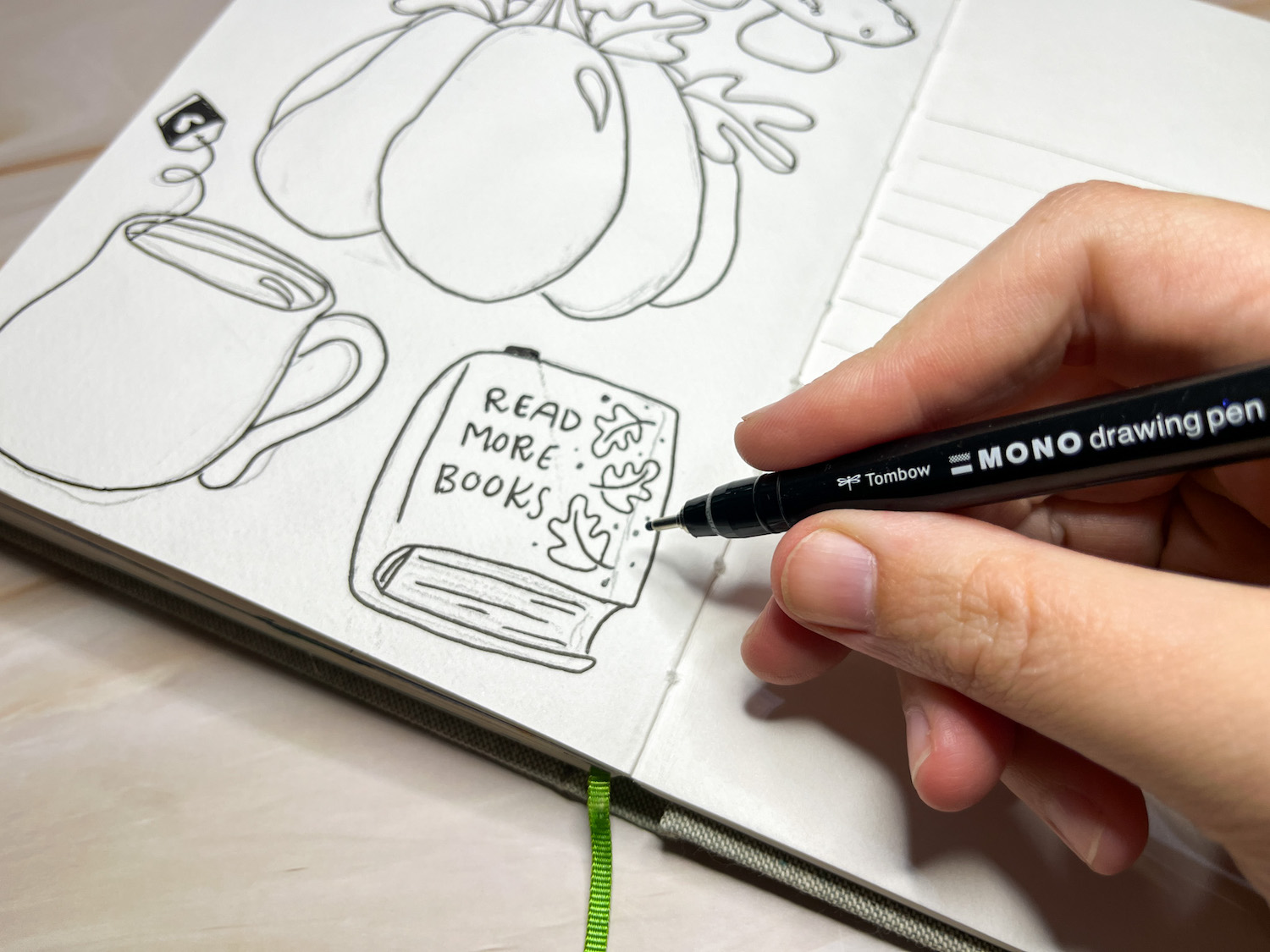 Or use one of the smaller-sized tips ranging from sizes 005-02 to add hatching/cross-hatching to your illustrations.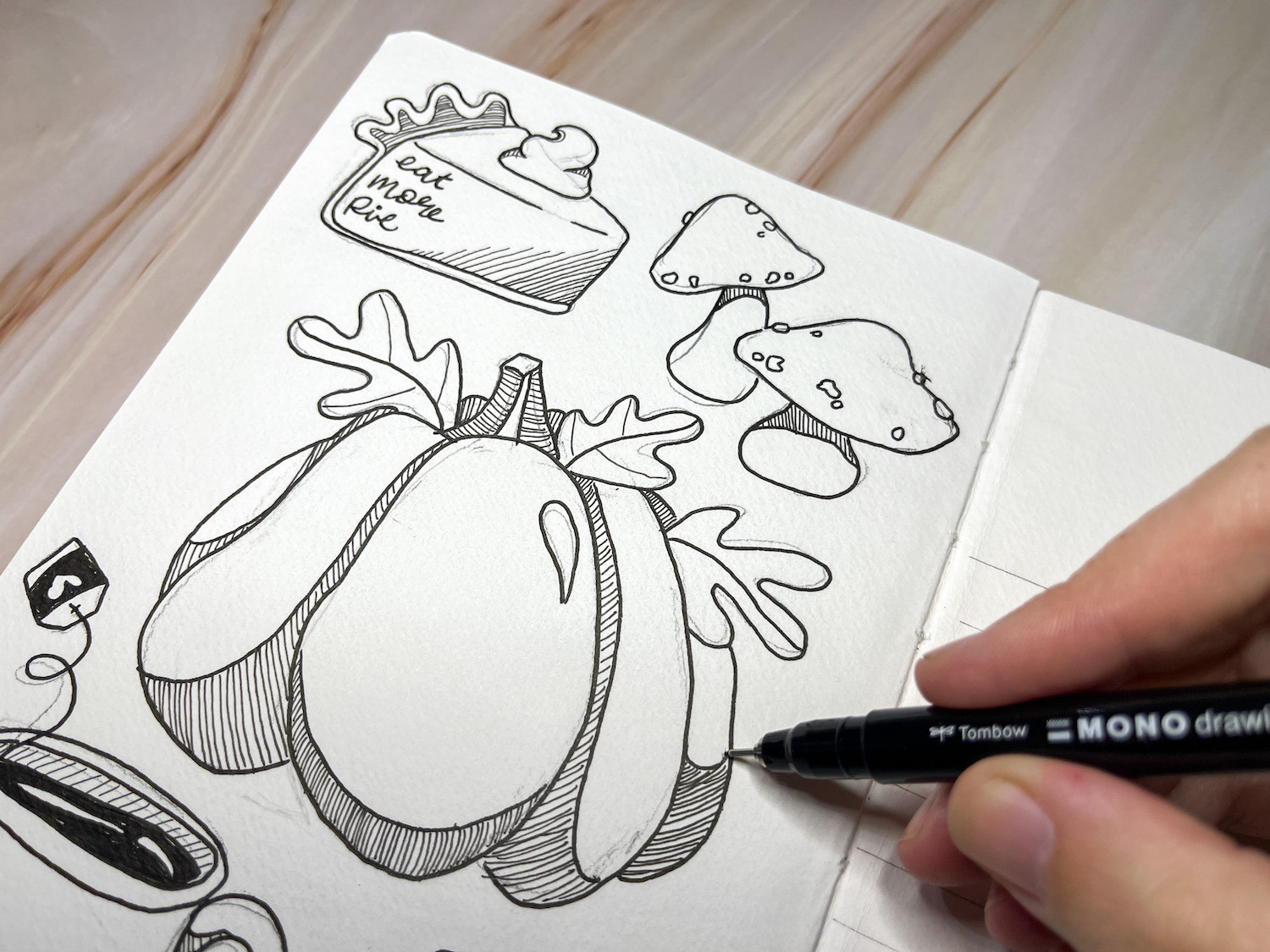 Step Three:
Add your journaling to the opposite page! I used a Fudenosuke Brush Pen, Hard Tip for my "Things I Love About Fall" header, and a MONO Drawing Pen in size 06 for the list.
Step Four:
Let's add just a little bit of color. Use a Dual Brush Pen to loosely add color around your illustrations. I love that the Dual Brush Pen, Pumpkin Spice, 6-Pack includes Dual Brush Pen Color 772 in Dusty Rose because pink is my favorite color and I thought it would be a fun but different color palette for Fall!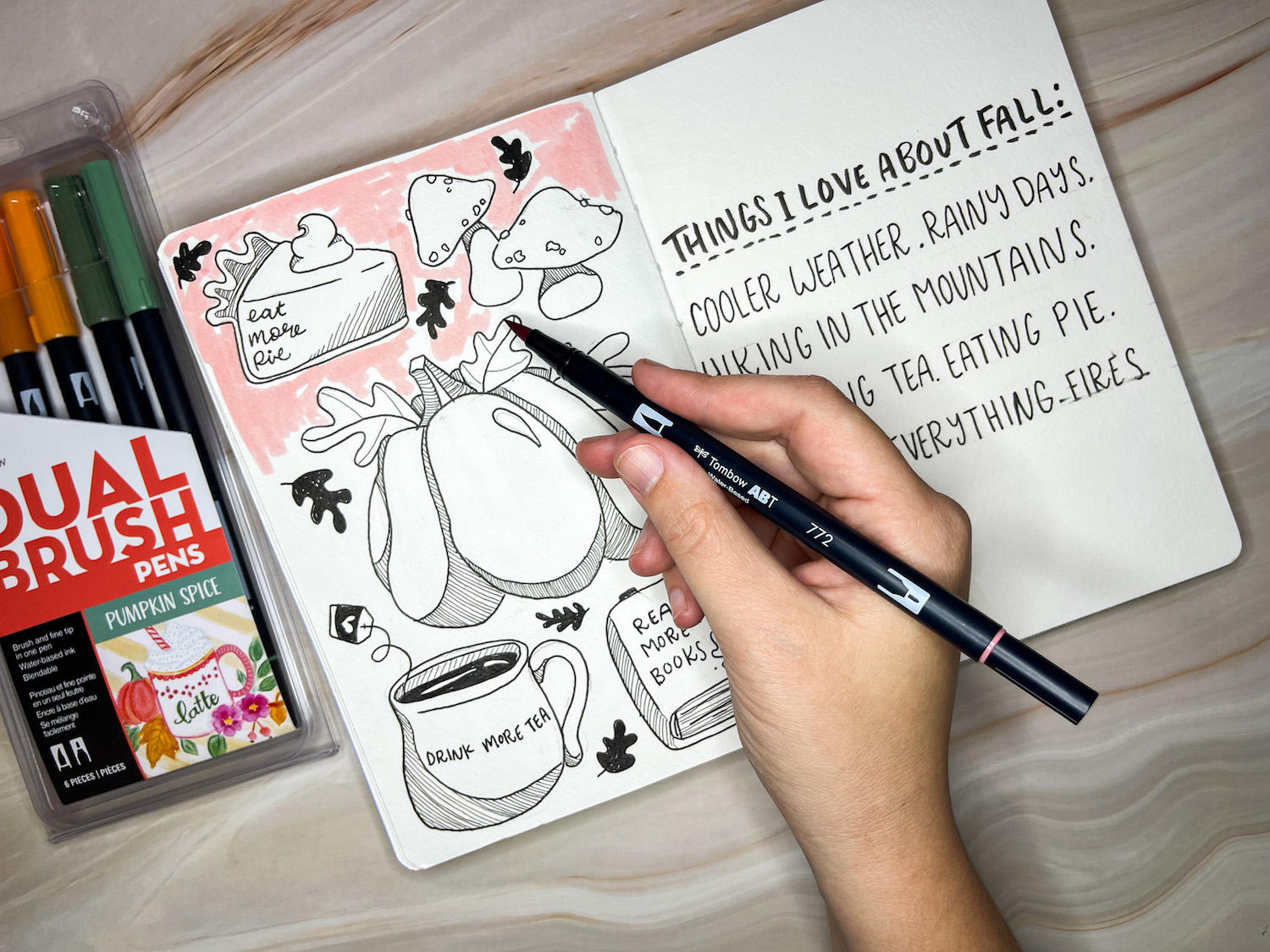 Step Five:
Use a Tombow Water Brush, Small to move the ink around your sketches to give you the look of a watercolor background.
Note: I'm using watercolor paper for this, but if your journal is a thinner paper not suitable for wet mediums, you may find it better to completely fill in the background with the Dual Brush Pen, and skip this step.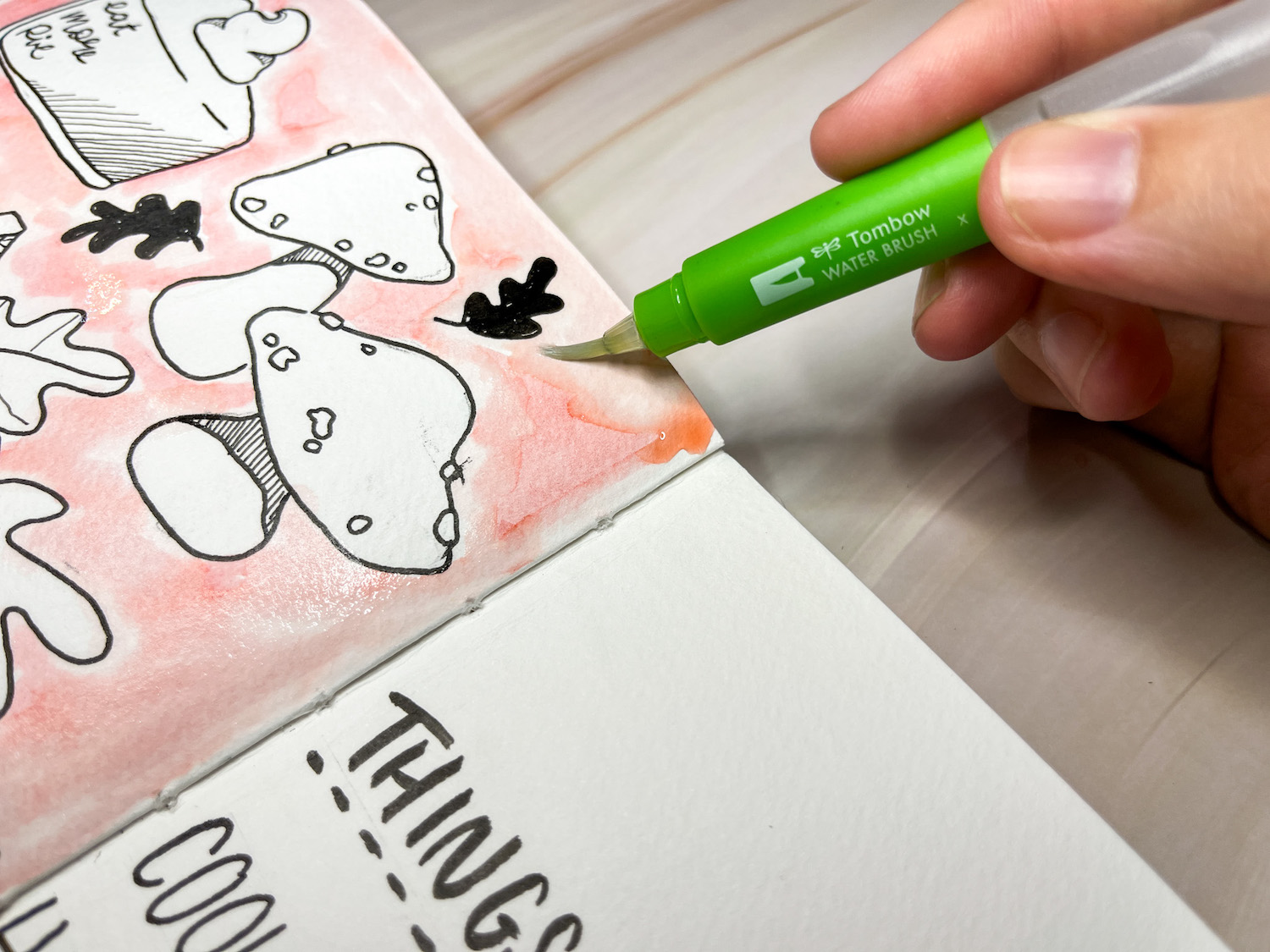 Step Six:
Use the rest of the colors in the Dual Brush Pen, Pumpkin Spice, 6-Pack to create paint splatters on the right page!
You can find a detailed guide on how to create paint splatters here. I like to scribble the Dual Brush Pen ink onto a Blending Palette, pick up the color with a wet paintbrush, and flick it at the page!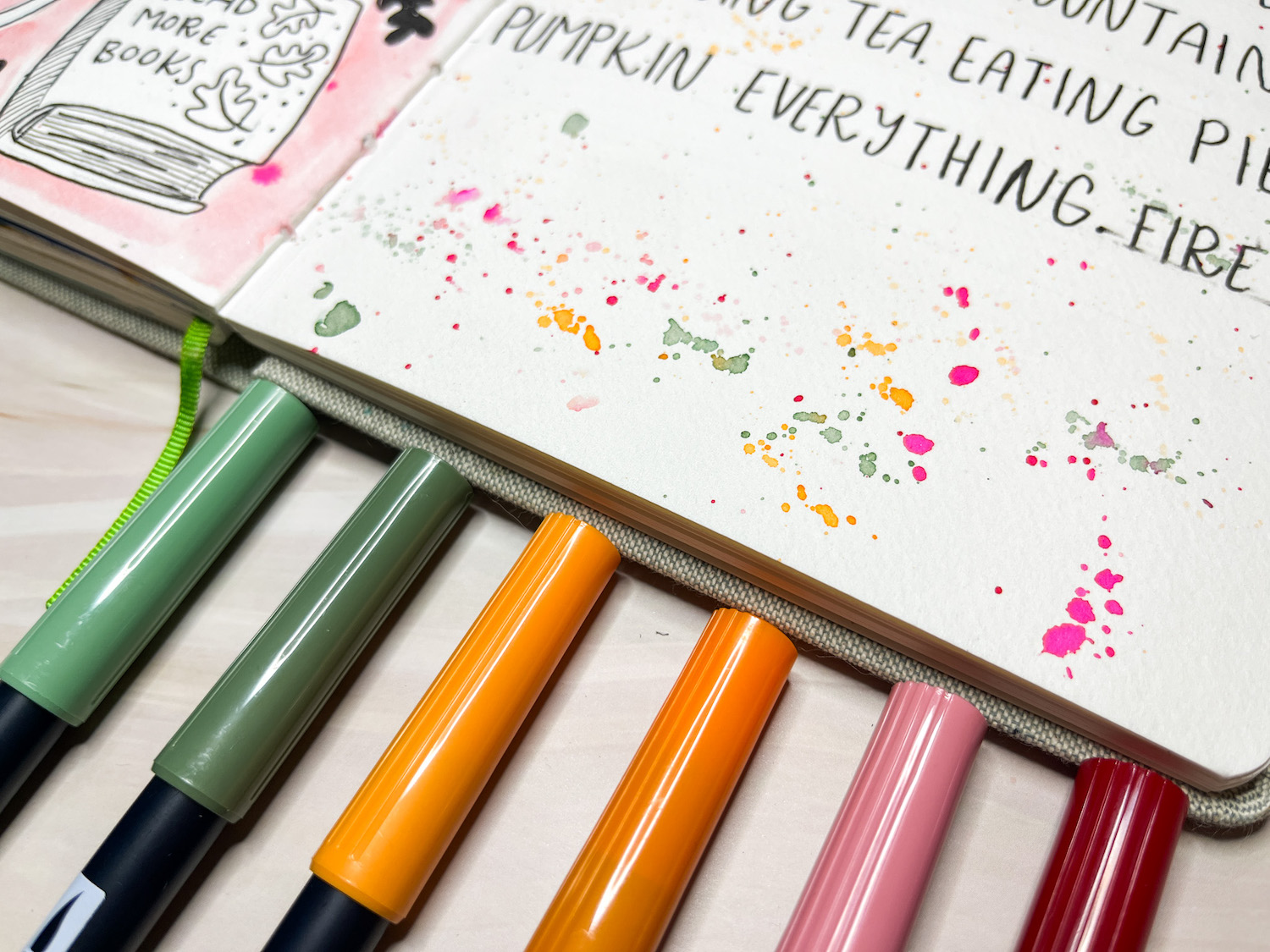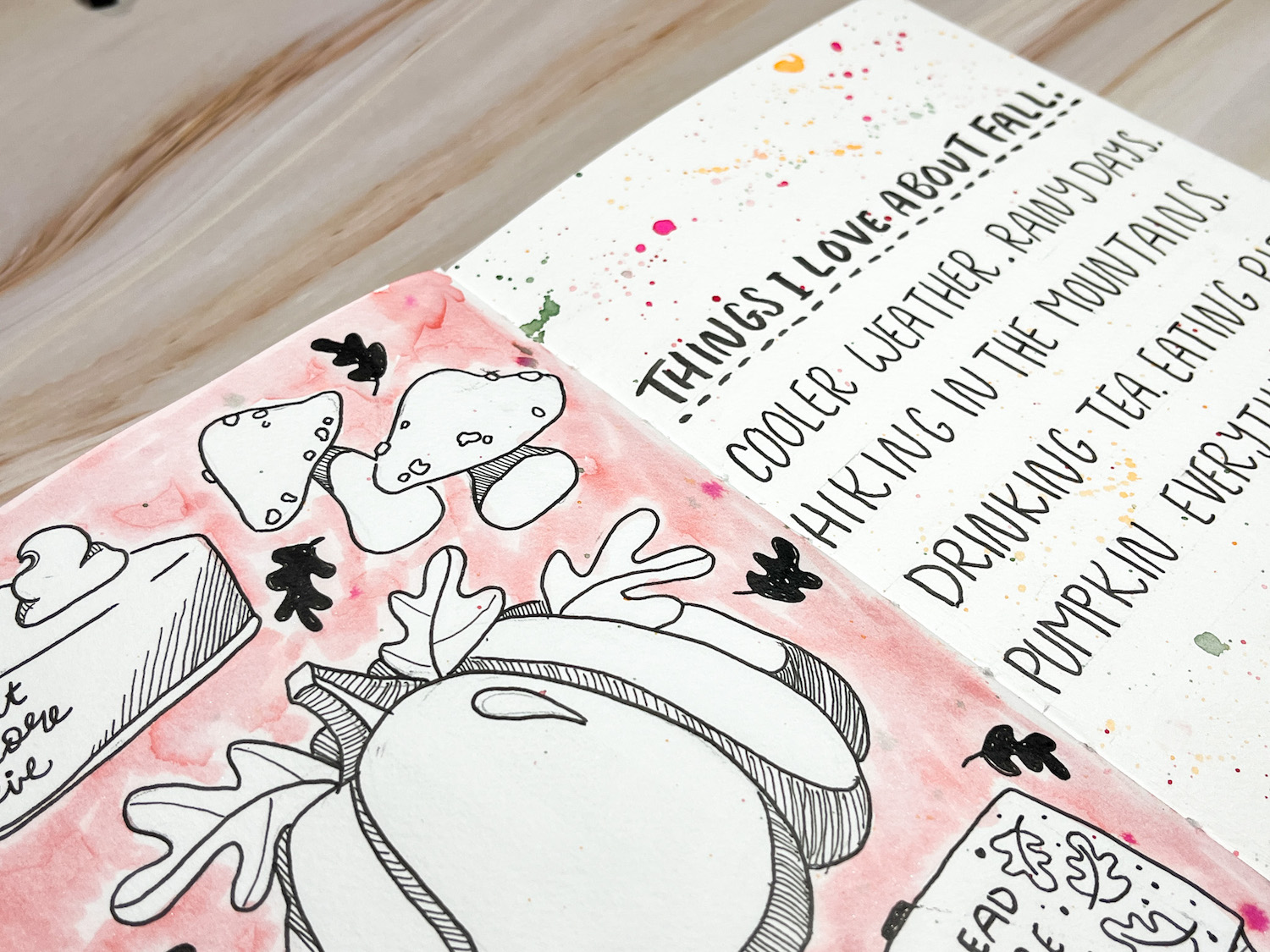 And that's it! I hope you enjoyed learning these drawing tips and created an easy fall-inspired journal spread at the same time!
If you're looking for more inspiration, check out these posts from the Tombow Blog archives: