It's fall y'all! Hey Tombow fans, it's Mandy from @thebrewtifulword showing you how to hand letter a fall print with only three Dual Brush Pens! It's a great way to stretch your creativity by limiting yourself to only a few colors. Fall color palettes are fun to create. For this project, you can use the pens I chose or feel free to pick three Dual Brush Pens from your own collection.
Here's a tip: If you chose three of your own colors, simply scribble ink from all three colors onto a scrap piece of paper to see how they look together.
Let's gather our supplies and get started!
Supplies:
STEP 1 – Letter Words
What do you love about fall? Your answers will make up your print! For me, I love making apple pie, football season, pumpkin cookies, sweaters, fall leaves, and cider. Those six things make up my print! Think of six of your favorite things about fall and then letter them out each on its own line. I chose to letter out my things in a playful font.  Use Dual Brush Pen 027 to letter out your first thing, then Dual Brush Pen 177 for the second thing, and Dual Brush 899 for the third thing. Then, rotate and use Dual Brush Pen 027, 177, and then 899.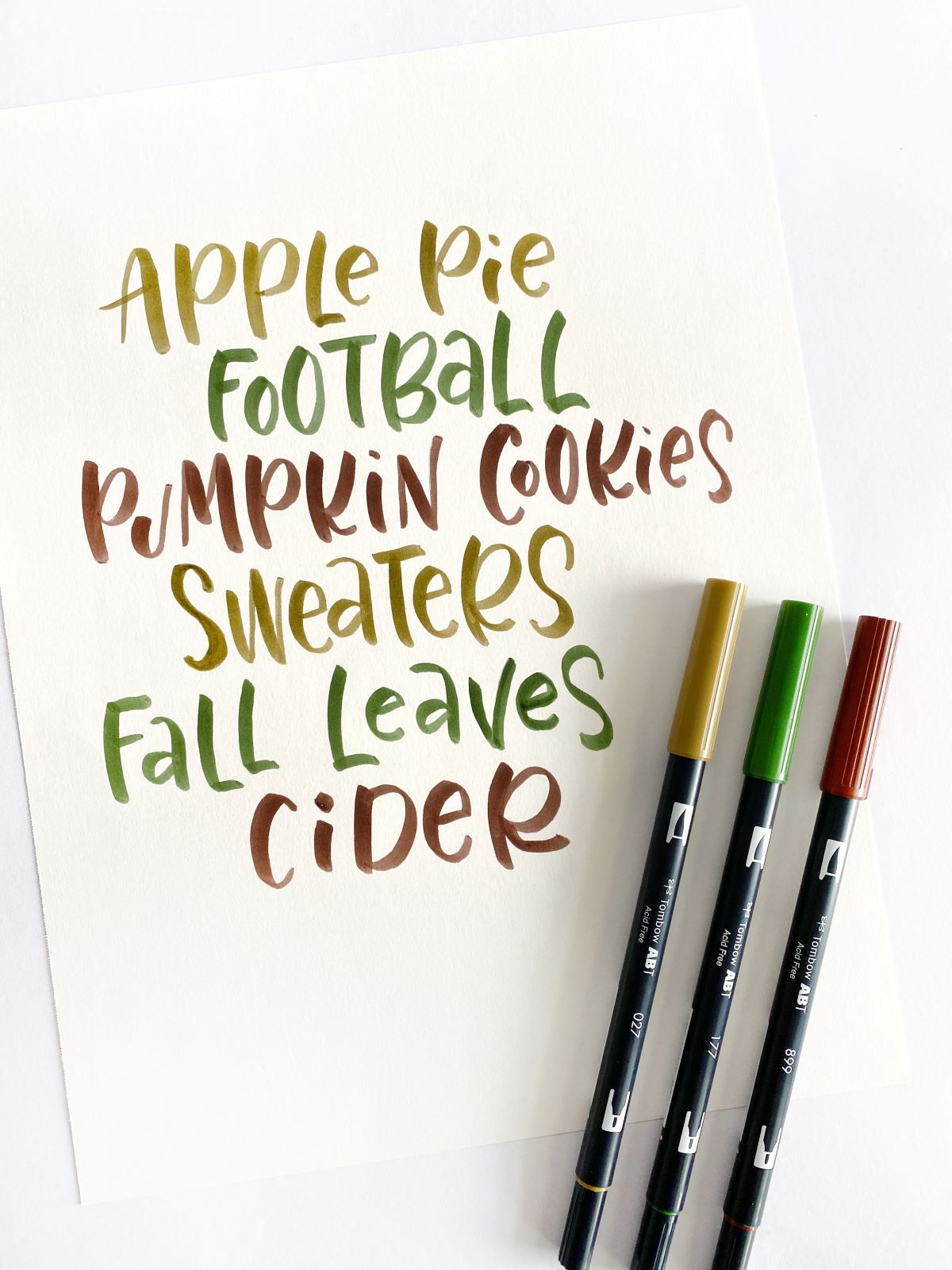 Next, use the Brown Fudenosuke Brush Pen to add a shadow to either the left or right-hand side of all your letters.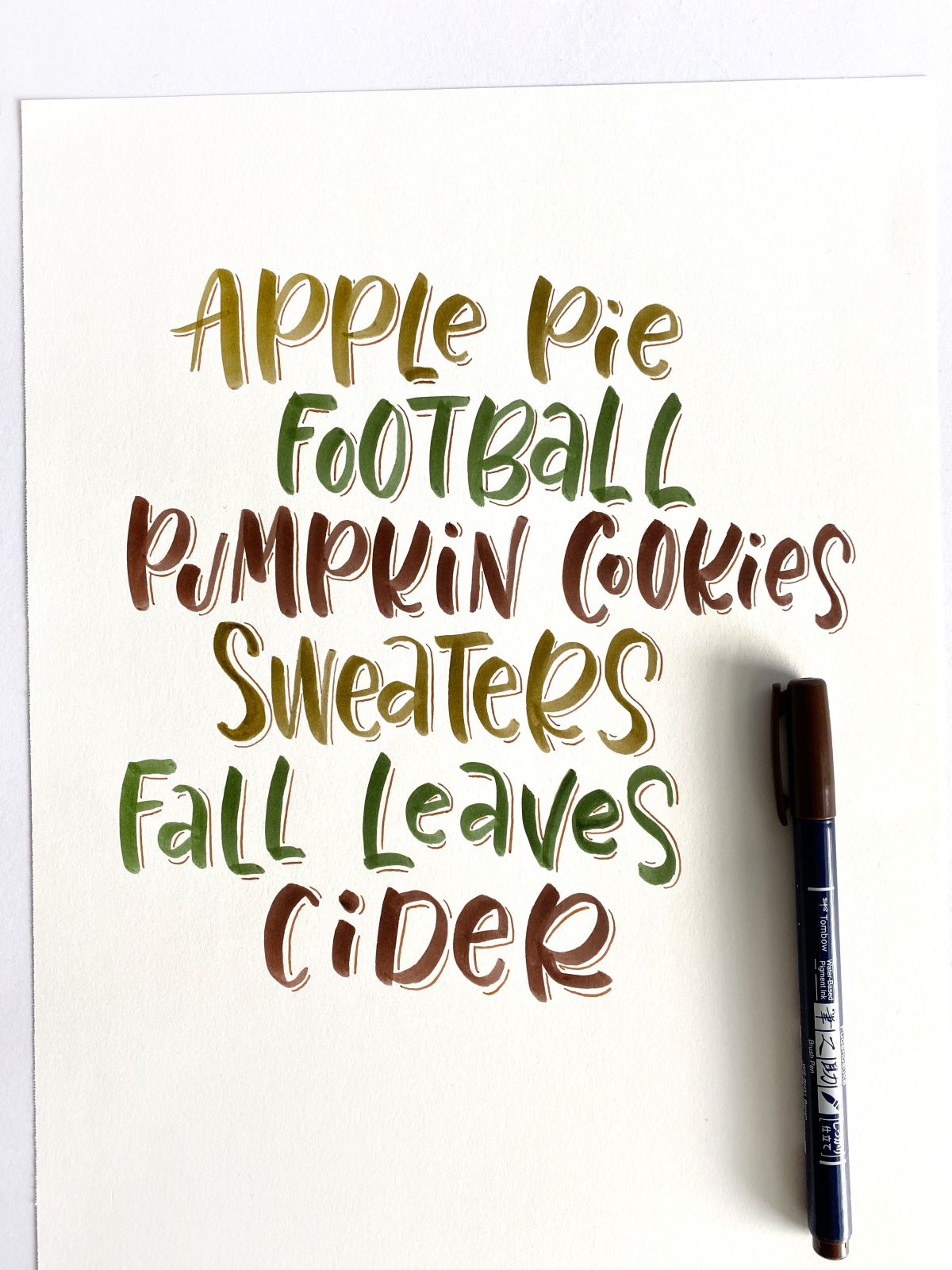 STEP 2 – Add Leaves
Using the same three Dual Brush Pens, doodle in some fall leaves around all your words.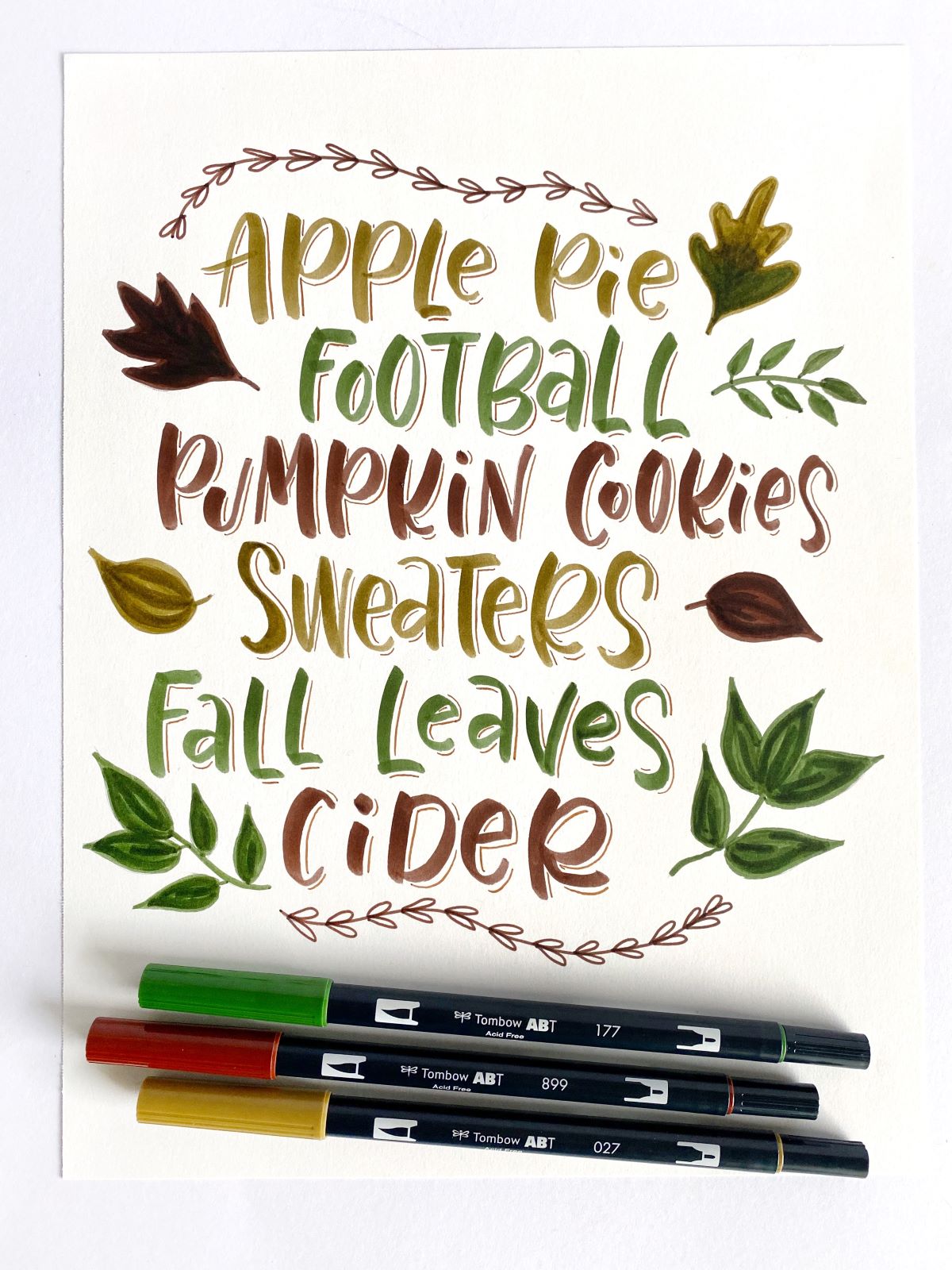 STEP 3 – Add Final Details
Using MONO Drawing Pen 01, trace around your leaves with loose sketched lines to help keep a playful look.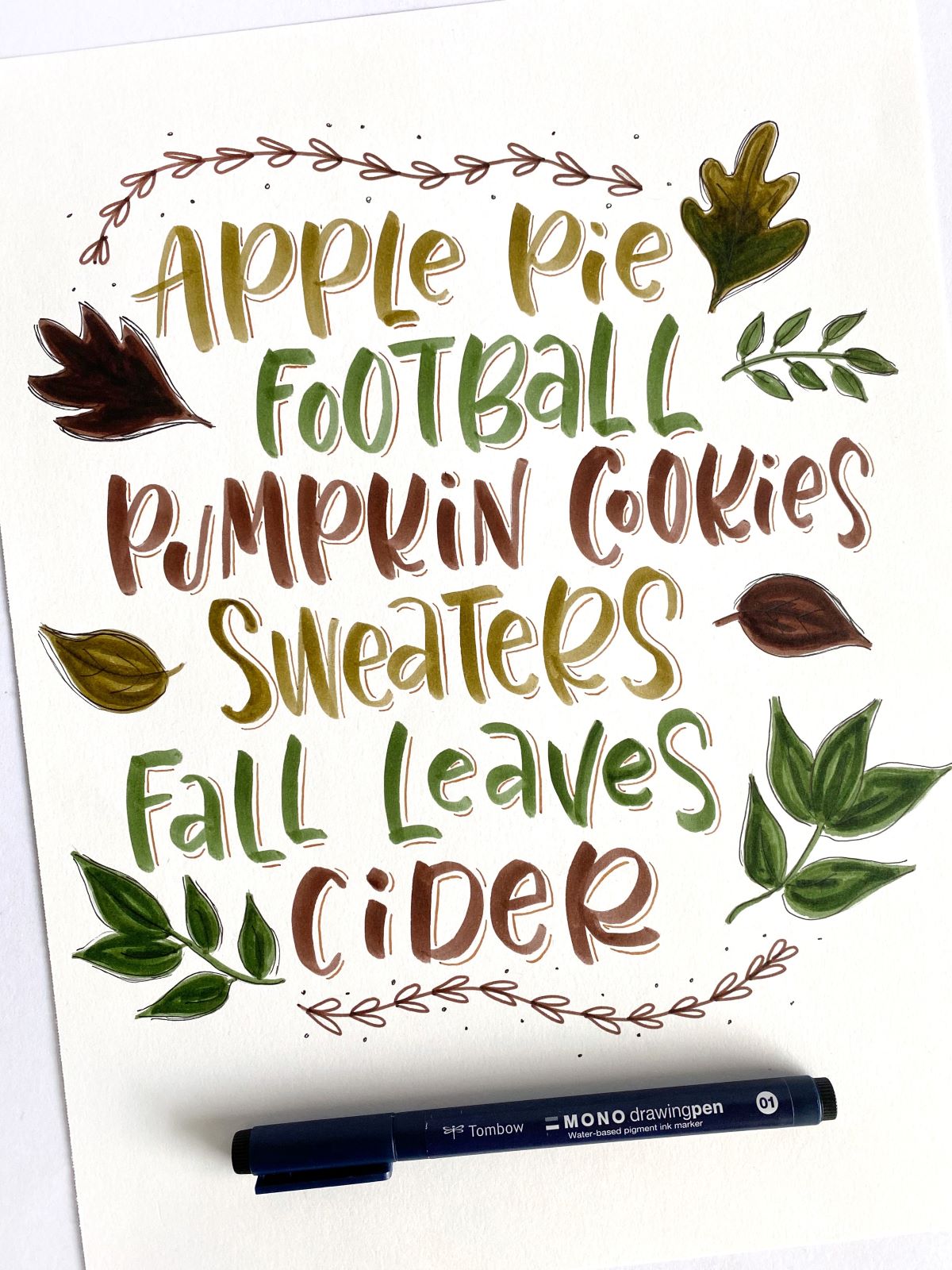 Lastly, use the Dual Brush Pens to fill in the remaining white area around your words and leaves with embellishments to fill in space. Then, use the MONO Drawing Pen to trace them in loose sketched lines.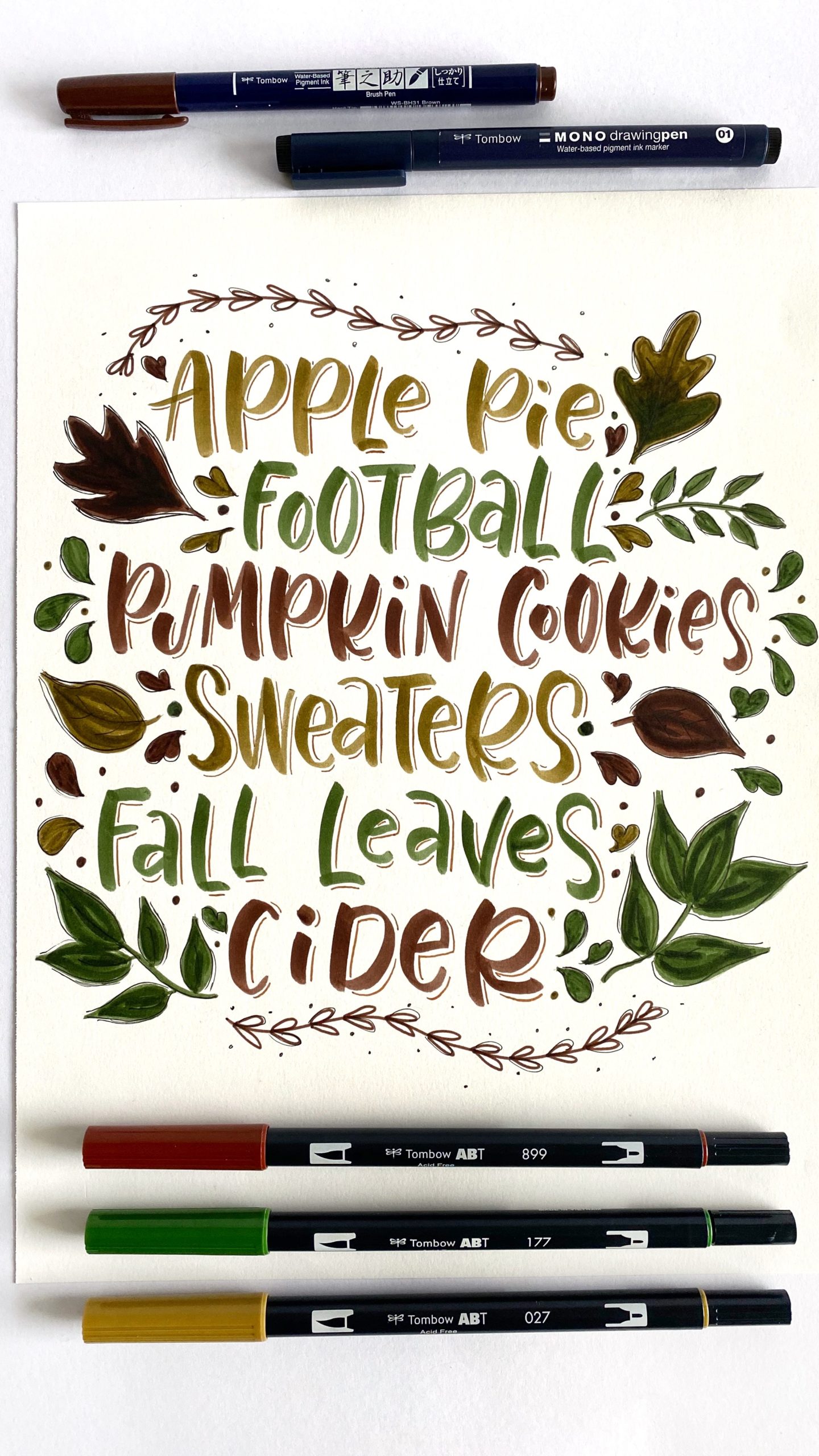 Your hand lettered fall print is done! If you give this a try, be sure to tag us at @tombowusa and @a_heartened_calling so we can see your awesome work!
For more fall-inspired projects, check out these posts:
Thanks for following along!
See you next time,
Mandy