i work well with schedules…and likewise i *think* my kids do too…. i needed a schedule for the summer to keep us on track. can't have wii going all the time or too many lazy days when you sit around and let the house and let it implode around you. chores still need to be done, my homework still needs to get done, bills still need to be paid, and we have places to go! so i put together a 1/2 hourly schedule that can be manipulated and changed as needed each day.
it is long…very long, but i had to fit in the whole day. (oh, and i promise i don't micro-manage my children…although it certainly appears that way doesn't it. oops!) the schedule itself is cardstock and pen. just used a ruler and wrote in the times of the day. i had to use three strips of pattern paper & three strips of cardstock, two pieces of 12×12 paper per child to make the background. i attached the background strips together with Tombow Mono Permanent Adhesive Runner, and the activity cards i used Tombow Glue Stick to get a full coverage application.
in the past when i made one of these schedules i  used clipart and google images and found pictures for all of our activities… this time, however, i have one reader and another on the way, so i chose to write out the activities in text boxes.
once i had my  wording (or images) i printed them on cardstock and cut them out, then matted them onto more cardstock to make them sturdy. i have two children, a girl and a boy. so his schedule is blue and all the activity pieces are blue. hers…well, you get the idea, right?
in the center of each of the 1/2 hour blocks of time and on the back of each activity piece  i put a piece of the Tombow Fastener Tabs. now the kids have their own color-coded schedule and i may have a little piece of sanity for the next two months. did i mention i love the summer?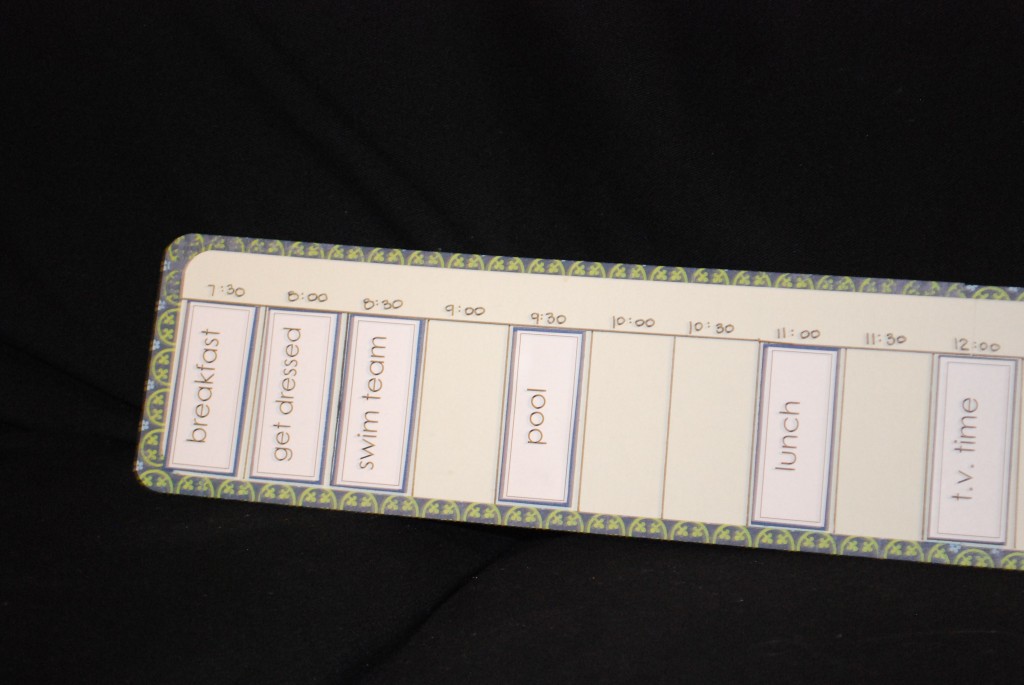 stick around this week…as we kick off summer, vacations, and america's favorite past-times!   p.s  if you want the schedule last longer than the summer…laminate it and all the itty bitty pieces. and take care lifting the activity pieces from the schedule. they work really well! and you don't want to bend the pieces while you move them around.