I wanted to share a quick, easy and cheap idea for a gift. Since I just moved to the States I wanted to send our family photos of our daughter and I made a photo book (that can be easily made with any kind of binding system). I just clustered some embellishments, most made by me like that felt flower that I made using my Tombow Mono Multi Liquid Glue. I also used the Mono Multi Liquid Glue for gluing the doily and the ribbon. For my background mat I used my Stamp Runner Dot Adhesive. I love using Tombow's runners that way, they look super smooth without any lines or wrinkling.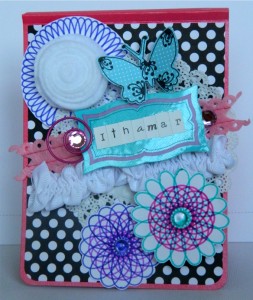 I used my Mono Aqua Liquid Glue for the Clear Dew Drops. In like all my projects I used the Foam Tabs for the butterflies and for the brad since I didn't want to pierce the book I folded the prongs and stuck a foam tab there and it worked like a charm!  But I have to say that the star of this project was my loopy embellishments that I made with… are you ready to go back in time… My Spirograph and the Tombow Dual Brush Pens!!! I am officially hooked, the fine tip of the *Tombow Dual Brush Pens fit perfectly in the holes, you can mix colors, you can use the blender pen and they are acid free so they work amazingly for your scrapbooks and paper crafts. Plus you have over 90 colors to choose from, that makes a lot of loopy embellishments!!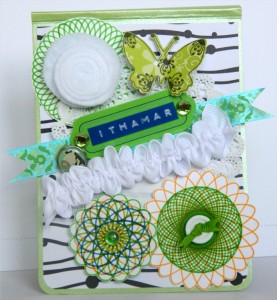 The Tombow Dual Brush Pens are a must in every crafter's room. They are so versatile, you can use them for coloring images, calligraphy, doodling and Spirograph-ing (if that is even a word). If you don't have them, now you know what you can ask Santa to bring you this Christmas.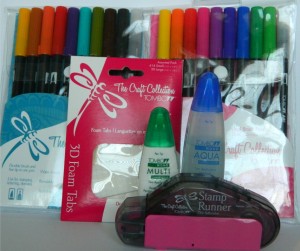 I hope you liked my retro inspired project as much as I loved making it!!
Take Care!!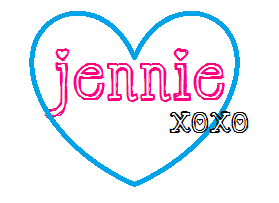 If you enjoyed this post please follow us on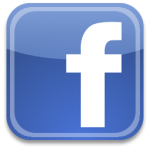 http://www.facebook.com/tombowusa