Is the last ABC Week of the year!! I hope you enjoyed this year with us as much as I enjoyed being on this awesome team!!  For this project I felt like doing something a little more free and for me instead of making something that needed to be perfect for my daughter or someone else. I just came across a list call 33 Ways To Stay Creative and I just loved it!! This is a must project for every craftroom or crafty friend and I think we all need to take a little something of this awesome list. It helped me a lot!!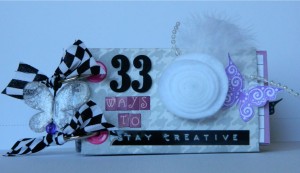 For this project I went simple green, meaning that I used Toilet Paper Rolls for the base of this mini and then used 6×6 patterned paper and Mono Multi Liquid Glue to cover the rolls. The Mono Multi Liquid Glue also work for embellishments like the felt flower I made, the feather and of course the paper butterfly. The great thing about a mini like this is that you don't need to buy extra stuff to make it, so if your New Year's Resolution is to hoard less paper or embellishments this is a great project. I just used whatever I had laying around my craftroom. I used 5 toilet paper rolls and on the inside I took a 2×8 piece of cardstock and fold it in half, that way each piece had 4 pages. That was a total of 20 spaces to write the 33 ways to stay creative. I picked my favorite ten and used them for the outside of the paper rolls and the rest were displayed on the cards. Instead of printing the list or using my handwriting I used lots of alpha stickers, punch outs and my label maker. I used my Tombow Dual Brush Pens to doodle, color stamps and stamp some of my images.
I used a lot of alphas and mixed some of them up because for some reason there are never enough vowels, r or s. I also used decorative tapes, border punches and paper scraps. I used my Stamp Runner for the scraps, the stamp feature of the Stamp Runner is great for those tiny pieces of paper. I also used some free downloads to print.
I loved making this kind of inspirational project, without a doubt I'll be making a few of these in 2012. Well, I think this project takes care of #33. Do you think you are in the mood to try some of the things of this list?
I know some Tombow Products that can help you…
I hope you liked this project!!
Take Care and See Ya Next Year!!
If you enjoyed this post please follow us on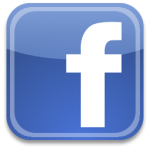 http://www.facebook.com/tombowusa