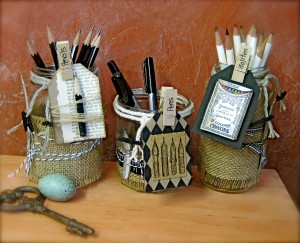 I am loving the products from Canvas Corp this week! The beautiful natural materials such as burlap, cork and canvas are a joy to work with. I just started playing with everything and decided to use the pieces to make storage jars for my art materials, or my 'Weapons of Mass Creation". When using natural materials or slick surfaces like glass, gluing items together can be a messy and disappointing venture – but not with Tombow adhesives! Tombow has a glue or tab for every challenging adhesion job!
For the burlap covered jars, I applied the MONO Multi Liquid Glue to the jar. Then wait until it has dried and gone clear, THEN add the burlap strip. This is the trick when using Multi Glue with fabrics. Let the glue dry to a sticky surface, then when you add the fabric it's an instant bond with no seepage through the fabric.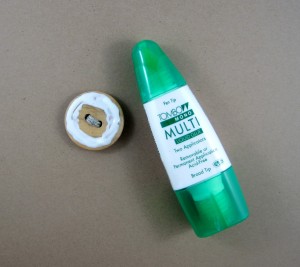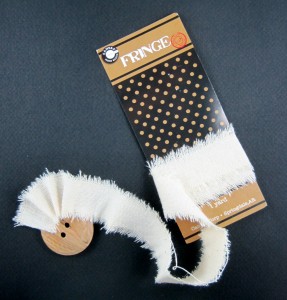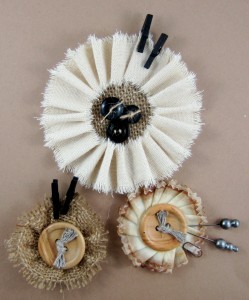 The button flowers were also made using the MONO Multi Liquid Glue. Apply the glue to the back of the button and let dry clear. Then with your chosen material, finger pleat around to make the flower. Use a Power Tab to attach to your project. The samples show flowers made with Canvas Fringe, Ivory Tissue and a strip of burlap all from Canvas Corp. The tissue flower was aged with my go-to antiquing Dual Brush Pen colors, 992 Sand, 977 Saddle Brown and 899 Redwood.
The tags were great fun to make – I used a variety of papers from Canvas Corp and cut out 2″ x 3″ tags. I then stamped on Corkstock and paper for the art material images. The cork had an adhesive backing, but the burlap was attached using the MONO Multi Liquid Glue. The stamped image, book page and cardstock were attached using the Stamp Runner Permanent Adhesive. For materials such as burlap and canvas, stop them fraying further with a line of MONO Aqua Liquid Glue, it dries with a matte finish that is invisible. I attached some of the stamped images with Foam Tabs and the heavier items such as the pencil stub and button with Power Tabs.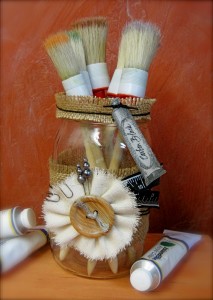 Here is another finished jar showing how I used the flowers, held on securely with a Power Tab.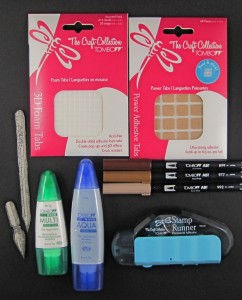 My studio is going to be a very inspiring place to work in and is going to look awesome! Thanks Canvas Corp for your great products and Tombow for holding them all together!
Go to their FB page and tell Canvas Corp that Tombow sent you then let us know on our page at https://www.facebook.com/tombowusa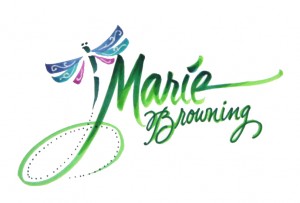 If you enjoyed this post please follow us on: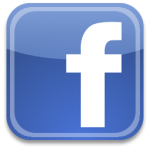 http://www.facebook.com/tombowusa
and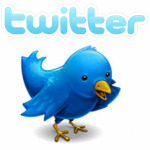 http://twitter.com/#tombowusa