My family has definitely caught the travel bug! Nieces, daughters and son off to new places to experience and explore! I thought of them as I made these travel zipper pulls that can be used on jackets, bags, key chains or backpacks – a perfect gift for a man or women.  They were a snap to make using Epiphany Crafts Shape studio products. Wonderful 'No Limits' collection from Heidi Swapp and Tombow Adhesives were perfect to make a nice paper crafted holder for the travel zipper pulls.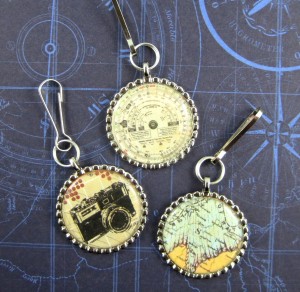 After making the charms using the Epiphany Crafts Shape Studio Tool, Bubble Caps, and the images from Heidi Swapp 'No Limits' collection, I glued them into the Charm Settings using Multi liquid glue. That will make sure they stay together even with rough treatment! I then used a split ring (a jump ring would pull apart too easily) to attach them to a clip. Simple stuff!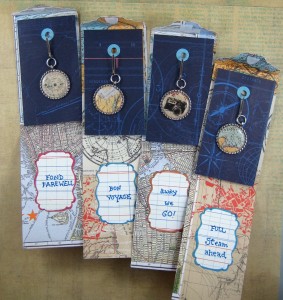 I then mounted the zipper pulls into paper crafted matchbook style holders.  This view shows the holder opened. I made a reinforced hole in the dark blue panel to hold the zipper pull and then mounted the panel using Foam Tabs. A Fastener Tab was used on the top flap to fasten the holder together.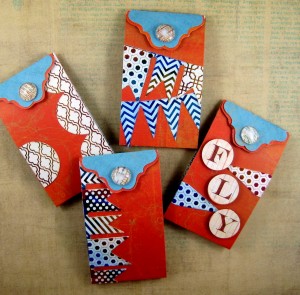 This view shows the holders closed. I had great fun decorating the covers using the Heidi Swapp Color Magic Banners. Loved them! I simply colored the banners using the Dual Brush Pens and magically the resist patterns emerged! The colors of the Dual Brush Pens that match the Hedi Swapp 'No Limits' collection are as follows: 526 True Blue,555 Ultramarine,  837 Wine Red, 947 Burnt Sienna,  026 Yellow Gold and 992 Sand.
The banners were then adhered to the front panel using the Adhesive Dot Stamp Runner. The decorative accent on the flap was created by gluing a clear plastic cabochon to the decorative paper using the Multi Liquid Glue. When dry, cut out and glue to the flap with the Multi glue. The punched out "FLY' circles were attached using Foam Tabs.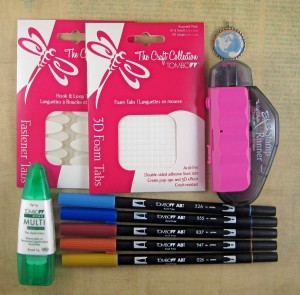 Until next week! Live creativity and carry lots of adhesive!
If you enjoyed this post please follow us on: