I love the new 'Shadow Panels' from Walnut Hollow! I enhanced the feature of the panel standing out 1/2″ from the wall by using Foam Tabs on the front to create even more dimension. I have always been a fan of Walnut Hollow's beautiful wooden surfaces. They are always constructed with perfectly straight edges and smooth sanded surfaces ready for almost any art medium. A big bonus is they are manufactured in the USA with award winning dedication to environmental sustainable practices.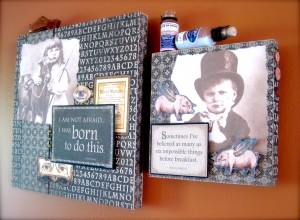 With this photo angle I tried to show how the panels stand out from the wall and the dimensions with the panels on the front. The photo does not do them justice, it's a really cool effect that gives that extra interest to an arrangement.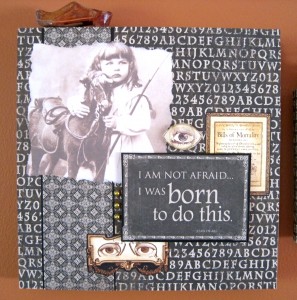 For this panel, I trimmed paper panels from Graphic 45's Kraft Reflections and Olde Curiosity Shoppe Collections. The main cardstock background pieces, for the top and sides, were adhered on with MONO Aqua Liquid Glue. This glue works perfectly with paper to wood applications! A secure bond with no wrinkles! You can also use it for a finishing coat that dries to a nice semi-gloss finish. After the background papers are glued on and dry, you can attach all the other paper pieces with Dots Adhesive Stamp Runner. The clear dome cabochon was glued over the eye motif with MONO Multi Liquid Glue and the quote was attached using the Foam Tabs.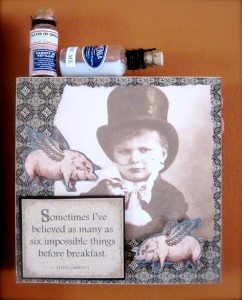 This shadow panel was done in the same manner with the quote panel and one of the flying pig motifs added with the Foam Tabs. You can easily double-up with the tabs to lift the image even higher off the panel. The bottles on top were added using Power Tabs, which holds them securely and in your desired positions. I use both the Foam Tabs and Power Tabs in all my mixed-media pieces!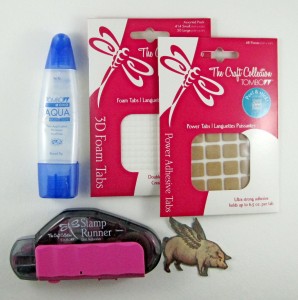 I love reading your comments, so let me know how you like this weeks project and what your favorite Tombow Adhesive is when working on mixed media projects!
If you enjoyed this post please follow us on   

http://www.facebook.com/tombowusa and  

  http://twitter.com/#!/tombowusa