For Debbie's challenge, we are using the Pantone's Color of the Year: Radiant Orchid! As it is so close to Valentine's Day, I thought a cute 'n quick card would be fun!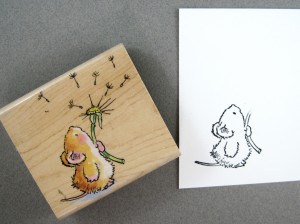 I really wanted to do something with candy, but alas, no candy stamps (I have so many stamps you would think I would have one with candy!) So I made one using a favorite Penny Black stamp! I stamped the 'Cheesecake Wishes' stamp, but masked off the dandelion wishes.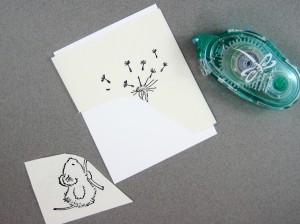 I did it by making a mask. Stamped the image onto a piece of 20 lb. copy paper, cut out what I didn't want, and adhered it temporarily with the Removable Adhesive . Now stamp the image with the mask.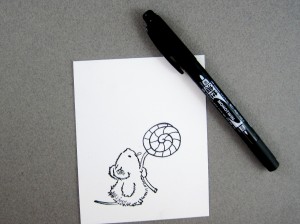 I added in a lollipop and a tongue for cheesecake using the MONO Twin Permanent Black Marker. Easy to draw stuff, don't panic…if you need to, use very light pencil marks to sketch the design first.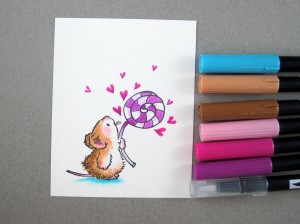 Color the image using the Dual Brush Pens, including of course, the #685 Color of the Year! I also added a few heart DoodleDabs to the image.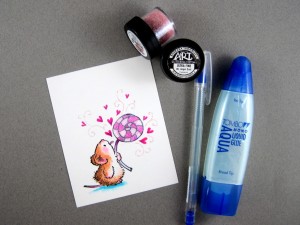 Now the challenge called for glitter, so to bling it up a bit, out came the Art Institute Glitter. The glittered swirls and outlines around the hearts were added with the Glue Pen and pale pink glitter. The lollipop used the MONO Aqua Liquid Glue and Angel Dust Glitter.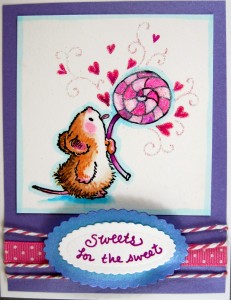 Here's the finished card!
Thanks for the challenge Debbie! It was Sweet!