Hi friends! Dani from @popfizzpaper here today with a travelers notebook nature journal spread. Earth Day is almost here, so what better way to celebrate than to get outside? Of course, you'll want to take along your notebook and a camera so you can document the beauty all around you. Let me show you how easy it is to create a nature journal spread to remember your adventures!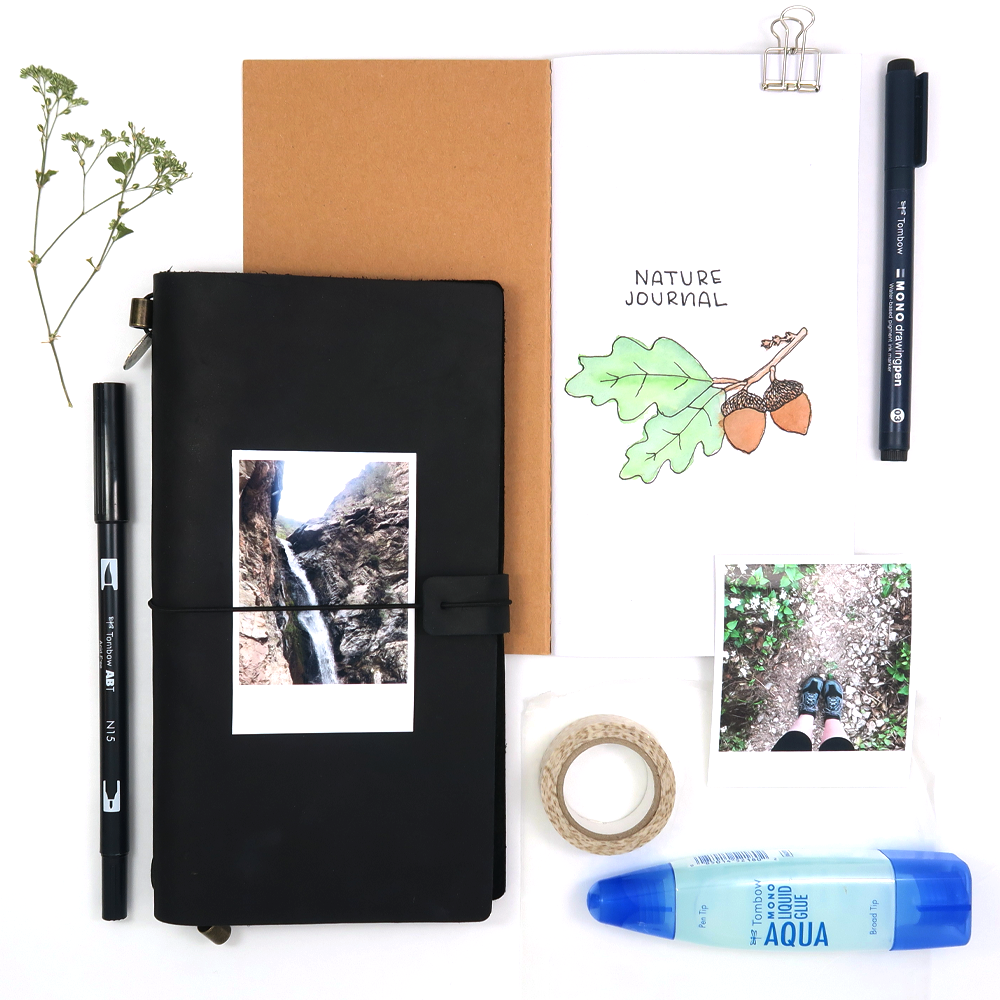 SUPPLIES:
Notebook
Photographs
Roller date stamp
Scissors
Additional supplies like washi tape, paper scraps, dried botanicals, glassine bags, etc
PREP YOUR NATURE JOURNAL PAGES
First, to start the layout, apply some of the Tombow Dual Brush Pen in 158 to a palette, spritz with water, then press onto your pages and let dry. Next, use Tombow Xtreme Adhesive to glue down scraps of paper to your pages. With the Tombow MONO Aqua Liquid Glue, adhere pieces of a glassine bag, photographs, and dried plants. I also added some pieces of gold foil washi tape and gold glitter stars to add some sparkle. I've included a video at the bottom of this post where you can see my entire process.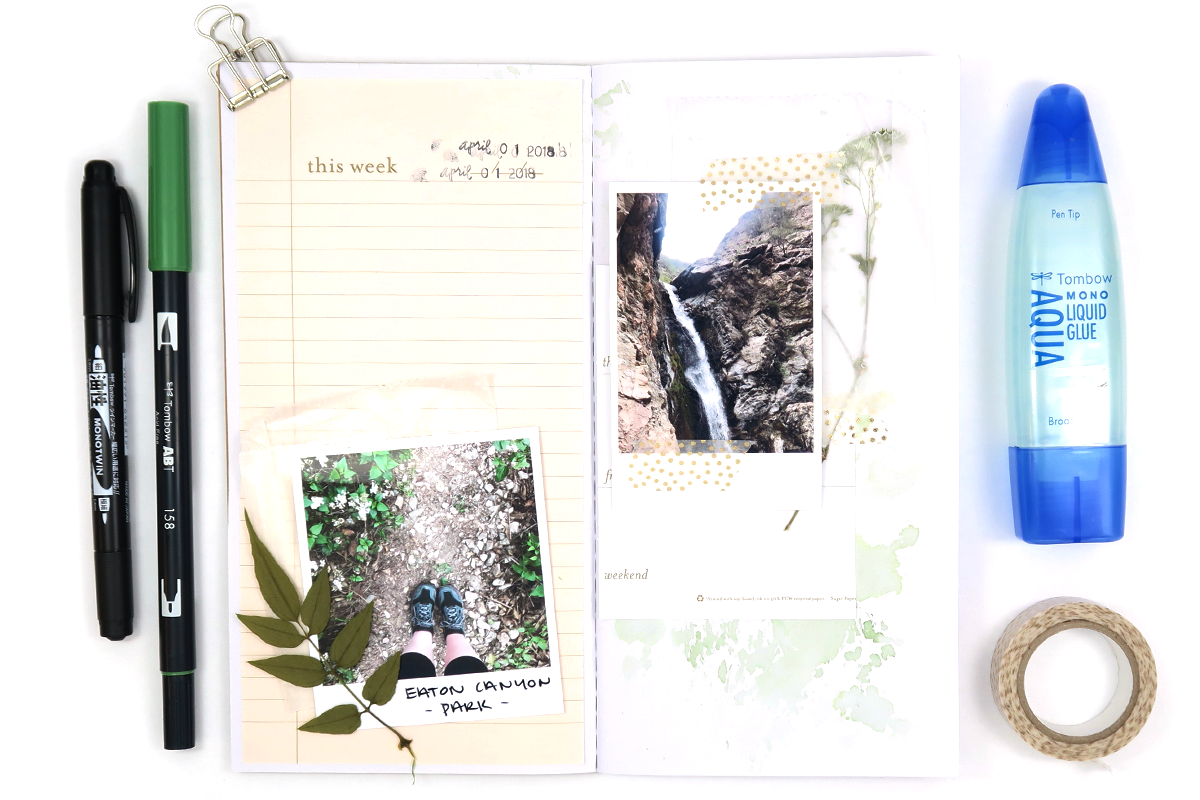 WRITE IT DOWN
Next we need some words on our layout! Tombow MONO Drawing Pens are great for journaling and the Tombow MONO Twin Permanent Marker is my favorite for writing on photos – it dries instantly and doesn't smear! Finally, add a date to your pages. Did you know you can use a Dual Brush Pen to stamp? Just apply some of the ink to a roller date stamp and press onto your paper.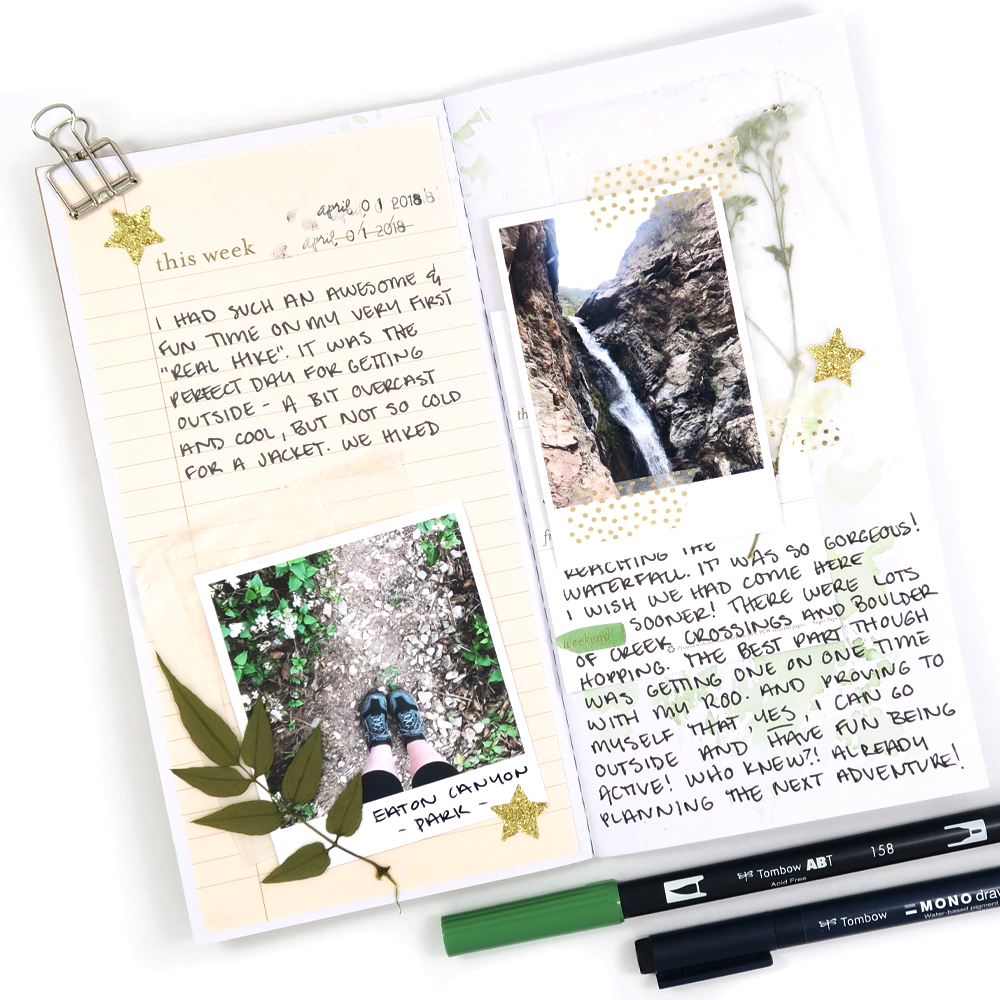 Thank you so much for following along with my travelers notebook nature journal tutorial today! Want more notebook ideas? Create a shaker charm for your TN, then learn Jennie's tips for using scrapbook paper in your notebook. See you next time!